---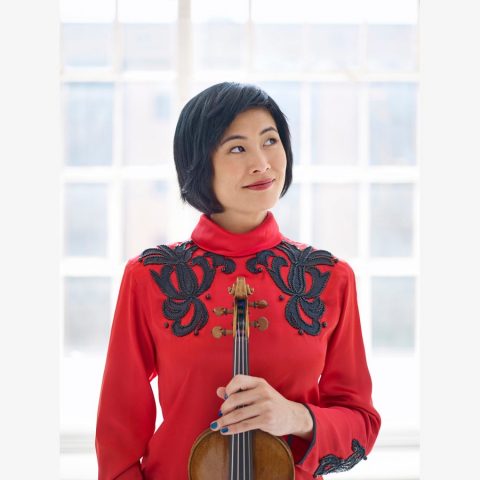 Artists
Jennifer Koh
Violin
Recognized for intense, commanding performances, delivered with dazzling virtuosity and technical assurance, violinist Jennifer Koh is a forward-thinking artist dedicated to exploring a broad and eclectic repertoire, while promoting diversity and inclusivity in classical music.
---
Violinist Jennifer Koh is recognized for her intense, commanding performances, delivered with dazzling virtuosity and technical assurance. With an impassioned musical curiosity, she forges an artistic path of her own devising, choosing works that both inspire and challenge. She is dedicated to performing the violin repertoire of all eras from traditional to contemporary, believing that the past and present form a continuum. A model example of how Ms. Koh realizes this is her Bach and Beyond project, a series of three recitals that explore the history of solo violin repertoire from Bach's complete Sonatas and Partitas to works by modern-day composers, including world premieres. The exploration of Bach's music and its influence in today's musical landscape has played an important role in Ms. Koh's artistic journey, and she is passionate in her efforts to expand the violin repertoire by establishing relationships with many of today's composers from whom she commissions works. Launched in 2009 in commemoration of the 325th anniversary of Bach's birth, Bach and Beyond recitals have since been performed by Ms. Koh worldwide. In 2015, she begins touring with the final recital program of her series, which includes Luciano Berio's Sequenza VIII and the world premiere of For Violin Alone commissioned from John Harbison. Ms. Koh also frequently performs all six of Bach's Sonatas and Partitas in single concerts. Her interpretations of Bach's solo works, both in these marathon recitals or paired with contemporary pieces, have been praised as thoughtful, intense, energetic, and beautifully phrased.
In 2014, Ms. Koh launched Off Stage On Record, a video series that gives a behind-the-scenes look at the life and career of a concert artist. The first three documentary-style episodes, on creativity, collaboration, and the body, are available on her YouTube channel (www.youtube.com/jenniferkohviolin). Her forthcoming projects include Bridge to Beethoven, a recital series with pianist Shai Wosner pairing Beethoven's complete violin sonatas with new works by Anthony Cheung, Vijay Iyer, and Andrew Norman, to be launched in April 2015, and The Life and Death of J.S. Bach, a recital of Bach's complete Sonatas and Partitas staged by director Robert Wilson, to be premiered in 2016.
Ms. Koh has been heard with leading orchestras around the world including the New York and Los Angeles Philharmonics, Cleveland and Philadelphia Orchestras, and the Baltimore, Chicago, Cincinnati, Detroit, Houston, New World, Montreal, and National Symphonies. Abroad she has appeared with the Czech Philharmonic, BBC London and Scottish Symphonies, Helsinki Philharmonic, Lahti Symphony, Mariinsky Theatre Orchestra, and the Orquestra Sinfônica do Estado de Sao Paulo in Brazil. A prolific recitalist, she frequently appears at major music centers and festivals.
Bach & Beyond Part 2 is Ms. Koh's tenth recording for Cedille Records. Her other albums include Two x Four, featuring double violin concertos by Bach, Philip Glass, Anna Clyne, and David Ludwig performed with Jaime Laredo and the Curtis 20/21 Ensemble; Signs, Games + Messages, a recording of violin and piano works by Janáček, Bartók, and Kurtág with Mr. Wosner; Rhapsodic Musings: 21st Century Works for Solo Violin; the Grammy-nominated String Poetic, featuring the world premiere of Jennifer Higdon's eponymous work, performed with pianist Reiko Uchida; Schumann's complete violin sonatas, also with Ms. Uchida; Portraits with the Grant Park Orchestra under conductor Carlos Kalmar, featuring concertos by Szymanowski, Martinů, and Bartók; Violin Fantasies: fantasies for violin and piano by Schubert, Schumann, Schoenberg, and saxophonist Ornette Coleman, again with Ms. Uchida; and Ms. Koh's first Cedille album, from 2002, Solo Chaconnes, an earlier reading of Bach's Second Partita coupled with chaconnes by Richard Barth and Max Reger.
The first Bach & Beyond recording, released in October 2012, comprises Bach's second and third Partitas, Kaija Saariaho's Nocturne for Violin, Ysaÿe's Sonata No. 2, and the world-premiere recording of Missy Mazzoli's Dissolve, O My Heart, and was named one of the Best Classical Music Recordings of 2012 by The New York Times.
Born in Chicago of Korean parents, Ms. Koh began playing the violin by chance, choosing the instrument in a Suzuki-method program only because spaces for cello and piano had been filled. She made her debut with the Chicago Symphony Orchestra at age 11 and went on to win the International Tchaikovsky Competition in Moscow, the Concert Artists Guild Competition, and an Avery Fisher Career Grant. Ms. Koh has a Bachelor of Arts degree in English literature from Oberlin College and studied at the Curtis Institute, where she worked extensively with Jaime Laredo and Felix Galimir.
For more information: jenniferkoh.com