Store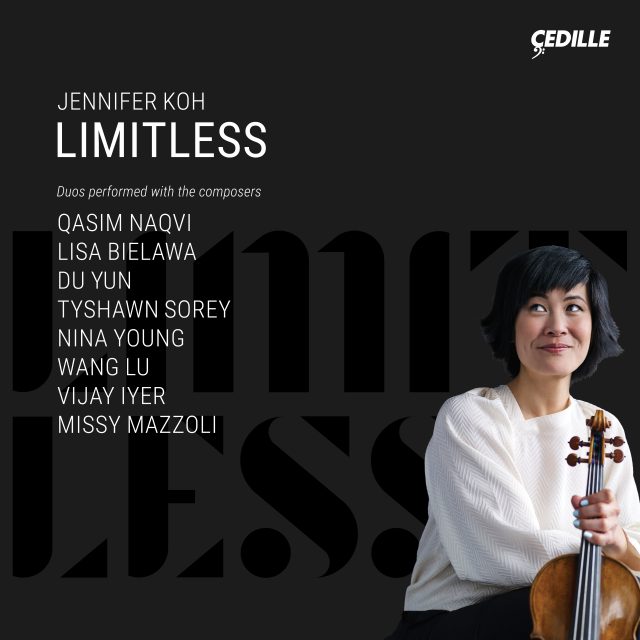 ---
Violinist Jennifer Koh's Limitless, based on her groundbreaking recital project of the same name, bridges the modern divide between composer and instrumentalist, celebrates artistic collaboration, and revives the grand tradition of composers performing their own music. The album features world-premiere recordings of Koh-commissioned duets by a diverse roster of highly accomplished contemporary composers, which she performs with the composers themselves.
Premieres include Qasim Naqvi's The Banquet for violin and modular synthesizer, exploring a convergence between acoustic string and electronic sound worlds; Lisa Bielawa's Sanctuary Songs for violin and voice, three settings of texts by American women poets of the 1920s; Du Yun's give me back my fingerprints for violin and voice, representative of what The New York Times calls her "adventurously eclectic" style; and Tyshawn Sorey's In Memoriam Muhal Richard Abrams, dedicated to Sorey's beloved mentor, the avant-garde pianist, composer, and founding president of the Association for the Advancement of Creative Musicians (AACM).
Limitless also offers the first recording of Nina Young's Sun Propeller for violin and electronics, inspired by traditional Tuvan throat-singing; Wang Lu's Her Latitude for violin and electronics, with a quasi-improvised piano part and electronically processed sounds of Buddhist chants and old Korean pop songs; and jazz luminary Vijay Iyer's The Diamond for violin and piano, inspired by an early Buddhist text. The album concludes with Missy Mazzoli's A Thousand Tongues for violin, piano, and electronics, an intense response to a line in a Stephen Crane poem, and Vespers for Violin for violin and electronics, "deliciously disorienting" (National Public Radio) with a soaring solo violin.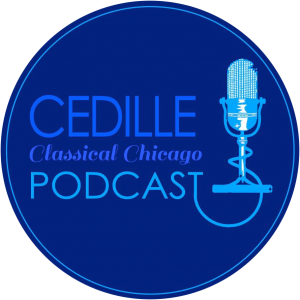 Listen to Jim Ginsburg's interview
with Jennifer Koh on Cedille's
Classical Chicago Podcast
Preview Excerpts
Enjoy our recommended preview track excerpts below
QASIM NAQVI
LISA BIELAWA
DU YUN
5
give me back my fingerprints
TYSHAWN SOREY
6
In Memoriam Muhal Richard Abrams
NINA YOUNG
Artists
WANG LU
VIJAY IYER
MISSY MAZZOLI
MISSY MAZZOLI
Artists
What the Critics Are Saying
---
---
Limitless
Notes by the composers
THE BANQUET
When Jennifer asked me to write The Banquet, I was learning how to use a modular synthesizer — a type of voltage controlled musical system that predates the modern keyboard synthesizers we use today. It has certain unstable properties and I'm drawn to the beautiful and complex textures it creates because of that instability. In this context, I wanted to highlight the synthesizer's treatment of odd and even harmonics against the natural resonance of the violin. At a critical juncture in the music, the violin moves from a lyrical space towards the abstract energy of this machine. On a programmatic level, The Banquet is about the challenges of expressing beauty during times of great emotional turmoil. I was grappling with a profound challenge in my life during the making of this piece and my desire was to feed these opposing forces into the music.
SANCTUARY SONGS
The Sanctuary Songs are settings of texts using the word "sanctuary" by American women poets writing between the wars, in the 1920's: Broken (text from "Broken" by Virginia Stait), Speak Softly (text from "Sanctuary" by Elise M. Baker), and My Marvelous Wall (text from "Sanctuary" by Elinor Wylie). "Sanctuary" is a word that carries significant political weight today in the discussion around immigration; I wanted to find instances of its use within a broad range of American writings, in order to reach a greater understanding of its layered meanings within American consciousness. Definitions of "sanctuary" center around sacredness (a spot where something holy happened, a building or container within which something sacred is held, often on one of these holy spots) and also around safety (a place where one can be safe from danger, take refuge). The word has new prominence and resonance as various cities and schools take a stand on whether or not they will protect members of their communities from deportation.
The music community itself emerges, then, as a kind of sanctuary itself. In the case of Jennifer Koh, whose parents are Korean refugees, or others in our major symphony orchestras who are themselves immigrants and, in some cases, refugees, a life in music has been providing a kind of sanctuary (sacredness, a refuge) all along. We are newly aware, however, in the current political climate, of the specificity of our individual paths to get here, and also of the powerful potential for sacredness and refuge that we can create through our work.
GIVE ME BACK MY FINGERPRINTS
The piece is a personal narrative for both Jenny and me. A woman's scream for independence, revealing and manifesting the strength of both women's emotional connection to each other. Intimacy, rooted in a primal need, has also, in turn, morphed into a catharsis.
SUN PROPELLER
Sun Propeller refers to fanned sunbeams that pierce through cloud openings. It is the literal translation of Huun-Huur-Tu, a Tuvan word for these "crepuscular rays," these columns of light that radiate majestically from a single point in the sky. A Tuvan folk group has also taken the name. Their throat-singing style is drawn from a single low drone-tone that is filtered by nuanced vocal techniques to create rays of overtones with beautiful timbres — the vertical composite relationships forming hybrid melodies that become a human mimicry of nature's sounds. This is the human muscular structure filtering and synthesizing — electronic music for the human body.
In Sun Propeller, the violin and its real-time electronic duo partner ebb and flow, filter and amplify, become the body and the environment. Together, they create a union that is a composite whole — refractions all traceable to a single drone rooted in the violin's drop-D scordatura tuning.
HER LATITUDE
I have known and admired Jenny's recordings and performances since long before I met her in person and got to know her as a dear friend. Her invitation to compose this work made me truly think about her, her background as an incredible musician, a child of immigrants from Korea, a socially and politically passionate citizen inside and outside of music, and as someone with immense curiosity in exploring new sounds. I find many of her strengths and characteristics resonate with me, and think about her unique cultural and artistic origins as part of her overall persona as a great violinist.
Her Latitude is written for violin and electronics, with a special semi-improvised part for me to play, reacting in real time to Jenny's treatment of time and gesture. The electronics part includes processed sounds from various sources of spiritual calm and catastrophic unrest: Buddhist chants, rusty bell sounds, faint old Korean pop songs, nuclear alarms, and the clanging of earthenware symbolizing early civilization. I thought a lot about the artistic and emotional journeys a woman artist of a non-mainstream heritage in the western world goes through before proudly performing on stage, often the most challenging compositions. For me, and certainly for Jenny as well, music is never just about the delivery of notes. The richness of her playing and character is the primary inspiration for this piece.
THE DIAMOND
In The Diamond Sutra, an early Buddhist text also known as The Diamond that Cuts Through Illusion, the Buddha leads his interlocutor, the Elder Subhuti, through a series of questions and provocations. The Buddha then concludes the session by offering this teaching to those assembled:
All composed things are like a dream,
a phantom, a drop of dew, a flash of lightning.
That is how to meditate on them;
that is how to observe them.
This duo piece is in four sections, corresponding roughly to these four disparate visions of impermanence: four distinct moments of interplay between form and emptiness, four corners of a diamond. This series of images is itself a "composed thing," gathering dissimilar elements into a unified system. It suggests that the things we make are similar to things that exist beyond intention. The Buddha's utterance helps us hear so-called "composition" and "improvisation" — or the encompassing category, "music" — as part of an even larger aggregate: that which forms and recedes.
A THOUSAND TONGUES
A Thousand Tongues was originally commissioned by cellist Jody Redhage. This piece is a short but intense response to the following text by Stephen Crane:
Yes, I have a thousand tongues,
And nine and ninety-nine lie.
Though I strive to use the one,
It will make no melody at my will,
But is dead in my mouth.
VESPERS FOR VIOLIN
Vespers for Violin, for amplified violin and electronics, began as a reimagining of my recent composition Vespers for a New Dark Age. I sampled keyboards, vintage organs, voices, and strings from that composition, drenched them in delay and distortion, and re-worked them into a piece that can be performed by a soloist. The result is something completely separate from the original work, with only distant, nostalgic connections to the source material. Vespers for Violin was composed for Monica Germino and Frank van der Weij and premiered at the Sounds of Music Festival in Groningen in October, 2014.
Album Details
PRODUCER Judith Sherman
ENGINEER Charles Mueller
EDITING ASSISTANT Jeanne Velonis
ASSISTANT ENGINEER Teng Chen
GRAPHIC DESIGN Bark Design
COVER PHOTO Jürgen Frank
RECORDED
Oktaven Audio, Mount Vernon, NY
Bielawa and Wang, June 21, 2018
Du and Naqvi, August 28, 2018
Mazzoli, August 30, 2018
Sorey and Young, August 31, 2018
Iyer, February 11, 2019
© 2019 Cedille Records/Cedille Chicago