Store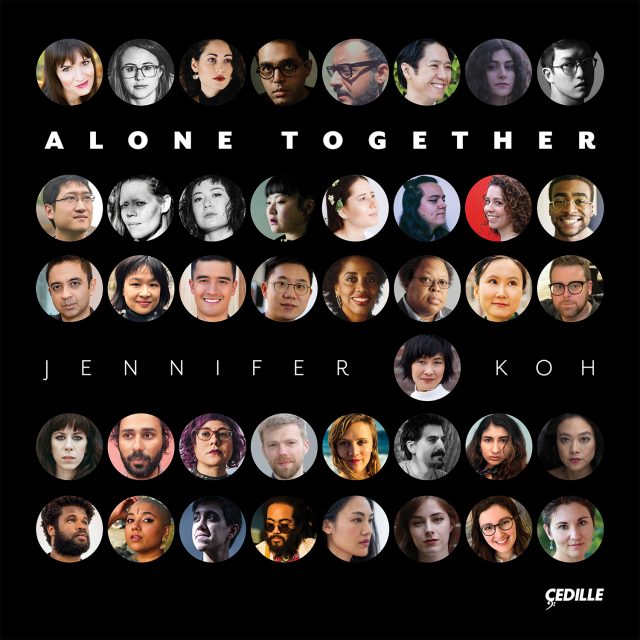 ---
2022 Grammy Winner – Best Classical Instrumental Solo
American violinist Jennifer Koh's new recording, Alone Together is based on her online performance series of the same name, created in response to the coronavirus pandemic and the financial hardship it has placed on so many in the arts community. The New York Times called Alone Together "a marvel for a time of crisis" and the lineup of composers "more inclusive than anything in mainstream classical music."
Koh has been highly visible during the pandemic as a result of Alone Together, which features short new works donated by established composers and commissioned from talented young composers who may be struggling financially because of the COVID-19 crisis. Koh performs 39 world premiere recordings of works by established composers such as Du Yun, Vijay Iyer, Tania Léon, George Lewis, Missy Mazzoli, Ellen Reid, and Wang Lu and the emerging composers they recommended including Katherine Balch, Nina Shekhar, Lester St. Louis, Rajna Swaminathan, Darian Donovan Thomas, and Sugar Vendil.
Koh is a forward-thinking artist dedicated to exploring a broad and eclectic repertoire, while promoting equity and inclusivity in classical music. She has expanded the contemporary violin repertoire through a wide range of commissioning projects and has premiered more than 100 works written especially for her.
Alone Together was commissioned and produced by ARCO Collaborative with the support of commissioning partners National Young Arts Foundation and generous individual donors of ARCO Collaborative.
This recording is made possible in part by generous support from Patricia A. Kenney and Gregory J. O'Leary and ARCO Collaborative
Preview Excerpts
Enjoy our recommended preview track excerpts below
WANG LU
JOUNGBUM LEE
MORGAN GUERIN
3
Together, But Alone (In Quarantine)
VIJAY IYER
SARAH GIBSON
DARIAN DONOVAN THOMAS
TONIA KO
THOMAS KOTCHEFF
NINA C. YOUNG
9
There had been signs, surely
ADELIIA FAIZULLINA
JEN SHYU
INTI FIGGIS-VIZUETA
12
quiet city (& easter bells from the bowery)
ELLEN REID
RAJNA SWAMINATHAN
ANTHONY CHEUNG
TOMÁS GUEGLIO-SACCONE
ANJNA SWAMINATHAN
LAYALE CHAKER
DAVID SERKIN LUDWIG
Artists
6: Ian Chang, electronics
ELIZABETH YOUNAN
1
…your heart dreams of spring
RAFIQ BHATIA
HANNA BENN
MISSY MAZZOLI
CASSIE WIELAND
KATHERINE BALCH
ANDREW NORMAN
ANGÉLICA NEGRÓN
TANIA LEÓN
CAROLINE DAVIS
NINA SHEKHAR
QASIM NAQVI
SHAYNA DUNKELMAN
DU YUN
GEORGE LEWIS
15
Un petit brouillard cérébral
LESTER ST. LOUIS
16
Ultraviolet, Efflorescent
SUGAR VENDIL
17
Simple Tasks 2: Six-day deadline
PATRICK CASTILLO
18
Mina Cecilia's Constitutional
VINCENT CALIANNO
KATI AGÓCS
Artists
What the Critics Are Saying
---
---
"a marvel for a time of crisis . . . more inclusive than anything in mainstream classical music. . ."
"Violinist Jennifer Koh has the most remarkable ability to communicate a multiplicity of markedly different voices through her instrument to the listener. She whispers profound truths in our ears. . ."
Alone Together
Notes by Jennifer Koh and the composers
I would like to thank all of the composers who wrote for Alone Together. I am grateful to be a part of the beautiful community of musicians who cared so deeply for their fellow artists that they donated their work and recommended their colleagues to be commissioned and funded at the beginning of the COVID-19 pandemic. You gave me light and hope during the darkest days of the pandemic. I would also like to thank the donors who cared about the most vulnerable members of our musical community and made this commissioning project possible.
This album is dedicated to all of you. This music is not only a musical archive of the COVID-19 pandemic, but testament to the best parts of humanity. Special thanks to National Young Arts, William Josephson, George E. Lewis, Augusta H. Gross and Leslie B. Samuels for your early faith and generosity that made this project possible.
WANG LU | Hover and Recede
The sound of distant sirens breaking through the peaceful night has been a constant reminder of the pandemic. I took that alternating two-note motive and transformed it into a soaring melody for the violin. This piece is dedicated to Jennifer Koh, whose masterful playing and fierce character continue to inspire me.
JOUNGBUM LEE | hovering green
This piece was written in Spring of 2020, an unusual time for all because of the coronavirus outbreak. While a normal springtime became an extravagant desire, Beethoven's Violin Sonata No. 5, known as the "Spring Sonata," sounded in a strange way in which hope and despair coexist at the same time.
MORGAN GUERIN | Together, But Alone (In Quarantine)
I was surprised and delighted that Jennifer Koh contacted me to be a composer for Alone Together. This piece was monumental to me for many reasons, including it being the first thing that I've ever written for a string instrument and the first solo piece I've ever composed. It's an honor to be in such a well-respected company, especially to have Jennifer Koh perform my piece.
VIJAY IYER | for violin alone
for violin alone is a meditative etude in three compact sections: a sequence of chordal phrases, a cycling central pattern with emerging polyphony, and a closing gesture that transforms a descending phrase from "Alone Together," a standard from the American songbook.
SARAH GIBSON | You are still here
You are still here was inspired by Mona Hatoum's artwork of the same name. The work, which is a double mirror containing the titular phrase sandblasted on the surface, allows the viewer to see their face doubled in their reflection with this phrase stamped across their view. Hatoum describes this artwork as a way to spark a conversation with oneself about the confirmation of existence and survival. This sentiment, and the need to talk to oneself about these subjects, spoke to me powerfully during the beginning of the pandemic. My work for Jennifer was a way for me to convey that dialogue and what I was seeking in the spring of 2020: a frantic need for personal expression contrasted with a calmer desire for an empathetic space in which to create during a dark time.
DARIAN DONOVAN THOMAS | Art | Nat
Ian Chang, electronics
Art | Nat is a short piece I wrote for solo violin and electronics responding to the COVID-19 pandemic and quarantine. I aimed to explore how artificiality had become the natural state of things, and how fleeting/unstable that felt.
Text:
The thoughts that plague us in times of panic need not be logical,
only potent to evoke strong physical response.
Is this death? Is this anxiety? Is it over now? Am I over now?
Remain calm. Conceptualize order. Then abide by it.
TONIA KO | The Fragile Season
The Fragile Season came about from the simple act of looking out the window, an activity that, because of the pandemic, had taken on more meaning and richness than I ever could have imagined. It was my first year living in London and thus an introduction to what early Spring here feels like. The scene outside was beautiful yet treacherous: a cherry tree had bloomed magnificently almost overnight, and was just as quickly losing its
flowers from strong winds. I spontaneously wrote the poem below, which served as a reminder for the musical goals of The Fragile Season: gestures swaying back and forth, timbres at once delicate and sharp, and lines that attempt to rise upward but are thwarted and diverted at every turn.
A fragile Spring:
shards of petals
scatter in panicked gusts.
Over the coming weeks
they will harden into lumps of glass,
sinking into the earth.
The season is no longer soft;
we find cracks in everything.
THOMAS KOTCHEFF | vacuum packed
vacuum packed was written during the first three weeks of the COVID-19 shelter-in-place quarantine order in California. The piece contains quotations from Tchaikovsky's Violin Concerto in D major, Op. 35, that are recontextualized and juxtaposed against my own music that is frenetic and constantly shifting. The title vacuum packed is a reflection on both my personal isolation during that time as well as the piece itself being a three-minute vacuum-sealed rendering (as both an homage and a bastardization) of one of my favorite concertos.
NINA C. YOUNG | There had been signs, surely
February to March 2020, I was flying back and forth between JFK and LAX often. My eyes were glued to Twitter, scrolling for information about the mysterious virus that the U.S. news sources didn't seem to follow. If I stopped to notice, it was obvious that things were changing: concert attendance began to dwindle, each flight had fewer passengers, complimentary hand sanitizer peeked out of the seatback pocket (the only place to get it), personal space was at a premium, every cough or sniffle was met with an accusatory glare. On March 8th, I arrived for the last time at JFK, wondering, but not knowing, if this would be my last transit for the foreseeable future. About a week later NYC went into lockdown. All of my projects were cancelled. Jennifer and I live in the same building, five floors apart. Notices came under our doors that residents had the virus. We were terrified to go in the hallway or to retrieve packages from the lobby. For six weeks we didn't leave our front doors, but we were unified by the wailing siren songs of the ambulances that drove past our windows. I spent hours with Jenny on Facetime — comparing news, best practices to keep ourselves healthy and, of course, wondering what went wrong. Did we, as a region, as a culture, as a country, as the world, miss some obvious signals? Were we too proud, and too caught up in our perpetual motion? Suddenly we were standing still, but everything was spinning out of control; it was horrifying. I recall the contrast of the silence against the staggering numbers of deaths and disease, the newly audible birdsong against the empty sidewalks, the nostalgia of simply hearing and feeling another human in my space. Jennifer was my lifeline to humanity, to art. Through musical symbols on a page, I could communicate with her, and she could send me back her beautiful sounds.
ADELIIA FAIZULLINA | Urman
Urman was written at the beginning of the pandemic. At this time I was struggling with the ability to focus because of anxiety. I worried about my family, and I didn't know when I would be able to see them again in person.
The piece is about creating solutions through limitations. I composed this piece using a borrowed violin that didn't have a 4th or a 1st string; I had only II and III. I thought this limitation could be an interesting source for creativity.
Urman means "forest" in Tatar, my native language. When writing, I mentally went to the places where I used to go with my family, to the quiet, green woods around the city where we lived in Tatarstan, and heard the soothing sounds of birds. My musical ideas are really short, just some bird calls, different sounds of nature, such as nature, a drop, and unidentifiable, distant sounds. Because it was such a challenge to focus on big things, I explored evocative, tiny sounds. I'm very thankful for this project, which helped me to forget my anxiety for some moments and listen to these tiny sounds, these little phrases, and try to meditate on them.
JEN SHYU | The River in my Mind
After having an inspiring conversation with Jenny Koh at the beginning of New York City's pandemic lockdown, I composed this piece, which was born from a vocal improvisation during which I meditated on a river flowing through a landscape entirely different from my home's location in Queens, NY, near an industrial area where there is no real green space. What I longed for most then was flowing water, in contrast to the overflow of concrete, even more amplified within the confines of having to stay at home during the pandemic. This music is a reflection of the power of the mind and spirit in conjuring up not only image but texture and movement in one's inner vision, here the movement of the river in my mind.
INTI FIGGIS-VIZUETA | quiet city (& easter bells from the bowery)
quiet city (& easter bells from the bowery) was finished in mid-April 2020, drawing on the sounds both present and absent from my neighborhood in Lower Manhattan. The score includes a poem, placed between the musical materials, guiding interpretation of its many spaces and short duration.
quiet digging
sun-spots, clay-fired
bright eyes shut
ambulance fading into distance
sip…of water, ache
grow (joyous), SHAKE
glass all over
into sand
sinking
reaching
lingering
fading
ELLEN REID | Brick Red Mood
Brick Red Mood was inspired by conversations with Jennifer Koh about feeling claustrophobic and surrounded on all sides by unmovable walls.
RAJNA SWAMINATHAN | Kindling
As the world faces a period filled with uncertainty and tragic loss from the COVID-19 crisis, I offer this piece, like kindling to a fire, with the intention of igniting a reorientation of our ways of being. During this intense reorganization of time, space, and physical movement, it is my hope that this music can serve as a channel for the vibrancy of this stillness.
ANTHONY CHEUNG | Springs Eternal
I wrote Springs Eternal in the first month of the COVID-19 pandemic. In those weeks when the world shifted and everything came to a halt — and when spring cautiously delayed its arrival — hope felt like a very heavy but necessary thing to carry. Its conspicuous absence from the title reflects its complicated place in the music: a series of small breath-like swells and pauses, which lets in something unexpectedly unbroken and quietly resilient towards the end.
TOMÁS GUEGLIO-SACCONE | Nocturno Lamarque
In technical terms, Nocturno Lamarque is a string of short, motivically independent fragments that outline a chromatic scale. Along with the violin, the piece features a tape part composed of six ascending sine-waves. The resulting texture is to resemble the inner ruminations of many of us in the dawn of the pandemic, as well as the mix of disorientation, fear, and unfamiliar sense of time that came with being in lockdown.
ANJNA SWAMINATHAN | a beloved within
In reflecting on ideas of loneliness, and specifically the strange feeling of consistent community I have felt in the past month, I have found myself oscillating between fear of being stuck in this place and fear of leaving it. My mental health condition, Borderline Personality Disorder, is rooted in a core feeling of emptiness and a resulting fear of abandonment. In this period of time, I am at once empty, without the outer structures that have defined me, yet full, because of the sudden presence of collective listening, love, and affection. I feel more community than I have ever felt. And the part of me that needs these new structures, and the part of me that is finally feeling the constant community I have long craved, fears the end of this period. I turn to Jiddu Krishnamurti's writings on loneliness as I face episode after episode about both the endlessness and the nearing end of this strange period. I find myself clinging to people for fear of being left to my own devices, or worse, my own mind. I read along as privileged people callously compared this existence to prison. And I read about the stories and habits of people in true solitary confinement, their methods of coping, or the new found fears they have developed as a result. Loneliness is a punishment, and loneliness is a privilege. And the loneliness I feel now is not what I am experiencing today, but what I have experienced until now, and will likely experience when all of this ends. Krishnamurti talks about the creation of the external noise of love as a way to avoid the love within us. He says that the reason we fear loneliness is because we fail to recognize that we are our emptiness. It is in the recognition of this, and the love of that emptiness, that loneliness can be transformed into something abundant. So, I choose to use this time wisely. I choose to resist the temptation to fill this time with noise. I choose to look for the beloved within.
LAYALE CHAKER | Bond of the Beloved
Bond of the Beloved takes its name from the Maqam (Arabic mode) Bastanikar, which means: "Hand stretched towards the Beloved." In light of the current pandemic we have been going through collectively, where our safety became defined by our isolation from others, I wanted for this piece to act as a song of remembrance of the "others" — of their presence. A remembrance of love as we know it. It is not only the celebration of the "other," but of the act itself of reaching out to one another — through a stretched out hand, a stretched out thought; and of the importance of protecting this love, the most important aspect of our humanity, above all else. Beyond their scalar function, the Maqamat are defined by states of mind rather than by intervallic construction solely. While the significance behind the name of this mode led me to it, I invested its colors out of the classical canon; so rather than a classical path that modulates chronologically, the modulation happens from and to the epicenter; and each round trip ventures to a myriad of different modes and colors. The phrases are built on specific rhythmic cycles, and silence plays a large part in the articulation of the cycles. The final score does not display these time signatures, however. This intentional omission is to avoid for the performer the need to approach the score with a logic of counting, and to allow them to conceive and internalize this piece as a woven succession of phrases and cycles, similar to a monologue.
DAVID SERKIN LUDWIG | All the Rage
I wrote All the Rage as a time capsule in the midst of the COVID pandemic. The title reflects the dichotomy of outrage popularity on social media with the deep sorrow and anger at the callous ineptitude of an authoritarian government. The music evokes the heavy metal wailing of electric guitars.
Few of my pieces are inspired by anger and none are without hope, but All the Rage substitutes catharsis for optimism at its end. As the composer, the piece was my own scream into the air; an honest response to the horrors of its time.
ELIZABETH YOUNAN | …your heart dreams of spring
As an Australian composer of Lebanese descent who grew up surrounded by the work of Kahlil Gibran, my piece, …your heart dreams of spring, takes its name and inspiration from Gibran's The Prophet. My piece bristles and bubbles with a hopeful energy; however, it constantly struggles and yearns to ascend beyond its means. Despite this struggle, joy and hope ultimately prevail.
RAFIQ BHATIA | Descent
Descent represents an attempt to grapple with the way time unravels in an exponential crisis. Although the initial indications — the early whispers, the unheeded warnings, the steadily mounting evidence in the face of willful ignorance — may appear to approach slowly and somewhat steadily from a distance, the problem multiplies in urgency, force, and speed as it draws nearer. As human beings, we lack an intuitive understanding of exponential growth, but catastrophes ranging from coronavirus to climate change underscore an undeniable need to make ourselves more familiar.
HANNA BENN | exhalation
Hanna's Benn's work exhalation is a musical reflection on breath, the physical sensation of breathing, and the idea of a conscious and complete exhale.
MISSY MAZZOLI | Hail, Horrors, Hail
Hail, Horrors, Hail was written at the very beginning of the 2020 COVID-19 pandemic. The title comes from a passage in Milton's Paradise Lost:
Farewell, happy fields,
Where joy forever dwells! Hail, horrors! hail,
Infernal World! and thou, profoundest Hell,
Receive thy new possessor — one who brings
A mind not to be changed by place or time.
The mind is its own place, and in itself
Can make a Heaven of Hell, a Hell of Heaven.
CASSIE WIELAND | shiner
This music is for anybody in need of something small and beautiful like a tealight, or a chocolate chip, or a cheap beer on a patio full of friends.
KATHERINE BALCH | Cleaning
Cleaning is a sonic depiction of my own heightened awareness of touched surfaces, sanitization, and germaphobia during the peak of the pandemic in New York in April 2020. I ask Jennifer to wear latex gloves and perform a ritualistic, methodical "wiping down" of her instrument's strings. Part playful, part sad, I hope this tiny piece captures a feeling unique to this moment in time.
ANDREW NORMAN | Turns of Phrase
Turns of Phrase asks: how many different ways can we express the same idea? And also: how does the same idea change when we express different parts of it in different ways?
ANGÉLICA NEGRÓN | Cooper and Emma
When Jennifer Koh approached me to write a micro-commission for her Alone Together project, I felt really excited to be writing something for her but at the same time pretty overwhelmed by the many emotions I was going through at that time. I felt almost paralyzed at the thought of writing music and wasn't feeling particularly creative during such a challenging time at the beginning of the pandemic with so much uncertainty, fear, and confusion. The only way I was able to write music at this time was by deciding to take away all the pressure of composing and allowing myself to play and have fun by scoring one of my favorite videos of two adorable dogs in Germany (Cooper & Emma) jumping and playing with balloons. I set very simple parameters for myself to follow according to the video, such as whenever one of the dogs' snouts would touch the balloon, I would make a specific melodic or rhythmic gesture, or whenever they would jump I would make another distinct gesture. This was not only incredibly liberating and a lot of fun, but also a good reminder to reconnect with the simple things that bring me joy.
TANIA LEÓN | Anima
A slow-moving, introspective piece, Anima ("soul") touches upon a moment when the heart is at its most vulnerable — of feeling isolated, yet globally connected. A sonic meditation on how we relate to our authenticity, how we relate to ourselves, how we relate to others.
CAROLINE DAVIS | heart rituals.
In addition to the harrowing effect on the health and lives of people worldwide, the COVID-19 crisis brought about mental challenges for many of those whose work could not continue. Some artists scrambled to create a new presence online via lessons, workshops, and merchandise sales, while others let the wash of grief and emptiness fill their days. I fell somewhere in between those ways of being.
heart rituals. explores the see-saw of thoughts traveling through the mind during a year filled with emptiness, grief, and sorrow, alongside feelings of being overworked, overwhelmed, and exhausted. The metric pattern throughout the piece was extracted from the rhythms of see-saws, swings, and slides in movies of me as a little girl growing up in Singapore, while the pitch and harmonic implications are those that bring me a sense of pleasure (fourths, fifths, major sevenths). There are brief interruptions throughout, indicating how strong thoughts can be to our daily lives. The overarching process was to engage in rituals that made my heart smile, while at the same time acknowledging the horror of the present moment.
NINA SHEKHAR | warm in my veins
The title, warm in my veins, comes from a quote by pioneering American nurse Clara Barton in which she states, "The patriot blood of my father was warm in my veins." In the face of catastrophe, it is easy to lose sight of our essence of self and being. But our sense of identity is deep and impenetrable — the blood of our ancestors runs warm in our veins, carrying their culture, wisdom, and fieriness of spirit. Our present communities run warm in our veins. Our love for one another runs warm in our veins. And resilience will always run warm in our veins.
QASIM NAQVI | HAL
When I was a teenager, I was introduced to an album called Weird Nightmare — a supernatural reimaging of Charles Mingus' music that featured the microtonal instruments of Harry Partch. It was a record that altered my musical path in a very profound way. Weird Nightmare was the brainchild of producer Hal Willner. Aside from being the music coordinator for Saturday Night Live, he also produced some really unusual projects and Weird Nightmare was no exception. On April 6, 2020, we lost Hal to COVID. He died a day before his 65th birthday. This piece is my thanks to you, Hal. Thank you for your imagination and for sending me on a different path.
SHAYNA DUNKELMAN | Afterglow
An eerie quietness fell over NYC during the height of the COVID-19 pandemic. Streets were empty except for the long and immobile lines wrapped around the neighborhood drugstore, which added to the illusion of being frozen in time. As I was starting to lean into this still alternate universe, an ambulance would drive by with its deafening sirens to remind me that in fact, lives were being fast forwarded and cruelly robbed of their time with no regard to the familiar process of mourning.
While I was writing Afterglow in my apartment, the sounds were slowly being amplified by illegal fireworks exploding and continuous BLM protests. Having never written a note for violin, I would close my eyes to tune out the restless cacophony to imagine how Jennifer would create a certain timbre and what that would look like on paper. I'd hold my hands in the air, mimicking holding a violin playing a single note. I experimented with some electronic sounds and percussive gestures, playing with familiar sounds to create something new.
I learned how to write for the violin — a confusing consolation prize of 2020.
GEORGE LEWIS | Un petit brouillard cérébral
One of the frequent discussions around composing under pandemic lockdown conditions involved a hopeful, optimistic gloss that tried to overcome the baleful fact that so many commissions and performances were simply cancelled outright. People very confidently said, "Well, here you are, you're at home, you can't go anywhere. So you're going to get all this work done." Well, it turned out that many people didn't get the work done. For some reason it was difficult to stay tuned in; a French colleague of mine called this simply "la maladie." That seemed as good a description as any of what many of my friends and colleagues around the world were experiencing. There's always somebody who can overcome these things relatively easily, but I wasn't one of those. In fact, it was only in the last couple of weeks before this short piece for Jenny was due that I was able to even think about writing it. So I made recourse to the age-old American trope of depiction, from Blind Tom to Amy Beach to Charles Ives to Duke Ellington. The piece itself is an example of Ellington's "tone parallels," providing a sense of what it was like to be swimming around in the brain fog, fighting for focus.
LESTER ST. LOUIS | Ultraviolet, Efflorescent
Ultraviolet, situated beyond the visible spectrum. Efflorescent, the action or process of developing and unfolding. When things go unseen, can they still be measured? Ultraviolet, Efflorescent is a crystal of the process of unseen, unmeasurable growth we will all have away from external value creation.
SUGAR VENDIL | Simple Tasks 2: Six-day deadline
Simple Tasks 2: Six-day deadline was composed in June 2020. Both this piece and Simple Tasks for solo piano (premiered by Walter Aparicio) needed to be written relatively quickly (especially this piece, as the title says) so I needed to come up with a process that would allow me to create something fast in a compact timeline and yet have some semblance of structure.
Many things during the COVID-19 pandemic were (are… we're still in it, as I write these notes) put together with urgent timelines. All of us trying to hold on to our capacity to Do Things despite quarantine and social distancing. (Ironic, given the many think pieces about the need to go easy on ourselves and slow down.)
I was trying to maintain a sense of stability while processing immense grief and anxiety, through a list of simple tasks. For these Simple Tasks pieces, I asked each performer to choose a couple of tasks based on my list, which I then used as a jumping off point to build the piece. This process is inspired by the Merce Cunningham's 50 Looks workshop led by Patricia Lent during the 2020 summer of the pandemic.
PATRICK CASTILLO | Mina Cecilia's Constitutional
The COVID-19 outbreak forced us all to adopt new, homebound routines. Blessed to have good weather and a shared courtyard outside my house in Philadelphia, I spent many mornings last spring meditatively pacing back and forth between my door and the courtyard's front gate, with my nine-month-old Mina Cecilia in the baby carrier. It was an idyllic setting, birds singing in the neighbor's dogwood tree, etc., dissonant with the pandemic ravaging our community. Come summertime, in the wake of the killing of George Floyd and the ensuing unrest just beyond our gate, the birds were drowned out by the constant drone of helicopters overhead. Mina Cecilia's Constitutional was composed during these spring mornings and is an attempt to reconcile their immediate tranquility with the cosmic anxiety surrounding them.
VINCENT CALIANNO | Ashliner
Ashliner is an exploration in rhythmicized resonance. I like to imagine the piece as if the violin were interpreting a single sonic impulse: elongated, twisted and distorted by vintage echo chambers, delay circuits, and overdriven amplifiers — its shapes and rhythms like a CD skipping or fast-forwarding forever. A momentary glitch, realized.
KATI AGÓCS | Thirst and Quenching
Thirst and Quenching was written during the early days of the pandemic while I was on lockdown with my family in Boston. I took a break from larger projects to write this work over a five-day period at the request of Jennifer Koh. Jenny and I had just worked together in Aspen the previous summer on a performance of my Concerto for Violin and Percussion Orchestra. What a difference a few months make! Remembering how incredible it was to collaborate with Jenny in person, I felt paralyzed by an acute sense of loss. Needing to turn loss into gain, writing this piece was a way of capturing Jenny's astonishing musical presence from afar, and sharing it forward. Thirst and Quenching is a meditation on hiatus, absence, and longing. The piece establishes a suspended state with a delicately evolving metabolism, articulated by a regular rhythm that is gradually interrupted by left-handed pizzicati (plucks of the strings). The rhythm of these lacunae (gaps in the line) later transmutes into empty space, while the line develops into more rhapsodic and ornate melismas with glissandi articulating gentle sighs, conveying a sense of release. About three minutes in duration, the piece was premiered on the Alone Together program finale.
Album Details
PRODUCER Judith Sherman
ENGINEER Charles Mueller
PRODUCTION/EDITING ASSISTANT Jeanne Velonis
MASTERING Bill Maylone
GRAPHIC DESIGN Bark Design
RECORDED February 11 and 18, and March 23–24, 2021 at Oktaven Audio, Mount Vernon, NY
PUBLISHERS
Hover and Recede © 2020 Wang Lu
hovering green © 2020 Joungbum Lee
Together, But Alone (In Quarantine) © 2020 Morgan Guerin
for violin alone © 2020 Schott Music Corporation
You are still here © 2020 Sarah Gibson (BMI)
Art | Nat © 2020 Ian Chang (BMI), all rights controlled and administered by Domino Publishing Company of America Inc. (BMI)
The Fragile Season © 2020 Tonia Ko
vacuum packed © 2020 Thomas Kotcheff (BMI)
There had been signs, surely © 2020 Nina C. Young (BMI)
Urman © 2020 Adeliia Faizullina
The River in my Mind © 2020 Chiuyen Music
quiet city (& easter bells from the bowery) © 2020 inti figgis-vizueta
Brick Red Moon © 2020 Modern Works Music Publishing
Kindling © 2020 Rajna Swaminathan / Srotovaha Music (BMI)
Springs Eternal © 2020 Anthony Cheung
Nocturno Lamarque © 2020 Tomás Gueglio-Saccone
a beloved within © 2020 Entangled Memory Music
Bond of the Beloved © 2020 Layale Chaker
All the Rage © 2020 David Serkin Ludwig BMI
…your heart dreams of spring © 2020 Elizabeth Younan
Descent © 2020 Domino Publishing Co. LTD
exhalation © 2020 Hanna Benn (BMI), all rights controlled and administered by Domino Publishing Company of America, Inc. (BMI)
Hail, Horrors, Hail © G. Schirmer, Inc.
Turns of Phrase © 2020 Schott Music
shiner © 2020 Cassie Wieland (ASCAP)
Cleaning © 2020 Schott Helicon Music Corporation
Cooper and Emma © 2020 Big Branch Publishing
Anima © 2020 IROKO music
heart rituals. © 2020 Caroline Davis
warm in my veins © 2020 Nina Shekhar (ASCAP)
HAL © 2020 Erased Tapes Music Publishing
Afterglow © 2020 Shayna Dunkelman
Windowsills © 2020 Du Yun (ASCAP)
Un petit brouillard cérébral © 2020 George Lewis BMI
Ultraviolet, Efflorescent © 2020 Lester St. Lewis
Simple Tasks 2: 6-day deadline © 2020 Sugar Vendil
Mina Cecilia's Constitutional © 2020 Patrick Castillo
Ashliner © 2020 Droplid Music (ASCAP)
Thirst and Quenching © 2020 Kati Agócs Music
Cedille Records © 2021