About
Cedille Records brings Chicago's finest classical musicians to a worldwide audience
For more than two decades, Cedille has produced world-class recordings featuring outstanding classical musicians.
Since Cedille Records was founded in 1989 by James Ginsburg, our mission to widely disseminate classical music recordings by Chicago-based musicians and composers remains the same. To this day, Cedille invests heavily in the marketing and promotion of our recordings. However, sales cover only a small fraction of our expenses, and we rely on the generous contributions of classical music lovers to support the rest.
Still, Cedille sustains its core vision, while continuing to bring the best of the city's classical music artists and composers to a worldwide audience and listening public. With high-quality recordings on our own label, Cedille furthers the careers of these artists. And our model is unique; our recordings are perpetually available—unlike other record labels, we never delete recordings from our catalog—and each album is intended to exist as a permanent addition to the world's catalog of classical music.
With your support, we will continue recording and producing classical recordings of the highest quality, featuring outstanding musicians and composers from Chicago. Please contact us to learn more about Cedille Records and how to get involved—and consider donating today.
---
Our Story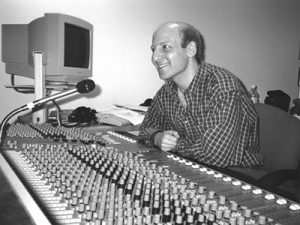 A New Vision Born Out of Passion
James Ginsburg's vision was to provide local musicians with a recording home. Founded in 1989, Cedille Records became the only Chicago-based classical label—the first since Mercury Living Presence in the 1950s—and held that distinction for nearly two decades.
After listening to tapes of pianist Dmitry Paperno's on-air performances on Chicago's classical music station, Ginsburg enlisted Paperno to record Cedille's first album. Dmitry Paperno Plays Russian Piano Music garnered favorable reviews and put Cedille on the map.
In 1994, Cedille became a not-for-profit under the umbrella of an operating foundation, Cedille Chicago. This change gave Cedille the ability to produce more recordings and pursue more ambitious projects.
To this day, Cedille helps artists make valuable contributions to their own discographies and the wider catalog of recorded music, as well as to the listening public. Contact us to learn more about Cedille Records and how to get involved.
Our nonprofit mission
Cedille Chicago, NFP is dedicated to bringing Chicago's finest classical musicians to a worldwide audience by recording, distributing, and promoting their work. Through its high-quality recordings on the Cedille Records label, Cedille furthers the careers of outstanding Chicago classical performers and composers as they present innovative programs featuring the music about which they are most passionate.
---
How we work
Each project Cedille undertakes offers an interesting perspective on important, new, unusual and/or seldom-recorded classical repertory. Recording projects are artist-driven, generated from the artists' interests and aesthetic sensibilities.
No other independent organization—either for- or non-profit—is dedicated exclusively to recording Chicago-area classical musicians, ensembles, and composers. Cedille fully invests in all of its artists, producing, releasing and promoting their work and their vision.
Cedille's ability to receive tax-deductible donations from individuals, institutions and government agencies allows it to pursue projects of great artistic integrity. Cedille empowers its artists to select their own themes and works, and to provide feedback on all aspects of the recording process. Because of this unique approach, Cedille recordings are truer reflections of artists' visions. Contact us to learn more about Cedille Records and how to get involved.
---
Support Our Work
There are many ways to give. Sales of CDs and downloads cover less than 20% of our expenses. We rely on your charitable contributions to fulfill our mission. Please consider making a donation today. Contact us to learn more about Cedille Records and how to get involved.
Submit a Proposal
Cedille is the recording home to over 180 Chicago artists, and we're always interested in learning about new ones. If you would like a chance to join us, submit a proposal and introduce us to your work. We want to hear from you!