Store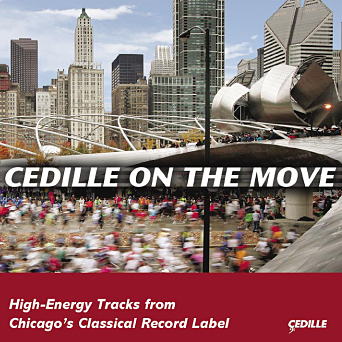 Store
Cedille on the Move
Pacifica Quartet, Chicago Sinfonietta, Rachel Barton Pine
Wendy Warner, Cavatina Duo, Chicago Baroque Ensemble, Chicago Chamber Musicians, Easley Blackwood, Sebastian Huydts, Alex Klein, David Ying, Jennifer Koh, Joshua Rubin, Kim Scholes, Mathieu Dufour, Paul Freeman, Elinor Freer, Georgia and Louise Mangos, Matthew Hagle, Reiko Uchida, Czech National Symphony Orchestra, Encore Chamber Orchestra, Daniel Hege
---
High-Energy Tracks from Chicago's Classical Record Label Cedille Records presents a disc of high-energy selections from our 100+ CD catalog, ideal for keeping you "on the move," whether walking, running, biking, driving, exercising, or just enjoying the music's rhythmic drive. The tracks run the gamut from a Vivaldi flute concerto, to symphonic works by late-Classical era composers from Bohemia (Franz Krommer and Jan Vaclav Hugo Vorísek), to (later) 19th century concertos and chamber works, to seven selections by contemporary or very recent composers. All feature propulsive rhythmic energy designed to keep the music (and you) "on the move."
Preview Excerpts
JOHN ADAMS (b. 1946)
1
I. Relaxed Groove from Road Movies
COLERIDGE-TAYLOR PERKINSON (1932-2004)
2
III. Rondo from Sinfonietta No. 1 for Strings
ERWIN SCHULHOFF (1894-1942)
3
II. Zingaresca from Duo for Violin and Cello
4
I. Allegro from Concerto in G major for Flute and Strings
PERCY GRAINGER (1882-1961) / rev. MAUD POWELL (1867-1920)
FRANZ KROMMER (1759-1831)
6
III. Rondo from Concerto No. 1 in F major
CARTER PANN (b. 1972)
7
I. "Strand" from Differences for Cello and Piano
DAVID DIAMOND (1915-2005)
8
III. Finale from Quintet for Flute, Piano, and String Trio
JAN VACLAV HUGO VORISEK (1791-1825)
9
IV. Finale from Symphony in D major
FRANZ LISZT (1811-1886)
10
Mazeppa - Symphonic Poem for Two Pianos
EASLEY BLACKWOOD (b. 1933)
11
III. Scherzo from Sonata for Cello and Piano
WILLIAM BERNHARD MOLIQUE (1802-1869)
12
III. Rondo from Concerto in D minor for Flute and Orchestra
ROBERT SCHUMANN (1810-1856)
13
III. Lebhaft from Sonata No. 1 in A minor, Op. 105
SEBASTIAN HUYDTS (b. 1966)
14
IV. "Principio di Virtu" from Music for Flute and Piano, Op. 22
JOSEPH WHITE (1836-1918)
15
III. Allegro moderato from Violin Concerto in F-sharp minor
DAVID LEISNER (b. 1953)
16
"Extroverted" from Extremes for Flute, Clarinet & Guitar
FELIX MENDELSSOHN (1809-1847)
17
II. Scherzo from String Quartet in E minor, Op. 44, No. 2
Artists
1: Jennifer Koh, violin;
Reiko Uchida, piano
2: Chicago Sinfonietta / Paul Freeman, conductor
3: Rachel Barton Pine, violin
Wendy Warner, cello
4: Chicago Baroque Ensemble (Anita Miller-Rieder, transverse flute)
5: Rachel Barton Pine, violin
Matthew Hagle, piano
6: Alex Klein, oboe
Czech National Symphony Orchestra / Paul Freeman, conductor
7: David Ying, cello
Elinor Freer, piano
8: The Chicago Chamber Musicians
9: Czech National Symphony Orchestra/Paul Freeman, conductor
10: Georgia & Louise Mangos, duo-pianists
11: Kim Scholes, cello
Easley Blackwood, piano
12: Mathieu Dufour, flute
Czech National Symphony Orchestra/Paul Freeman, conductor
13: Jennifer Koh, violin
Reiko Uchida, piano
14: Mary Stolper, flute
Sebastian Huydts, piano
15: Rachel Barton Pine, violin
Encore Chamber Orchestra/Daniel Hege, conductor
16: Cavatina Duo with Joshua Rubin, clarinet
17: Pacifica Quartet
What the Critics Are Saying
---
---
"Well-chosen highlights from… a very impressive catalog…selections that show off the label's Chicago-connected artists and/or composers. Most of the repertoire is 20thcentury, and all of it is well worth hearing…. The music and performances actually made me want to hear more… a success all around."
Cedille on the Move
Notes by Jim Ginsburg
Cedille Records is devoted to promoting the finest musicians in and from Chicago by releasing their efforts on high quality recordings. Our recording ideas come from the artists
themselves, which is why we have such a widely varied catalog of innovatively programmed
recordings.
In 2004, Cedille released a sampler CD of calming compositions titled Serenely Cedille (Cedille Records CDR 8001). Now, five years later, we present a disc of high-energy selections from our catalog, ideal for keeping you "on the move," whether walking, running, biking, driving, exercising, or just enjoying the music's rhythmic drive. The tracks run the gamut from a Vivaldi flute concerto, to symphonic works by late-Classical era composers from Bohemia (Krommer and Voříšek), to (later) 19th century concertos and chamber works, to seven selections by contemporary or very recent composers. All feature propulsive rhythmic energy designed to keep the music (and you) moving forward.
I hope you enjoy this disc, and that it inspires you to want to learn more about and hear
more from the wonderful Chicago artists represented on this CD. Toward that end, the track
listing in this booklet includes a short statement about each selection and its respective
disc. You can learn more about Cedille Records, our artists, and their recordings by visiting
us on the web at www.cedillerecords.org.
Wishing you a stimulating musical journey,
James Ginsburg
Founder and President, Cedille Records
Album Details
Total Time: 78:20
© 2009 Cedille Records/Cedille Chicago