Store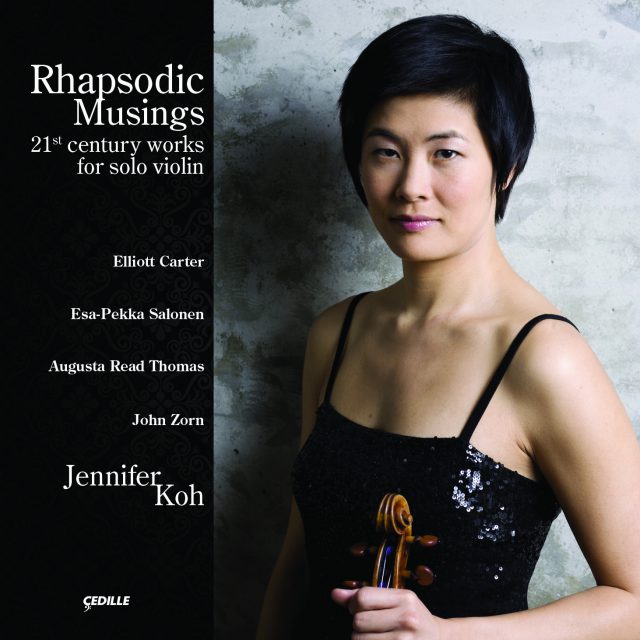 ---
On Rhapsodic Musings, Koh brings her "deep musicality and an ear for the fine points of composers' styles" (The New York Times) to works from the dawn of the 21st century by Elliott Carter, John Zorn, Augusta Read Thomas, and Esa-Pekka Salonen.
Koh's playing is sure to win new fans for Carter's Four Lauds (1984–2000), a series of ingenious miniatures commemorating fellow musicians; Zorn's mystical Goetia (2002), eight occult incantations using the same sequence of 277 pitches; Thomas's blazing Pulsar (2002), which the composer describes as a "passionate, urgent, seductive" musical journey of self-discovery; and Salonen's chaconne-like Lachen Verlernt (2002), a mini-drama that gains momentum as it unfolds with sounds "both furious and strangely gorgeous" (Los Angeles Times).
Preview Excerpts
Enjoy our recommended preview track excerpts below
ESA-PEKKA SALONEN
ELLIOTT CARTER
2
Statement - Remembering Aaron
3
Riconoscenza per Goffredo Petrassi
AUGUSTA READ THOMAS
JOHN ZORN
Artists
What the Critics Are Saying
---
---
Alone, singing
Notes by Paul Griffiths
The violin, normally playing with, for, and to other instruments, other musicians, so that our hearing is partly overhearing, here addresses us directly and alone. It is a situation of extremity, demanding virtuosity, unflagging imagination, and ceaseless attention from both composer and performer, and offering the listener, perhaps especially the listener to a recording, an unusually intimate communication. Daring and secrets.
Composed in 2002, Esa-Pekka Salonen's Lachen Verlernt (Laughing Unlearnt) takes its title from one of the poems Schoenberg set in Pierrot Lunaire, a poem whose speaker has lost the ability to laugh and wants it back. "I felt," the composer writes, "that this is a very moving metaphor of a performer: a serious clown trying to help the audience to connect with emotions they have lost, or believe they have lost."
The piece is, Salonen goes on, "essentially a chaconne, which in this case means that there is a harmonic progression that repeats itself several times." First comes a melody the composition shares with Salonen's orchestral piece Insomnia, written at the same time. Elements of this melody reappear from time to time as the music becomes faster and more complex. Eventually, to return to the composer's words, the piece "develops an almost frantic character, as if the imaginary narrator had reached a state of utter despair. A very short coda closes this mini-drama peacefully."
Elliott Carter wrote his first solo violin piece in 1984 as an eightieth birthday present for an admired colleague and friend, the Italian composer whose name forms part of the title: Riconoscenza per Goffredo Petrassi. A few years later he composed a concerto for the Norwegian violinist Ole Böhn, who suggested he follow this up with a suite, which he duly did by adding three more tributes: Statement—Remembering Aaron [Copland] and Fantasy—Remembering Roger [Sessions] in the early months of 1999, and Rhapsodic Musings in 2001 for another eightieth birthday, that of Robert Mann, longtime leader of the Juilliard Quartet. For the set as a whole he picked out an old term for praise song and called the pieces Four Lauds.
Embracing musical ideas from Copland, notably from his Ukulele Serenade for violin and piano, Statement, Carter says, "also suggests the warmth and generosity and nobility that meant so much to me." Riconoscenza exemplifies a Carterian type in classic form: flying melody is interrupted (or is it stimulated?) by music of other characters, assertive or, in the double-stopped passages, pensive. In Rhapsodic Musings, the dedicatee's initials are encoded not only in the title but also in the music, in the upward step from re (D) to mi (E) on which this big short piece is founded. Finally, the wide-ranging Fantasy seems to celebrate qualities Carter found in Sessions the man, "how his convictions were combined with charm and humor"— qualities that also shine through these pieces of Carter's.
The other two works, like the Salonen, were written in 2002. Augusta Read Thomas's Pulsar takes its title from a kind of neutron star that spins rapidly, pushing out regular pulses of radiation. Marked "Passionate, intense, driving," the composition is accordingly packed with energy, much of it fortissimo. This is a piece, one might say, in which the violin discovers its inner trumpet. The opening is a sequence of insistences on and around a middle-high F, which quite soon returns to set off further repercussions. Eventually, a steep descent brings the instrument to its lowest note, and from this point the music becomes far more songful, though without forgetting previous exertions.
John Zorn's title conveys us from almost unimaginable objects deep in space to the alternative cosmos of necromancy, "goetia" being a system of black magic used to conjure demons. As the composer has explained, goetia demands the strict observance of elaborate rules and conditions if the demons are to appear, and "in keeping with the meticulous and ascetic nature of these processes, Goetia was composed under an equally rigorous formal model, taking the form of eight short movements (incantations) each employing the same sequence of 277 pitches."
Because these pitches can be transposed across a range of four octaves, and because they can be transformed in all sorts of ways in terms of rhythm, dynamics, and color, the fact that we are hearing the same line—the same spell—eight times over (nine times, indeed, as the very fast third movement runs through the sequence twice) is not at all obvious. There is, for instance, a repeating loop early on, notes 1721 (A.–G–E–C.–F.) not only recalling notes 5-8 (A.–G–E–F.) but also reappearing exactly as notes 22-6 and 27-31. This is obvious in the slow melody of the second piece, where the motif even seems to remain pervasive; it is also clear in the seventh incantation and—to a lesser degree, because of the speed—the second. However, it is completely obscured in the angular multiple stops of the first piece, the scattered pizzicatos of the fourth, the muted flurries of the fifth, the lean extravagance of the sixth, and the skids of the last. What we hear is a set of virtuoso etudes, or caprices, to use an appropriately Paganinian word, for, as Zorn is well aware, the figure of the violin virtuoso as magician, in touch with demonic realms, has a long history in western culture.
© Paul Griffiths
Album Details
Total Time: 52:00
Producer & Engineer: Judith Sherman
Assistant Engineer: Jeanne Velonis
Digital Editing: Bill Maylone
Recorded: June 1 and 2, 2008 (Salonen and Thomas); January 5, 2009 (Carter); and March 30, 2009 (Zorn) at the Academy of Arts and Letters, New York City
Art Direction: Adam Fleishman – www.adamfleishman.com
Photos of Jennifer Koh Fran Kaufman
Microphones: Schoeps CMC6 with MK2 capsule, Sonodore Pre-amp
Violin: 1727 Ex Grumiaux Ex General DuPont Stradivari
© 2009 Cedille Records/Cedille Chicago