Store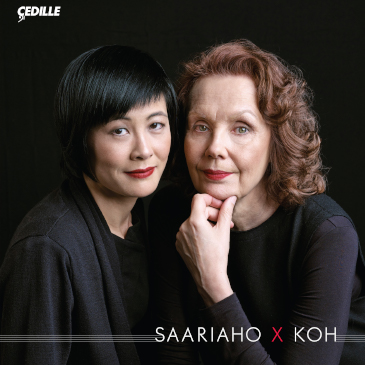 ---
Jennifer Koh, a "brilliant violinist" (The New Yorker) who performs with "conviction, ferocity, and an irresistible sense of play" (Washington Post), showcases works by Kaija Saariaho, the visionary and much-honored Finnish composer with whom Koh has closely collaborated and feels a deep personal bond.
The album offers the world-premiere recording of Saariaho's Light and Matter for violin, cello, and piano, inspired by sunlit colors and shadows in a city park outside the composer's window. Also receiving its first recording is the violin and cello version of Aure, meaning a gentle breeze, created for and dedicated to Koh and cellist Anssi Karttunen, another champion of Saariaho's music.
The album's largest work is the one that first attracted Koh to the composer: the violin concerto Graal théâtre, which Koh has performed many times and performs here in the composer's chamber-orchestra version. Grove Music Online notes that the work illustrates "Saariaho's rich and expansive string style, but places greater emphasis on melody than earlier works."
Tocar, Spanish for "to touch," explores the playful and tactile aspects of the word through violin and piano. Cloud Trio for violin, viola, and cello was prompted by shape-shifting clouds in the French Alps.
Saariaho X Koh is the violinist's twelfth Cedille Records album in a discography that includes the Grammy-nominated String Poetic. In reviewing her album Bach & Beyond Part 2, ClassicsToday.com proclaimed, "When Jennifer Koh plays, people listen. Or they should."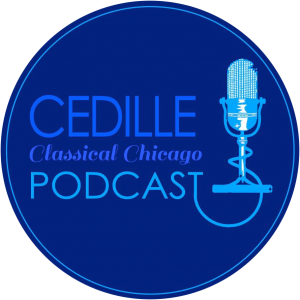 Listen to Jim Ginsburg's interview
with Jennifer Koh on Cedille's
Classical Chicago Podcast
Preview Excerpts
Enjoy our recommended preview track excerpts below
KAIJA SAARIAHO (b. 1952)
3
II. Sempre dolce, ma energico, sempre a tempo
5
IV. Tranquillo ma sempre molto espressivo
Artists
1: Nicolas Hodges, piano
2: Hsin-Yun Huang, viola
Wilhelmina Smith, cello
6: Anssi Karttunen, cello
Nicolas Hodges, piano
7: Anssi Karttunen, cello
8: Curtis 20/21 Ensemble
Conner Gray Covington, conductor
What the Critics Are Saying
---
---
Saariaho X Koh
Notes by Anne Leilehua Lanzilotti
Kaija Saariaho's string writing is beautiful and compelling. At moments the sound seems to lose all its weight, the timbre brightening with flutters of harmonics, evaporating suddenly. Other times, the sound presses to the edge of force, breaking purposefully. While Saariaho is known for her ability to create incredible operatic, digitally enhanced soundscapes, her compositional voice is marked by its timbral colors. Her demand of formal structures is made powerful by her intimate knowledge of string technique, allowing for these wonderful details.
Violinist Jennifer Koh remembers hearing Saariaho's music and knowing immediately that this was someone she related to. In an interview for Meet the Composer, Koh said, "I almost felt like I knew that I would be close to [Saariaho] when I heard her music. . . . I felt like I understood this person."
Aside from her longstanding collaborations with string players such as Koh and Anssi Karttunen, Saariaho herself has a unique relationship with the violin. In our conversations about this album, Saariaho recalled: "I started playing violin at the age of six — it was my first instrument. I then started playing piano at the age of eight. My early memories of playing violin are filled with smells: I always liked a lot the smell of a rosin, and my first teacher smoked a lot, and in fact he left me during the lesson to play alone to go to smoke in another room."
The evocative sound world Saariaho creates draws from all these senses. In an interview for Music & Literature, Peter Sellars commented of Saariaho that: ". . . the music is there to remind you of the power of invisibility and that all of the things that are moving are actually invisible. But Kaija moves them imagistically. And so it takes you into this other world of visual art which is not about things as they appear but their secret existence shimmering in the dark. And that is where Kaija's music lives."
Album Details
Total Time: 68:06
Producer/Editor: Judith Sherman
Editing Assistant: Jeanne Velonis
Engineers: Drew Schlegel (Graal théâtre) and Guillaume Dujardin (Aure, Tocar, Light and Matter)
Assistant Engineers: Jeanne Velonis (Cloud Trio), Matthieu Lefevre and Coretin Anis (Aure, Tocar, Light and Matter)
Mastering: Bill Maylone
Cover Photo: Juergen Frank
Graphic Design: Bark Design
Recorded: October 31, 2016, Miriam and Robert Gould Rehearsal Hall, Curtis School of Music (Graal théâtre); December 11, 2016, American Academy of Arts and Letters, New York, NY (Cloud Trio); November 25–26, 2017, Studios Ferber, Paris, France (Aure, Tocar, Light and Matter)
©2018 Cedille Records/Cedille Chicago