Store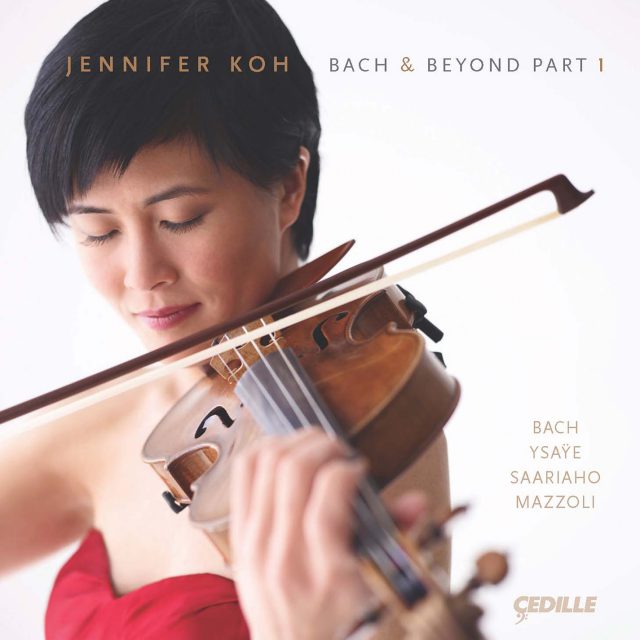 Store
Bach & Beyond Part 1
---
American violinist Jennifer Koh's Bach & Beyond Part 1 is the first in a three-part CD series based on her groundbreaking, multi-season "Bach and Beyond" recital series, now underway in North America and overseas. With these inventive programs, Koh, "a virtuoso with quirky and wonderful ideas" (San Francisco Chronicle), sets out to illuminate connections between J.S. Bach's sonatas and partitas for solo violin and 20th- and 21st-century works, including pieces commissioned expressly for Koh and her Bach and Beyond project.
Bach & Beyond Part 1 and its sequels will appeal to Bach fans as well as those interested in contemporary music. Listeners will explore how composers influence each other across the centuries as Koh pairs Bach's sonatas and partitas with works by living composers.
Koh is uniquely qualified for such a project. In its glowing review of her 2011 landmark, marathon concert of all six Bach violin sonatas and partitas, The New York Times said, "By refusing to specialize in a particular corner of the violin repertory, and leaping freely among several, Jennifer Koh has built a following that draws on, and ideally brings together, several of the music world's style-conscious enclaves."
Bach & Beyond Part 1 opens with the Partita No. 3 in E Major, BWV 1004, a suite of seven dances. Eugène Ysaÿe's 1924 Sonata No. 2 in A Minor, Op. 27, begins with the tune that opens the Preludio of that Bach work. Missy Mazzoli's Dissolve, O My Heart, commissioned for Koh by the Los Angeles Philharmonic Orchestra and premiered by her in 2011, begins on a resonant and evocative D minor chord — the same one that opens the Chaconne of Bach's Partita No. 2 in D Minor, BWV 1004. Kaija Saariaho's 1994 Nocturne, in Memory of Witold Lutoslawski includes a sly reference to one of the dance movements in Bach's Second Partita, which concludes Bach & Beyond Part 1.
Preview Excerpts
Enjoy our recommended preview track excerpts below
J.S. BACH (1685–1750)
EUGÈNE YSAŸE (1858–1931)
9
III. Danse des Ombres; Sarabande
KAIJA SAARIAHO (b. 1952)
MISSY MAZZOLI (b. 1980)
Artists
13: J.S. BACH Partita
What the Critics Are Saying
---
---
"Koh is a thoughtful, sensitive, and technically accomplished violinist and her project is most interesting. She plays each of the pieces on this disc with knowledge of its style as well as the ability to coordinate and explain this unusual program."
"The first in a three-part series of recordings exploring connections between Bach and music written over the past 100 years, Jennifer Koh's new offering shows her distinctive voice over a range of styles.
Each piece she plays is either an iconic sonata or partita by the baroque master or in some way linked to his work. Missy Mazzoli's lyrical, expansive "Dissolve, O My Heart," for example, takes its title from Bach's Saint John Passion but evokes the Chaconne from his Partita No. 2.
Koh consistently dives wholeheartedly into her material and plays with decisive articulation and a full, focused tone. She maintains long musical lines and is notably smooth and effortless through the double stops of the Gavotte en Rondeau from Bach's Partita No. 3.
The mood shifts from bright vigor to dark fury as a melody from that work leads into Eugène Ysaÿe's Sonata No. 2. In its Dies Irae variation, she plays with a soft-edged sound, like a singer using breathy tones for effect. Koh also gives an accomplished performance of Kaija Saariaho's fitful "Nocturne."
"Bach & Beyond, Part 1 – Jennifer Koh, violinist (Cedille Records CDR 90000 134). The violinist Jennifer Koh is known as both a masterly Bach interpreter and a champion of contemporary repertory. As part of her "Bach and Beyond" series, she pairs alluring performances of Bach's Partitas Nos. 2 and 3 with Ysaÿe's Sonata No. 2 and works by Kaija Saariaho and Missy Mazzoli."
Bach & Beyond Part 1
Notes by Alison Ames
In 2011, Jennifer Koh initiated a challenging and inventive three-part series of programs titled "Bach and Beyond," of which this recording is the first document. Her goal is to emphasize the connections between Johann Sebastian Bach's large-scale works for solo violin and compositions of more recent vintage. She plays and records works from the centuries since Bach that derive in some way from the Baroque master.
Music by J.S. Bach resonates throughout this first recording in the project, and not just because his matchless Second and Third Partitas for solo violin (ca. 1718–1723) bracket the program. The Eisenach giant's spirit also hovers throughout the 1924 Sonata No. 2 by Eugène Ysaÿe, and his notes echo in both Kaija Saariaho's 1994 Nocturne and Missy Mazzoli's Dissolve, O My Heart, composed in 2010. Ms. Mazzoli's title comes from Bach's Saint John Passion ("Zerfliesse, mein Herze") while Ms. Saariaho's Nocturne, like the Ysaÿe, cites the time-honored Dies Irae chant almost more than Bach. The entire program itself is not unlike a very large-scale suite.
For violinists, there are probably few greater challenges than the Bach Sonatas and Partitas; they constitute a multi-cragged mountain, each of whose peaks must be conquered by every serious contestant. Originally intended as works for advanced students of the violin more than for performance, these suites have long since passed into concert programs, and also confront many composers interested in writing for solo violin, including the Belgian violinist and composer Eugène Ysaÿe (1858–1931). Bach's Partita No. 3 in E major, a seven-movement suite of dances, opens the program; although the dance steps themselves are unfamiliar to us today, their names are almost all recognizable from other forms of composition: Preludio, Loure, Gavotte en rondeau, Menuet I and II, Bourrée, and Gigue. The Second Partita, at the end of the recording, comprises Allemanda, Corrente, Sarabanda, Giga, and Ciaccona. (Note that the spellings of these dances might vary as much as the steps themselves.)
Eugène Ysaÿe's recordings (a few are still available) prove contemporary claims that he was one of the great string players of his day. But in the early 20th century, when critical choice between gaiety and gravity in musical composition turned toward seriousness, frequently to the exclusion of pure joy, Ysaÿe's popularity began to wane. Nonetheless, students and virtuosos alike still enjoy performing Ysaÿe's music because it is demanding, fun to play and, ultimately, delicious.
A busy violin virtuoso, Ysaÿe was often called the "king of the violin" by his followers (or "Tsar of the violin," in the words of the Russian violinist Nathan Milstein). Ysaÿe turned out very little music for solo violin; indeed the Six Sonatas for Violin, Op. 27, published in 1924, total only about an hour in playing time. Belgian scholar José Quitin wrote in a 1938 biography:
Ysaÿe composed his sonatas in bed, in the evening, without an instrument at his side. He would play them the next day with barely a correction or minute change here or there. Each sonata was dedicated to — and written for — a contemporary virtuoso. Ysaÿe studied the special masterly characteristics of each, and wrote with his specialties in mind, spotlighting the particular technical, rhythmic and artistic gifts of Jacques Thibaud, Fritz Kreisler, Georges Enesco, Manuel Quiroga, Mathieu Crickbloom, and Joseph Szigeti.
Ysaÿe's Second Sonata — an original and technical tour-de-force dedicated to Thibaud — quotes both Bach and the Dies Irae. Each of its four movements has a descriptive title: Obsession, Malinconia, Dance of the Shades, and The Furies. This virtuoso Sonata begins with the jaunty tune that launches the Preludio of Bach's Third Partita but soon goes its own fanciful way, quoting the Dies Irae almost immediately and dancing between the two tunes for the rest of the first movement. The second movement is meditative, even yearning, with a final, drawn-out statement of the Dies Irae. Another chorale makes up the intricate pizzicato that opens the third movement, variations on which weave through the section's remainder. The final movement, after some initial drama, settles into the Dies Irae once more. Altogether, this sonata is a tribute to Ysaÿe's virtuosity: probably few of his contemporaries could have played it well. (The composer might have had trouble playing it later in his career, however, when his bow-arm developed a tremor that led to his early retirement from performing.)
Missy Mazzoli's Dissolve, O My Heart begins on a resonant and evocative D minor chord — the same one that opens the Chaconne of Bach's Partita No. 2 — but seems almost electronic as the sound is drawn out to a wisp. Within a few moments, the instrument's full sonority is deployed. As notes begin to bend, an Eastern quality emerges — perhaps a recollection of the instrument's early ancestors — while Koh's delicacy reminds us that music making is not always muscular. A dancelike tune follows the introduction, sometimes bending and sliding on notes even as it continues to dance. The violin's lower notes are in greater evidence here than in most pieces as virtuosic as this one, which calls for significant control of the bow on the strings — sometimes heavy, sometimes spiccato. A few moments before the reluctant final notes, a single-string rumination begins to take us out before ending on a slide upward toward infinity. Commissioned by the Los Angeles Philharmonic, Dissolve received its first performance, by Jennifer Koh, on May 24, 2011. Kaija Saariaho's 1994 Nocturne opens with similar sounds, exploring stridency, double-stopping, trills, and pizzicato — sometimes almost all at once. Like the Mazzoli, it periodically approaches a full standstill before eking out a few more tones. The piece "…swirls and skitters around selected pitches, couched in a variety of tonal effects," (Art Lange, Fanfare, July 2000) but it starts with the familiar notes of Bach's Partita No. 3 in E major Nocturne is dedicated to the memory of Witold Lutoslawski and is an "exploration of early ideas for [Saariaho's] violin concerto, Graal Théâtre." [Chester Music]
Album Details
Total Time: 78:35

*World Premiere Recording(s)
Producer and Engineer: Judith Sherman
Editing: Bill Maylone
Editing Assistance: Jeanne Velonis
Recorded: Bach D minor recorded November 13 and 16, 2011; Ysaÿe and Mazzoli recorded November 14, 2011; Saariaho recorded November 16, 2011; Bach E Major recorded January 4 and 5, 2012, at the American Academy of Arts and Letters, New York City
Photos of Jennifer Koh: Jürgen Frank
Front Cover Design: Sue Cottrill
Booklet & Inlay Card Design: Nancy Bieschke
Publishers:
Ysaÿe Sonata No. 2 © 1924 Antoine Ysaÿe
Saariaho Nocturne © 1994 Chester Music Ltd.
Mazzoli Dissolve, O My Heart © 2010 G. Schirmer, Inc.
© 2012 Cedille Records/Cedille Chicago