---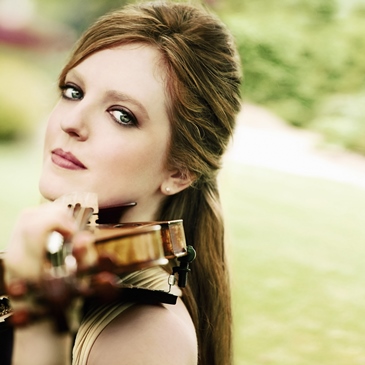 Artists
Rachel Barton Pine
Violin
Celebrated for her extraordinary ability to connect with audiences, violinist Rachel Barton Pine debuted with the Chicago Symphony at age 10 and was the first American and youngest-ever gold medal winner of the International Johann Sebastian Bach Competition.
---
In both art and life, violinist Rachel Barton Pine has an extraordinary ability to connect with people. Celebrated as a leading interpreter of classical works, her performances combine her innate gift for emotional communication and her scholarly fascination with historical research. She plays with passion and conviction across an extensive repertoire. Audiences are thrilled by her dazzling technique, lustrous tone, and infectious joy in music-making.
Pine has appeared as a soloist with many of the world's most prestigious ensembles including the Chicago, Montreal, Vienna, and Baltimore Symphonies; the Philadelphia Orchestra; the Royal Philharmonic, the Mozarteum, Scottish, and Israel Chamber Orchestras; and the Netherlands Radio Kamer Filharmonie. She has worked with such renowned conductors as Charles Dutoit, Zubin Mehta, Erich Leinsdorf, Neeme Järvi, John Nelson, Marin Alsop, and Placido Domingo.
Her festival appearances have included Marlboro, Ravinia, and Salzburg. Her recital performances have included the complete Paganini Caprices, all six Bach Sonatas and Partitas, Beethoven's complete works for violin and piano, and the world premiere of the last movement of Samuel Barber's long-lost 1928 Violin Sonata. She regularly plays and records with John Mark Rozendaal and David Schrader as the period instrument ensemble Trio Settecento.
Pine writes her own cadenzas to many of the works she performs, including concertos by Beethoven, Brahms, Mozart, and Paganini. She is the first living composer to be published as part of Carl Fischer's "Masters Collection" with the release of The Rachel Barton Pine Collection, including original compositions, arrangements, cadenzas, and editions penned or arranged by Pine. Pine is also music advisor and editor of "Maud Powell Favorites," the only published compilation of music dedicated to, commissioned by, or closely associated with Powell, the first native-born American violinist to achieve international recognition.
Pine won the gold medal at the J.S. Bach International Violin Competition (Leipzig, 1992) and holds prizes from several other leading competitions including the Queen Elisabeth (Brussels, 1993), Kreisler (Vienna, 1992), Szigeti (Budapest, 1992), and Montreal (1991) International Violin Competitions. She won honors for her interpretation of the Paganini Caprices at the Szigeti Competition and Paganini International Violin Competition (Genoa, 1993).
Her Rachel Elizabeth Barton Foundation assists young artists through various projects including the Instrument Loan Program, Grants for Education and Career, Global HeartStrings (supporting classical musicians in developing countries), and a curricular series in development with the University of Michigan: The String Students' Library of Music by Black Composers. She teaches chamber music, coaches youth orchestras, gives master classes, conducts workshops at universities, adjudicates music competitions, creates special programs for children and school groups, and offers spoken program notes or pre-concert conversations for audiences of all ages.
For more about Rachel Barton Pine, please visit rachelbartonpine.com.