Store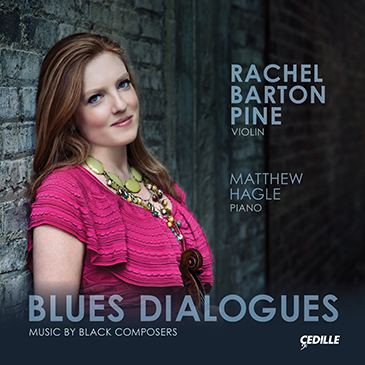 ---
Violinist Rachel Barton Pine, "an exciting, boundary-defying performer" (Washington Post) known for her "bravura technique and soulful musicianship" (New York Times), headlines a groundbreaking album of blues-influenced classical works for solo violin and violin and piano by 20th and 21st century composers of African descent.
World-premiere recordings include Noel Da Costa's A Set of Dance Tunes for Solo Violin, based on American fiddle tunes, and Billy Childs's Incident on Larpenteur Avenue, a single-movement violin sonata/tone poem written as a response to a fatal shooting by police. Another premiere is Wendell Logan's violin and piano arrangement of Duke Ellington's 1935 composition, In a Sentimental Mood.
The album's title track, Dolores White's improvisational Blues Dialogues, draws on classical, jazz, and country music, as well as African-American vocalizations and a blues harmonic language. David N. Baker's gospel-tinged Blues (Deliver My Soul) evokes the ecstatic energy of a Black church service. Coleridge-Taylor Perkinson's Blue/s Forms and Louisiana Blues Strut befit a composer with a legacy of achievements in the classical, jazz, modern dance, and pop music worlds. Each movement of William Grant Still's Suite for Violin and Piano evokes the work of a different African-American visual artist. Clarence Cameron White's Levee Dance, a favorite of legendary violinist Jascha Heifetz, surrounds a traditional African-American spiritual with a playful, syncopated dance. Errollyn Wallen's Woogie Boogie is a humorous and inventive reimaging of the boogie-woogie blues dance. Daniel Bernard Roumain's Filter, with a new opening cadenza written specially for Rachel Barton Pine, conjures the sounds of electronic dance music and psychedelic guitar. Concluding the program, Charles S. Brown's A Song Without Words was inspired by bottleneck guitar player and gospel blues master Blind Willie Johnson.
Listen to Jim Ginsburg's interview with Rachel Barton Pine on Cedille's Classical Chicago Podcast
Preview Excerpts
Enjoy our recommended preview track excerpts below
DAVID N. BAKER (1931–2016)
COLERIDGE-TAYLOR PERKINSON (1932–2004)
Blue/s Forms for solo violin
5
Louisiana Blues Strut (A Cakewalk) for solo violin
WILLIAM GRANT STILL (1895–1978)
Suite for Violin and Piano
6
I. Suggested by Richmond Barthe's "African Dancer"
7
II. Suggested by Sargent Johnson's "Mother and Child"
8
III. Suggested by Augusta Savage's "Gamin"
NOEL DA COSTA (1929–2002)
A Set of Dance Tunes for Solo Violin
9
I. Walk Around "Brudder Bones"
11
III. Little Diamond/Bird on the Wing Jigs
13
V. "New Orleans" Clog Blues
CLARENCE CAMERON WHITE (1880–1960)
DUKE ELLINGTON (1899–1974), ARR. WENDELL LOGAN
DOLORES WHITE (b. 1932)
Blues Dialogues for solo violin
ERROLLYN WALLEN (b. 1958)
BILLY CHILDS (b. 1957)
21
Incident on Larpenteur Avenue
DANIEL BERNARD ROUMAIN (b. 1977)
22
Filter for Unaccompanied Violin
CHARLES S. BROWN (b. 1940)
WILLIAM GRANT STILL, ARR. LOUIS KAUFMAN
24
"Blues" from Lenox Avenue for violin and piano
What the Critics Are Saying
---
---
The Freedom Call of the Blues
Notes by Mark Clague
To sing the blues is to say something. It may be a cry of personal pain, a celebration of community hope, or a scream of human injustice. The blues is about relationships, typically between the self and the world, but often as not with a symbolic resonance that argues for the universal. The blues is about struggle. It is a music born of the Deep South after the U.S. Civil War, created by the sons, and a few daughters, of enslaved African-Americans. Often the blues accompanied sharecropping in the Mississippi Delta — a practice of farming leased land that was essentially a new form of permanent, indentured servitude by Black bodies to White masters. The blues draws expression from their work songs and field hollers, hopes and trials, spirituals, chants, shouts, and narrative ballads. It is a secular music with a sacred charge to amplify the voice of freedom, to celebrate the expression of those previously denied the right to speak. It is a music of passion, perseverance, resilience, hope, and joy. While having the blues is to feel the weighted veil of sadness, even depression; to perform the blues is to fight back against the shadows. To sing the blues is to triumph.
The blues is a process of working things out. Blues lyrics typically tell a story. Its classic poetic form — often analyzed with the symbols AAB — is inherently a dialogue: statement, restatement, response. The artist grapples with life and takes action. The blues is thus less a formal model than an expressive practice — an art of understanding to inspire change. It may often have 12-bars with a three-fold cyclic pattern of four chords (I-I-I-I•IV-IV-I-I•V-IV-I-I), but it is not a genre born of textbook descriptions. It is the raw, direct expression of the individual, most idiomatically a singer with a guitar. There are infinite types of blues, beginning in the American South with Delta and Piedmont Blues but extending geographically in space, place, and time. There are honky-tonk blues, country blues, urban blues, and electric blues. Louisiana blues, Kansas City blues, Chicago blues, and West Coast blues. Gospel blues and hokum blues. Acid blues, blues rock, boogie-woogie, rhythm and blues, punk blues, and hip hop. There are even blues in classical music, a symphonic form pioneered by George Gershwin's Rhapsody in Blue (1924), William Grant Still's Afro-American Symphony (1930), and Duke Ellington's Diminuendo and Crescendo in Blue (1937).
Rachel Barton Pine's Blues Dialogues explores the expressive power of the blues, its history and future directions. Each track draws strength from the tradition of Robert Johnson, Memphis Minnie, Blind Willie Johnson, and Bessie Smith. Yet rather than rehearse the conventional 12-bar blues progression, the composers featured here find inspiration in the freedom of the blues. Ever changing meters and continuous musical transformation convey a living, organic sense of the blues as a vital engagement with the world. There are quotes of American fiddle tunes, gospel hymns and spirituals, upbeat boogie-woogie dance tunes, sonic references to the signal processing of electronic dance music, repairs offered to the racist traditions of minstrelsy, and screams of anger, frustration, and despair at the killing of Black Americans by those charged to protect them. Each composer draws from the cultural tributaries of the African Diaspora, and each has come to terms with the power of this heritage to forge an utterly personal expression of universal community across time, place, and people. Dialoguing with the blues is thus to enact a prayer of possibility and of hope — whether given voice by a singer, an electric guitar, or on the strings of a violin.
Album Details
Producer: James Ginsburg
Engineer: Bill Maylone
Editing: Jeanne Velonis
Cover Photo: Lisa-Marie Mazzucco
Graphic Design: Bark Design
Recorded: December 18-22, 2017 and May 4, 2018 at Nichols Hall, Music Institute of Chicago, Evanston, IL
©2018 Cedille Records/Cedille Chicago