Store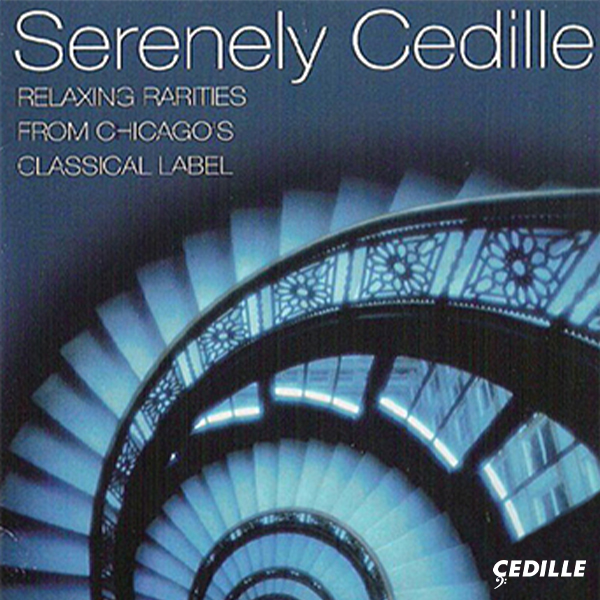 Store
Serenely Cedille
Rachel Barton Pine, Chicago Sinfonietta, Dmitry Paperno
Eighth Blackbird, Chicago Chamber Musicians, Frank Ferko, Mary Stolper, Anne Heider, Carlos Kalmar, Paul Freeman, David Schrader, Ramon Salvatore, Czech National Symphony Orchestra, Encore Chamber Orchestra, Grant Park Orchestra, Daniel Hege, Bella Voce
---
Some of the most sublime music you've never heard.
Say "adios" to the same old adagios you typically find on serenity-themed CDs of contemplative classical music.
This new disc of calming classics, drawn from 16 different, acclaimed CDs in the Cedille Records catalog, consists of rare gems of relaxing classical music, ranging from symphony and concerto movements to solo piano, choral, and chamber works. Included are the slow movement of a violin concerto by a Black contemporary of Mozart and numerous works by "Romantic" American composers.
Preview Excerpts
(CDR 90000 061)
(CDR 90000 001)
2
October from The Seasons, Op. 37a
(CDR 90000 036)
3
Kyrie from Mass in G minor
from Dmitry Paperno (CDR 90000 002)
4
Intermezzo, Op. 116, No. 4 from Seven Fantasies, Op. 116
(CDR 90000 046)
FRANK FERKO (b. 1950)
from Frank Ferko: Stabat Mater
6
Eia mater from Stabat Mater
(CDR 90000 063)
7
Prelude from Prelude and Allegro for Organ and Strings
from Paperno Live (CDR 90000 044)
8
Moment musical in D-flat, Op. 16, No. 5
from thirteen ways (CDR 90000 067)
from African Heritage Symphonic Series, Volume I (CDR 90000 055)
10
Adagio from Symphony No. 1, "Afro-American"
FEDERICO MOMPOU (1983-1987)
from Dmitry Paperno: Uncommon Encores
from Copland Piano Music (CDR 90000 021)
of the 18th and 19th Centuries (CDR 90000 035)
13
Adagio from Violin Concerto No. 4 in D Major
(CDR 90000 066)
14
Alla sarabande from Generations: Sinfonietta No. 2 for Strings
from 20th Century French Wind Trios (CDR 90000 040)
15
Dialogue from Sutie pour Trio D'Anches
from African Heritage Symphonic Series, Volume I (CDR 90000 055)
16
Nostalgia from African Suite
from Hear My Prayer (CDR 90000 036)
17
Beati Quorum Via from Three Motets, Op. 38
from Through the Years (CDR 90000 074)
18
Sarabande from French Suite No. 5 in G Major, BWV 816
Artists
1: Chicago Sinfonietta / Paul Freeman, conductor
from African Heritage Symphonic Series, Volume II
2: Dmitry Paperno, piano
from Dmitry Paperno plays Russian Piano Music
3: His Majestie's Clerkes / Anne Heider, director
from Hear My Prayer - Choral Music of the English Romantics
4: Dmitry Paperno, piano
5: Mary Stolper, flute
Czech National Symphony Orchestra
Paul Freeman, conductor
from American Works for Flute and Orchestra
6: His Majestie's Clerkes / Anne Heider, director
7: David Schrader, organ
Grant Park Orchestra
Carlos Kalmar, conductor
from American Works for Organ and Orchestra
8: Dmitry Paperno, piano
9: eighth blackbird
10: Chicago Sinfonietta / Paul Freeman, conductor
11: Dmitry Paperno, piano
12: Ramon Salvatore, piano
13: Rachel Barton Pine, violin
Encore Chamber Orchestra
Daniel Hege, conductor
from Violin Concertos by Black Composers
14: Chicago Sinfonietta / Paul Freeman, conductor
from African Heritage Symphonic Series, Volume III
15: The Chicago Chamber Musicians
16: Chicago Sinfonietta / Paul Freeman, conductor
17: His Majestie's Clerkes / Anne Heider, director
18: Dmitry Paperno, piano
Album Details
Total Time: 67:49

Graphic Design: Melanie Germond & Pete Goldlust