Store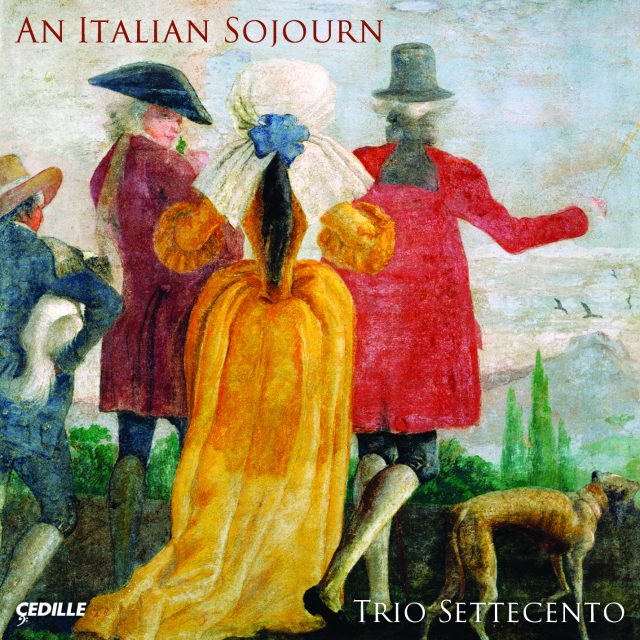 ---
Trio Settecento brings fresh insights to music from the Age of Enlightenment through its passionate, authoritative, and distinctive interpretations.
The period instrument ensemble's new CD, An Italian Sojourn, traces the remarkable musical innovations of composers in Venice, Rome, and beyond during the Baroque era through works by eight different composers including Marini, Corelli, Veracini, Tartini, and Locatelli.
In the hands of Trio Settecento (The 1700s Trio), these masterpieces exude the dramatic intensity of the Italian school.
Reviewing the trio's 2006 New York debut, The New York Times declared, Pine "played remarkably. . . . Mr. Rozendaal and Mr. Schrader contributed a rich, modestly varied texture."
Preview Excerpts
Enjoy our recommended preview track excerpts below
DARIO CASTELLO (FL. 1621–1636)
ALESSANDRO STRADELLA (1644–1682)
BIAGIO MARINI (1678–1741)
PIETRO ANTONIO LOCATELLI (1695–1764)
Sonata da camera, Op. 6, No. 2 in F Major
ARCANGELO CORELLI (1653–1713)
Sonata in C Major, Op. 5, No. 3
GIUSEPPE TARTINI (1692–1770)
Sonata Pastorale in A Major
GEORGE FRIDERIC HANDEL (1685–1756)
Sonata in G minor, HWV 364a
FRANCESCO VERACINI (1690–1750)
Sonata in D minor, Op. 2, No. 12
Artists
A Personal Note
Notes by Rachel Barton Pine
What a difference a decade makes! In 1996, John Mark Rozendaal, David Schrader, and I collaborated on a recording of Handel's Violin Sonatas. We enjoyed working together so much that in 1997, we formed Trio Settecento. This album, An Italian Sojourn, represents the culmination of ten years' growth for us as individuals and as an ensemble.
In 1996, I recorded Handel using a modernized 1617 Amati and a baroque bow. My interpretations on that album combined a historically-informed approach to phrasing and ornamentation with a contemporary application of vibrato. This continues to be my approach when performing a Baroque sonata alongside Romantic and 20th/21st Century works on my 1742 Guarneri del Gesu.
However, my exploration of the sound world of the 17th and 18th Centuries has evolved significantly. In 2002, I began performing this music on a 1770 Nicola Gagliano in original condition. This beautiful instrument has had a remarkable effect on my capability to be faithful to the early composers' intents and to bring their music most fully to life.
I am so grateful for the opportunity to collaborate with John Mark and David. Their passion for music, boundless thirst for knowledge, and mastery of their instruments makes our time together an exciting musical adventure and increasingly rewarding. The longer we play together, the more we breathe as one, anticipate each others' nuances, and discover increased freedom and spontaneity in our improvisations. And through all these years of intense rehearsing, we remain the best of friends!
Baroque music holds the power to delight and astonish. We chose the pieces on this album for their profound beauty and sometimes startling originality, even eccentricity. I hope that you are as excited to discover this music as we always are to play it.
Album Details
Total Time: 70:51
Producer: James Ginsburg
Engineer: Bill Maylone
Graphic Design: Melanie Germond
Cover Painting: The Walk, c.1791 (oil on canvas) by Giandomenico (Giovanni Domenico) Tiepolo (1727-1804). Ca'o Rezzonico, Museo del Settecento, Venice, Alinari. © The Bridgeman Art Library International
Recorded: December 18, 19 , 21 & 22, 2006 in Nichols Concert Hall at the Music Institute of Chicago in Evanston, IL
Instrument Credits:
Violin: Nicola Gagliano, 1770, in original, unaltered condition
Violin Strings: Damian Dlugolecki
Violin Bows: Harry Grabenstein, replica of early 17th Century model (Castello, Stradella, Marini) / Louis Begin, replica of 18th Century model (Locatelli, Corelli, Tartini, Handel, Veracini)
Cello: Unknown Tyrolean maker, 18th century
Cello Bows: Louis Begin (Castello, Marini, Stradella) / Julian Clarke (Corelli, Handel, Locatelli, Tartini, Veracini)
Harpsichord: Willard Martin, Bethlehem, Pennsylvania, 1997. Single-manual instrument after a concept by Marin Mersenne (1617), strung throughout in brass wire with a range of GG-d3

Tuning: Unequal temperament by David Schrader, based on Werckmeister III
©2007 Cedille Records/Cedille Chicago