Store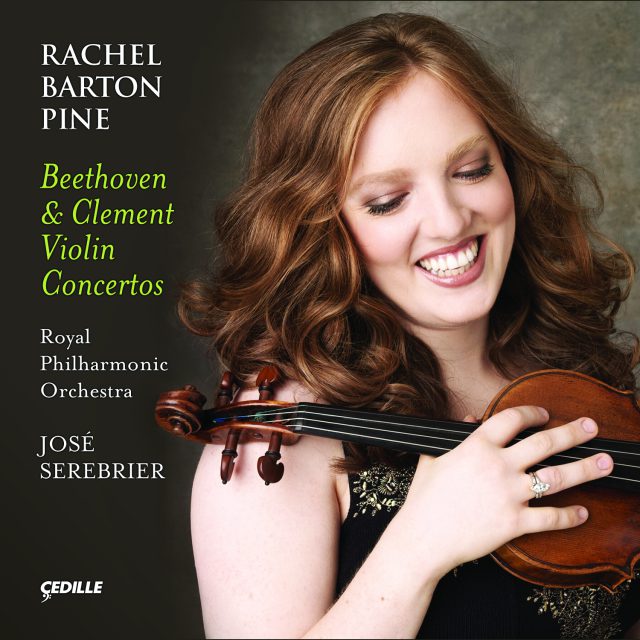 Store
Beethoven & Clement Violin Concertos
---
Beethoven's towering Violin Concerto in D Major, Op. 61, has always seemed an isolated phenomenon — so different from the other violin concertos of its era — until now . . .
On Beethoven & Clement Violin Concertos, American violinist Rachel Barton Pine ("a magnetically imaginative artist" —Gramophone), with Jose Serebrier and the Royal Philharmonic Orchestra, presents the world premiere recording of the exquisite 1805 Violin Concerto in D Major by Franz Clement — the Viennese virtuoso for whom Beethoven wrote his own concerto a year later. Recently rescued from obscurity by enterprising British musicologist Clive Brown, this delightful work offers new insights into the Beethoven: according to Brown, "Individual figurations in Beethoven's Violin Concerto . . . appear to allude directly to passages in Clement's concerto."
Rachel Barton Pine is the ideal interpreter for these two late-Classical era gems. After a recent performance of the Beethoven concerto in New England, a newspaper critic raved, "Pine played Beethoven's music with profound regard for every brick of its architecture and every beat of its heart." She applies the same level of insight to the concerto by the violinist who inspired Beethoven's piece, superbly supported by London's renowned Royal Philharmonic Orchestra and acclaimed Maestro Jose Serebrier.
Preview Excerpts
Enjoy our recommended preview track excerpts below
FRANZ CLEMENT (1780-1842)
Violin Concerto in D Major
Artists
1: Cadenzas by Rachel Barton Pine
LUDWIG VAN BEETHOVEN (1770-1827)
Violin Concerto in D Major, Op. 61
Artists
1: Cadenzas by Rachel Barton Pine
What the Critics Are Saying
---
---
The Violin Concertos of Franz Clement and Ludwig van Beethoven
Notes by Clive Brown
Beethoven's Violin Concerto in D major of 1806 has long stood alone, almost equidistant in time from the violin concertos of Mozart and Mendelssohn, as an isolated and exceptional phenomenon. Except for Paganini's concertos, and rare performances of Viotti's Twenty-second Violin Concerto in A minor or Spohr's Eighth Violin Concerto (the "Gesangsszene"), it was for many decades the only violin concerto of that period known to the public. It shares few formal or stylistic characteristics with the violin concertos of Viotti, Rode, and Kreutzer (1782-1824), which established the fame of the French Violin School throughout Europe during Beethoven's lifetime, nor does it bear any significant resemblances to the fifteen violin concertos (1803-1844) of Louis Spohr, which were seen as the embodiment of excellence in the German violin concerto during the first half of the nineteenth century; and it inhabits an entirely different world from Paganini's pyrotechnic concertos (1815-1830), which astonished Europe towards the end of Beethoven's lifetime.
The exceptional position of Beethoven's Violin Concerto in the Classical canon remains unchallenged (although the concertos of Viotti and Spohr are now becoming increasingly familiar and admired through recordings), but its stylistic isolation is no longer as absolute as it once appeared. The rediscovery of Franz Clement's Violin Concerto in D major of 1805, recorded here commercially for the first time, provides a previously unsuspected context for Beethoven's masterpiece. It is well known, of course, that despite the dedication of the published edition of Beethoven's Violin Concerto to his old friend Stephan von Breuning, Beethoven actually wrote the work for violinist Franz Clement, as indicated by the punning inscription "par Clemenza pour Clement" on the autograph score. At this time Clement and Beethoven had a close musical relationship. Beethoven's long-standing admiration for Clement's playing and musicianship is attested by his entry in Clement's autograph album (Stammbuch), now in the Austrian National Library:
Dear Clement:

Go forth on the way you have hitherto travelled so beautifully, so magnificently. Nature and art vie with each other in making you a great artist. Follow both and, never fear, you will reach the great – the greatest goal possible to an artist here on earth.

All wishes for your happiness, dear youth; and return soon, that I may again hear your dear magnificent playing.

Entirely your friend L. v. Beethoven
In the service of His Serene Highness the Elector of Cologne
Vienna 1794
Clement, in turn, clearly recognised Beethoven's genius and was a notable champion of his music with the various professional and amateur ensembles of which he was leader (concertmaster). Clement also showed his appreciation in his compositions: his D major Violin Concerto owes much to the example of Beethoven's piano concertos in its musical language and structure. Clement's concerto may be seen, therefore, as a testimony to his admiration for Beethoven, and Beethoven's Violin Concerto, written just over a year later, as an affectionate and respectful acknowledgement of Clement's skills both as executant and composer.
Born in Vienna in 1780, Clement displayed his remarkable musical gifts at a very early age. He gave his first public concert when he was seven years old, and the following year performed at the court theatre and the Mehlgrube am Neuen Markt, playing several of his own compositions, including an early violin concerto. At that time he was taught by his father and by a Viennese violinist named Kurzweil. In 1790 Clement and his father undertook a concert tour through Germany and Belgium to England, where they stayed for two years, appearing at court and playing in concerts with Haydn, Salomon, and Bridgetower (for whom Beethoven later wrote the "Kreutzer" Sonata).
For more than a decade after Clement's return to Vienna it seemed as if he would fulfill the destiny Beethoven predicted. He was not only an extraordinary violinist, but also a fine pianist. And his musical memory was phenomenal: after playing violin in Haydn's Creation several times, for instance, he was able, with the aid only of a libretto, to make a complete piano arrangement. According to Spohr, who heard this story circa 1813, Clement "brought this version to Haydn for his inspection. The composer was disturbed, for at first he thought that someone had stolen his score or had copied it surreptitiously. On closer examination he found the piano version so faithful that, after Clement had looked through the original, Haydn adopted it for publication." Spohr also recounted how Clement, having heard two rehearsals and a performance of his oratorio Das jungste Gericht, was able to play large sections from memory without having seen the score.
During the early part of his career Clement wrote a considerable amount of music. A list of his known compositions includes twenty-five concertinos and six concertos for violin, a piano concerto, and an opera, as well as orchestral and chamber music. Many of his compositions remained in manuscript and have disappeared without trace. Surviving copies of his published works are few and widely scattered, yet these show him to have been an exceptionally gifted composer, capable of handling the musical style of his day with confidence and imagination. By the second decade of the century, however, it became increasingly apparent that he was incapable of coping with the normal business of life. He fell into debt, no longer composed much, and even his career as a violinist faltered. In his later years he was often seen wandering the streets of Vienna like a vagrant. According to a close colleague, Ignaz von Seyfried, writing in 1835, seven years before Clement's death:
Clement was a born genius. Whatever he wished to do, he could do. But the fact that he wished to perfect so little of what was in him is precisely his sin of omission that is most grievous, inexcusable, and beyond absolution before the judgement seat of art. He has not with sufficient care made use of the talents given him; he has not vigorously advanced with the times; and whenever one neglects to do that, one has necessarily outlived one's time.
As a violinist, Clement's independence from the prevailing trends of the period was noted by contemporaries. At the height of his powers in 1805 a reviewer in the Leipzig Allgemeine musikalische Zeitung observed:
His is not the marked, bold, strong playing, the moving, forceful Adagio, the powerful bow and tone which characterise the Rode-Viotti School; rather, his playing is indescribably delicate, neat and elegant; it has an extremely delightful tenderness and cleanness that undoubtedly secures him a place among the most perfect violinists. At the same time, he has a wholly individual lightness, which makes it seem as if he merely toys with the most incredible difficulties, and a sureness that never deserts him for a moment, even in the most daring passages.
The characteristics this reviewer described are apparent in Clement's writing for the solo violin in his D major Concerto.
This concerto, published in the second half of 1806 or early months of 1807, was premiered at Clement's benefit concert in the Theatre and der Wien on April 7, 1805. As Music Director (concermaster) of the theatre orchestra, he was entitled to an annual concert from which he received the box office receipts. Such benefit concerts typically involved a concerto performed by the concert-giver together with a selection of orchestral and vocal music, usually including at least one other novelty. On this occasion the other novelty was the first fully public performance of Beethoven's "Eroica" symphony conducted by its composer. It seems probable that it was as a direct result of this collaboration that Beethoven agreed to write a violin concerto for the following year's benefit concert, although whether the idea was first broached then or later remains unclear. In any event, Clement's next benefit concert took place on December 23, 1806. It is evident that Beethoven left the completion of his concerto to the last minute, scarcely allowing time for rehearsal; the autograph score shows the haste with which it was written. According to Thayer's account, Clement performed it "at sight" although it seems unlikely that he had absolutely no advanced knowledge of what lay in store for him.
Some months after this performance, Beethoven began to prepare the work for publication. The numerous alternative versions of the solo part that were added to the autograph after the premiere document the first stage of an extensive revision that took place before the concerto first appeared in print in 1808. Whether Clement had any hand in these revisions of the solo part is unclear. It has generally been assumed that he did not, and that the concerto was rarely performed until the young Joseph Joachim championed it in the 1840s. Only two further performances by Clement are known for certain: one in Dresden in 1815, the other in Vienna in 1833, six years after Beethoven's death. But recently uncovered evidence suggests Clement's role in crafting the final version of Beethoven's concerto may have been greater than supposed. In his edition of the Beethoven Violin Concerto, published circa 1880, the Viennese violinist Jacob Dont claimed to transmit a number of performance details "on the basis of reliable tradition" explaining in his preface that his father, "first cellist in the Imperial and Royal Court Opera in Vienna in Beethoven's time, heard and accompanied the Violin Concerto, written for the then violin virtuoso Fr. Clement, from the first performance on, very often in Beethoven's presence." If, as this comment suggests, there were indeed further performances with Clement, it seems altogether possible that the final published version resulted from their continuing collaboration.
In any case, it is evident from the similarity with which the solo violin is handled in the two concertos that Beethoven had Clement's style of violin playing clearly in mind while composing the work. This is all the more apparent when Beethoven's writing for the violin here is compared with his treatment in other works, such as the Triple Concerto Op. 56, which were intended for different violinists. But the resemblances between Beethoven's and Clement's concertos go far deeper than the general character of the violin writing, suggesting perhaps a hidden dialogue between the two composers. Both works are externally similar. They both employ the same instrumentation: a single flute, two each of oboes, clarinets, bassoons, horns, and trumpets, timpani, and the usual string body. Clement, however, uses the clarinets only in the second movement, where he omits oboes, trumpets, and timpani. Beethoven, as well as omitting these instruments in his Larghetto, also omits the flute; but he employs the clarinets in all three movements. They both also exemplify a specific type of Viennese concerto, with distinctive stylistic character, structure, and unusual expansiveness in the individual movements; the slow movements, however, are quite different. As a contemporary critic noted Clement's, with its middle section of rapid triplets, seems to reflect the Romanza of Mozart's D minor Piano Concerto. In addition, they exhibit a similar approach in their treatment of the solo instrument, and there are even many individual figurations in Beethoven's Violin Concerto that appear to allude directly to passages in Clement's concerto (see the preface to my edition of Clement's Violin Concerto in D major (1805): A-R Editions 2005, pp. ix-x). Furthermore, it was widely believed that Clement provided Beethoven with the theme for his Rondo. These connections indicate that Beethoven may have wanted to pay a musical compliment to Clement or possibly, in typical Beethoven fashion, he wanted to show Clement how his ideas could have been developed to maximum effect.
Because Beethoven has been accepted for so long as the towering figure in German music during the first decades of the nineteenth century while the music of other composers has faded into the background or disappeared almost entirely, it is difficult for us to appreciate Beethoven and his contemporaries the way early nineteenth century audiences and critics did. It seems strange, therefore, that a reviewer of Clement's 1805 benefit concert, having shown little enthusiasm for Beethoven's "Eroica" Symphony, remarked that Clement's concerto was "really splendidly composed and beautifully scored." Even more surprising today, a reviewer of the 1806 performance of Beethoven's Violin Concerto, while praising Clement's performance enthusiastically, commented about the work that the opinion of all connoisseurs is the same; while they acknowledge that it contains some fine things, they agree that the continuity often seems to be completely disrupted, and that the endless repetitions of a few commonplace passages could easily lead to weariness." The critic admitted, however, that "The audience in general were very pleased by this Concerto and by Clement's [sic.] improvising." The latter remark may have given rise to the often repeated myth that Clement improvised on an upside-down violin between the first and second movements of Beethoven's concerto, but the programme of the concert clearly shows that this event occurred in the second part of the concert, after the concerto performance.
Of course, we now have a very different view of Beethoven's Violin Concerto. Clement's D major Violin Concerto, on the other hand, which has only just emerged from two centuries of obscurity, now compels renewed admiration. It shows a degree of imagination, seriousness of purpose, and flair that is worthy of many a better known composer; it teems with felicitous ideas that sustain the listener's interest; the orchestration is exceptionally sensitive and colourful; and the assured handling of form and the subtle and varied harmonic style, rather more chromatic than Beethoven's, reveal an individual and sensitive appreciation of the Classical style. It is the work of a musician whose extraordinary potential was never fulfilled, but it is not unworthy to stand beside the masterpiece he helped to inspire.
Professor of Applied Musicology at the University of Leeds (UK), Clive Brown is a scholar and violinist. Among his publications are the book Classical and Romantic Performing Practice (Oxford, 1999) and many critical editions of music, including Franz Clement's D major Violin Concerto (A-R Editions, 2005) and Beethoven's Violin Concerto (Breitkopf und Hartel, forthcoming).
Beethoven and Clement Violin Concertos
Notes by Rachel Barton Pine
When I was a little girl, my mom often let me stay up late to watch classical music performances on PBS. I vividly remember the night I saw Itzhak Perlman perform the Beethoven Violin Concerto. I was six years old and had just learned the Haydn Concerto in G Major. My introduction to its "big sibling" was a revelation; I instinctively sensed that the Beethoven was the pinnacle of violin concertos.
Stylistically, Beethoven's concerto seems to stand alone among the great works for violin and orchestra. The few other concertos from that time that are occasionally played, most notably those of Paganini, Spohr, and Rode, bear it little resemblance. I take a Classical period approach to the Beethoven, which accentuates its differences from the Mendelssohn Violin Concerto. The Franz Clement Violin Concerto in D Major turned out to be the perfect pairing, setting Beethoven's masterpiece in an entirely new context.
In spring 2006, I received a call from the owner of my favorite sheet music store, Performer's Music. Knowing of my fascination with lesser-known historic repertoire, he asked if I would be interested in the newly published first modern edition of Clement's Violin Concerto in D Major. He read me a short essay about the piece and I placed my order immediately. When the score arrived, it only took one glance to know that I had found something special. It is an excellent composition, but what really startled me were the aesthetic similarities to Beethoven's masterpiece.
The Clement Concerto has not been publicly performed in approximately 200 years. There are no surviving cadenzas, so I composed my own for this recording. For the Beethoven, I chose to record the cadenzas I wrote in 2001. Most cadenzas to the first movement of the Beethoven begin with a variation on the solo violin's first entrance. However, Beethoven began his cadenza to his piano transcription of the violin concerto with the bold motif in the orchestra that follows the conclusions of the exposition and recapitulation. I chose to start my cadenza with this same motif, employing my own choice of harmonies. The four repeated notes that feature so prominently in the first movement appear many times in my cadenza. Notably, in the final climax, I reiterate them one last time, halving the speed for extra emphasis. They even make a brief appearance at the end of my cadenza to the last movement.
I am very grateful to Maestro Jose Serebrier for learning the Clement and for preparing both works so meticulously. I would also like to thank the Royal Philharmonic Orchestra for playing with such commitment and enthusiasm. It was a rewarding collaboration and I look forward to working with these fine musicians again. Finally, many thanks to Clive Brown for reviving Clement's life story and concerto.
I am very pleased to share with you my interpretation of the Beethoven Violin Concerto and I hope that you will be intrigued and moved by its worthy predecessor.
Album Details
Total Time: 85:10
Producer: James Ginsburg
Session Director: Judith Sherman
Engineer: Bill Maylone
Graphic Design: Melanie Germond
Photos of Rachel Barton Pine: Andrew Eccles
Recorded:
November 27 & 28, 2007 in Lyndhurst Hall, AIR Studios, Hampstead, London
Rachel Barton Pine's violin: "ex-Soldat" Guarneri del Gesu, Cremona, 1742
Strings: Vision Titanium Solo by Thomastik-Infeld
This recording is based on the following edition: Franz Clement: Violin Concerto in D Minor (1805), edited by Clive Brown, Recent Researches in the Music of the Nineteenth and Early Twentieth Centuries, vol. 41. Middleton, WI: A-R Editions, Inc., 2005. Used with permission. All rights reserved.
© 2008 Cedille Records/Cedille Chicago