Store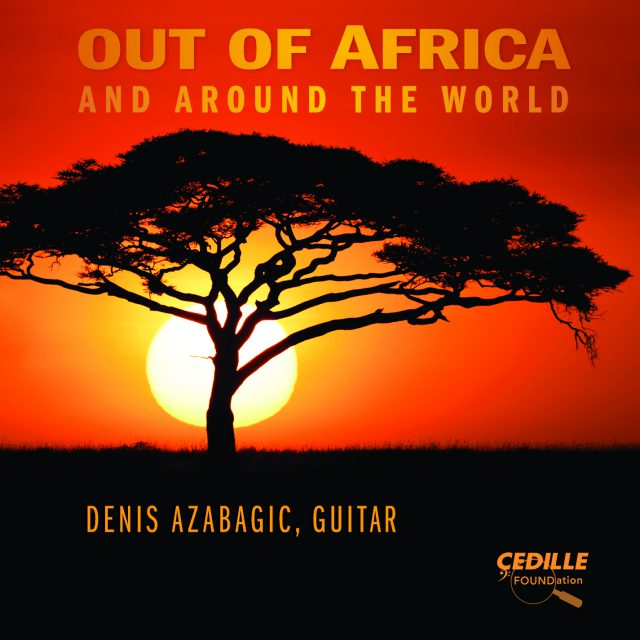 Store
Out of Africa… and Around the World
---
Multi-award winning guitarist Denis Azabagic invites listeners into a realm where world, folk, and classical music intersect on Out of Africa . . . and Around the Word, the Bosnia-born, Chicago-based virtuoso's first solo album on Cedille Records.
Showcasing works by living composers, the album takes its title from American-born, British-based composer Alan Thomas's evocative Out of Africa, inspired by the Karen Blixen memoir and movie of the same name. Thomas weaves together strands of African singing styles, scales, and rhythms, while paying homage to African string instruments, such as the kora and the oud.
Sarajevo-born composer Vojislav Ivanovic's set of six Café Pieces, an audience favorite, includes an homage to Astor Piazzolla in the form of a tango with hints of Balkan jazz. Atanas Ourkouzounov takes a traditional song from his native Bulgaria as the basis for his Folk Song Variations. Carlos Rafael Rivera, an American composer of Cuban and Guatemalan descent, says his Canción came to him in a moment of inspiration, with no evident folk music connections. Dusan Bogdanovic employs a kaleidoscope of styles in Blues and Seven Variations, including big band orchestration and a Brazilian carnival rhythm.
Preview Excerpts
ATANAS OURKOUZOUNOV (b. 1970)
VOJISLAV IVANOVIC (b. 1959)
4
Tango Café (Homage á Astor Piazzolla)
CARLOS RAFAEL RIVERA (b. 1970)
DUSAN BOGDANOVIC (b. 1955)
ALAN THOMAS (b. 1968)
Artists
Out of Africa… and Around the World
Notes by the Composers
Ourkouzounov
I wrote Folk Song Variations in 1999. The theme comes from the traditional Bulgarian folk song, Pozaspa li iagodo? (Are you Sleeping, Strawberry?). Writing the variations was very satisfying. I enjoyed trying out new techniques on the guitar, such as tapping with the left hand while simultaneously playing harmonics with the right, or, as in the last variations, imitating the tambora, a traditional Bulgarian stringed instrument (a kind of long-necked lute). Each variation clearly uses the theme, or elements from it.
AO.
IVANOVIC
I wrote Café pieces in 1985/86 during my stay in Athens while studying with Costas Cotsiolis. I used to improvise music in different styles for friends and colleagues (which I still like to do, and do extensively when performing solo or with my duo), and I would play "moody" — a particular style that we used to call "Café" music. So what began as a joke became these Café pieces. They were not intended to be less "serious" than any other music, however. They are all "Café," but each has its own particular mood and treats a different musical style. Tear Prelude is a sentimental slow dance, as though sipping a coffee with some tears dropping in. Funny Valse is a persiflage of a Viennese waltz spiced with my own jazzy color. Tango Café is an homage to Astor Piazzolla; it's a tango with a Balkanian jazz flavor. Nostalgia is a melancholic tremolo study. My Lullaby is in a Spanish style. The last piece (in Denis's arrangement, which is different from my original order) combines a slow, Mediterranean improvisation with a vigorous dance.
Café pieces are dedicated to Darko Petrinjak and Istvan Romer who were early supporters and champions of my music. The revised version of Tango Café is dedicated to Denis Azabagic, through whose unique performances the Café pieces have become celebrated around the world.
RIVERA
I wrote "Canción" (song) as a gift of thanks to Tom Shadyac. [who? Story behind?] There are no borrowed folk melodies or rhythmic patterns. It is one of those pieces that seem to have already been written, and I fortunately happened to stumble upon.
BOGDANOVIC
Written in the same year as my concerto for guitar and strings, Blues and Seven Variations (1979) is one of my early attempts at synthesizing popular and classical idioms. It is a virtuoso set of variations based on an unorthodox thirteen-bar blues in 9/8 meter. Most of the variations present very particular stylistic characteristics: the first and second variations are in what could be called "finger-picking" style; the third uses a big band orchestration; the fourth introduces a sort of "Gershwinian" rendition of the subject; the fifth is a humorous commentary on Fernando Sor's Mozart Variations; and the seventh is built on a Brazilian carnival rhythm. The seeming incongruity of idioms and compositional styles points to my interest in developing a widely based musical world — an interest that has only grown stronger in recent years.
THOMAS
It is in the spirit of Karen Blixen's classic book (and subsequent, beautifully realized film) that I chose the title "Out of Africa" for this suite for solo guitar. I'm a big fan of many different strands of African music-making, but was afraid of copying or appropriating African music in a sort of ethno-tourist way. This is not African music, but rather music that is inspired by my distilled memories of particular African styles of singing, for example, or the use of additive rhythms, irregular metric groupings, and pentatonic or pandiatonic scales. I also sought to pay homage to two great plucked-string instruments of the African continent: the kora (in movement 2) and the oud (movement 3). Needless to say, these pieces barely scratch the surface of the musical traditions and languages of Africa, but they do attempt to bring at least a bit of this rich heritage under the guitarist's fingers.
The suite consists of five different movements, which are played in two different groups without pause (movements 1–2 and movements 3–5). To give the different pieces a sense of unity and direction, I decided to chart the course of a day, from sunrise to sleep. The music's "day" begins with a "Call at Sunrise," a melody presented in canon that gradually develops into a vibrant ostinato and vocalic melody.
The second movement, "Morning Dance," is again built on an ostinato bass line, and has the exuberance and feel typical of South African popular music. By using cross-string scalar patterns (in which notes ring over each other in what guitarists call campanella), I tried to evoke the sound of the kora. This instrument comes from a different part of Africa but the cross-breeding of different musical traditions is precisely what I was aiming for in this piece.
The heat of midday is depicted in "Zenith," which draws on North African/Arabic music in its central and final sections. Particularly in the middle section, the sound of the oud (arguably the guitar's great-great grandfather) is evoked, including microtonal inflections facilitated by de-tuning the guitar's third string. The final section builds to a climax via an exploration of the guitar as a percussion instrument. A transition leads to the fourth movement, "Evening Dance," which in turn transforms at its end into the final movement, "Cradle Song." This gentle lullaby brings the day to a serene close, drawing on musical material from the first movement to create a cyclical return to (the next) morning.
Album Details
Total Time: 59:40
Producer: Eugenia Moliner
Engineer: Bill Maylone
Editing: Denis Azabagic
Guitar: Steve Connor
Strings: D'addario
Recorded: Ganz Hall, Roosevelt University, Chicago, IL October 4–6, 2011, and December 19, 2012
Cover Design: Sue Cottrill
Cover Photography: Jeff Mauritzen
Inside Booklet and Inlay Card: Nancy Bieschke
© 2013 Cedille Records/Cedille Chicago