---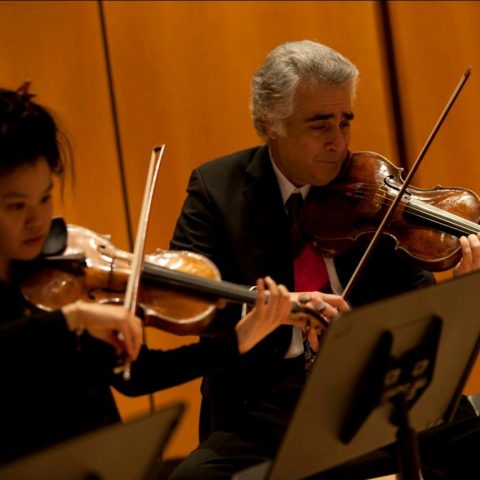 Artists
Chicago Chamber Musicians
---
"Even in a city well supplied with superior chamber ensembles, the Chicago Chamber Musicians are something special…They make us glad to be sharing their music with them." (Chicago Tribune)
The Chicago Chamber Musicians (CCM) enjoys an outstanding reputation both for its artistic excellence and for its strong commitment to community service. Since its founding in 1986, CCM has assembled a resident ensemble of twelve world-class artists who collaborate closely to present a broad spectrum of the chamber music repertoire. CCM has toured nationally, including performances at the Ravinia Festival and the Wolf Trap Center for the Performing Arts, and internationally in Tokyo, Salzburg, and Paris, receiving many repeat engagement invitations. More than 27 million listeners have heard CCM through performances broadcast on WFMT, National Public Radio's Performance Today, and Minnesota Public Radio.
A two-time Chamber Music America / ASCAP winner of the Award for Adventurous Programming for both its Music at the Millennium and Composer Perspective series, CCM has commissioned eleven works from John Harbison, William Russo, Bruce Adolphe, and others, and has further collaborated with composers such as Pierre Boulez, Ellen Taaffe Zwilich, John Corigliano, and Bright Sheng. Mr. Boulez is CCM's Musical Advisor for contemporary programming.
The members of CCM are current and former members of prestigious ensembles such as the Chicago Symphony Orchestra, Los Angeles and Israel Philharmonics, Chicago Lyric Opera and Paris National Opera Orchestras, Music of the Baroque, Cologne Radio Symphony Orchestra, Orchestre National du Capitole de Toulouse, Muir Quartet, and Los Angeles Piano Quartet. The CCM musicians are on the faculties of Northwestern, DePaul, and Roosevelt Universities. The Chicago String Quartet and the CCM BRASS are ensembles-in-residence with CCM; the Chicago String Quartet is also a resident quartet of the Taos School of Music in New Mexico.
CCM reaches more than 50,000 people annually in Chicago through more than 45 distinctive performance and community programs. With its hallmark combination of artistic drive and social concern, CCM has enriched the city of Chicago and established itself as a national leader in musical performance, education, and outreach.
CCM member artists include Michael Henoch, oboe; Larry Combs, clarinet; William Buchman, bassoon; Gail Williams, french horn; Joseph Genualdi and Jasmine Lin, violins; Rami Solomonow, viola; Christopher Costanza, cello; Bradley Opland, double bass; and guest artists Alison Attar, harp and Fred Selvaggio, percussion.
Visit their website: www.chicagochambermusic.org