---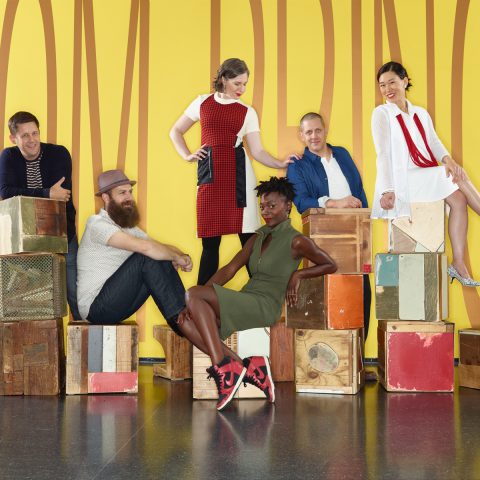 Artists
Eighth Blackbird
The four-time Grammy Award-winning American sextet Eighth Blackbird has been a leader in commissioning and performing contemporary chamber music, ranging from post-Modernism to the avant-garde.
---
Eighth Blackbird is "one of the smartest, most dynamic contemporary classical ensembles on the planet" Chicago Tribune. Launched by six entrepreneurial Oberlin Conservatory undergraduates in 1996, this Chicago-based super-group has earned its status as "a brand-name…defined by adventure, vibrancy and quality….known for performing from memory, employing choreography and collaborations with theater artists, lighting designers and even puppetry artists" Detroit Free Press.
Eighth Blackbird first gained wide recognition in 1998 as winners of the Concert Artists Guild Competition. Over the following two decades, Eighth Blackbird has commissioned and premiered hundreds of works by composers such as David Lang, Steven Mackey, Missy Mazzoli, and Steve Reich, whose  went on to win the 2009 Pulitzer Prize. A long-term relationship with Chicago's Cedille Records has produced seven acclaimed recordings and four Grammy Awards for Best Small Ensemble/Chamber Music Performance, most recently in 2016 for Filament, Hand Eye, their most recent recording released in March 2016 and featuring the music of composer collective Sleeping Giant, was hailed as "dazzling" and "vigorously, flawlessly performed" (WQXR).
Eighth Blackbird kicked off its 20th anniversary in 2016, quickly garnering a fourth GRAMMY Award as well as the prestigious MacArthur Award for Creative and Effective Institutions, followed by Chamber Music America's inaugural Visionary Award, and Musical America's Ensemble of the Year (2017). Anniversary celebrations continue throughout the 2016-17 season with tours of music from Filament and Hand Eye, as well as keystone performances celebrating Steve Reich's 80th birthday, a fresh round of raucous shows with "Appalachian post-punk solipsist" (The Wanderer ) Will Oldham (Bonnie Prince Billy), and world premieres by Holly Harrison, Pulitzer Prize-winner David Lang, and Ned McGowan. This season marks debuts in Paris, at Justin Vernon's (Bon Iver) and Aaron Dessner's (The National) Eaux Claires Festival, with the San Francisco Symphony, and also includes a three-week return to Australia.
Eighth Blackbird's mission—to move music forward through innovative performance, advocate for new music by living composers, and create a legacy of guiding an emerging generation of musicians —extends beyond recording and touring to curation and education. The ensemble served as Music Director of the 2009 Ojai Music Festival, has held residencies at the Curtis Institute of Music and at the University of Chicago, and holds an ongoing Ensemble-in-Residence position at the University of Richmond. The 2015-16 season featured a pioneering residency at Chicago's Museum of Contemporary Art: a living installation with open rehearsals, performances, guest artists, and public talks. Eighth Blackbird launches its most ambitious educational venture yet in June 2017: The Blackbird Creative Lab, an annual tuition-free two-week intensive for emerging artists at the Besant Hill School in Ojai, California.
Eighth Blackbird's members hail from the Great Lakes, Keystone, Golden, Empire and Bay states. The name "Eighth Blackbird" derives from the eighth stanza of Wallace Stevens's evocative, imagistic poem, Thirteen Ways of Looking at a Blackbird: "I know noble accents / And lucid, inescapable rhythms; / But I know, too, / That the blackbird is involved / In what I know." Eighth Blackbird is managed by David Lieberman Artists.