---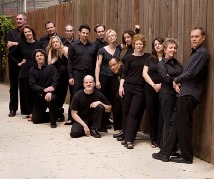 ---
Since 1982, His Majestie's Clerkes (now known as Bella Voce) has brought choral music, both familiar and unusual, to Illinois audiences in performances of the highest caliber. Although most of its repertory is a cappella, the group has enjoyed successful collaborations with period-instrument ensembles including the Newberry Consort, Orpheus Band, and Chicago Baroque Ensemble. His Majestie's Clerkes' concert series is now in its seventeenth year. The ensemble has also made guest appearances for the American Musicological Society, Performing Arts Chicago, Early Music from the Newberry Library, the American Choral Directors Association, and the Stratford-upon-Avon Music Festival. His Majestie's Clerkes has brought to Chicago distinguished guest conductors Sir David Willcocks, Simon Preston, Paul Hillier, David Hill, and Alice Parker.
The ensemble has been recorded for broadcast numerous times by Chicago Fine Arts Station WFMT-FM and by National Public Radio's Performance Today. The Clerkes' recordings for the Cedille, Centaur, Harmonia Mundi, and Narada Media labels have garnered widespread acclaim in national and international journals. The group has been a regular winner of grants from the National Endowment for the Arts, the Illinois Arts Council, and the Chicago Department of Cultural Affairs. The Clerkes' dedication to 20th-century music has led them to commission and premier works by several contemporary composers including Frank Ferko, Daniel Tucker, and Eric Reese.
A founding singer in His Majestie's Clerkes, Anne Heider became the group's Artistic Director in 1989. Heider's expertise in historical performance practices, a cappella repertory, and choral blend have shaped the ensemble's distinctive sound. Heider holds a B.A. in music history and theory from Wellesley College, an M.A. in musicology from New York University, and a D.M.A. in conducting from Stanford University. She is Associate Professor of Choral Music and Director of Choral Ensembles at Chicago's Roosevelt University, where she teaches choral conducting and choral literature. Her research in early music has been supported by the Newberry Library, the National Endowment for the Humanities, and Roosevelt University, and her editions of early music have been published by A-R Editions and the Gregorian Institute of America.