---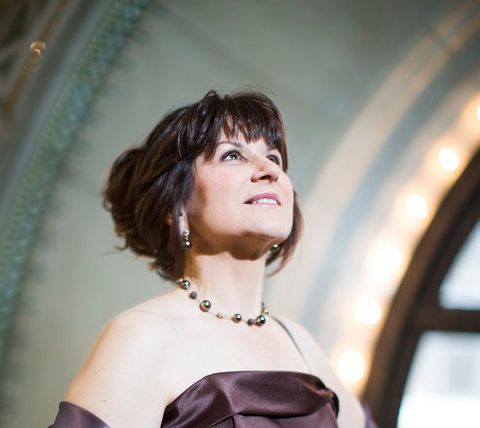 Artists
Patrice Michaels
Soprano
Composer and soprano Patrice Michaels is a vocal virtuoso and an eclectic musical personality.
---
Cedille recording artist, soprano Patrice Michaels is a vocal virtuoso and an eclectic musical personality. Her live and recorded performances in opera, oratorio, and chamber music, in genres from baroque through contemporary repertoire, and her distinctive dramatic concerts rank her as "A formidable interpretative talent" (The New Yorker), possessing "a voice that is light, rich and flexible" (Opera News), with "pinpoint-accurate…bravura" (Boston Globe). "Like the Romantic ideal of art, Patrice Michaels' voice is both natural and passionate" says Classical CD Digest, demonstrating \ "poise, musician-ship and impressive fioratura" (Los Angeles Times). Passionate about both performance and artistic creation, Patrice's diverse projects and abilities establish her as a truly unique singing artist and one of the finest American sopranos of her generation.
Concert engagements featuring Ms. Michaels include appearances with the Shanghai, Czech National, St. Louis, Omaha, Atlanta, Phoenix, Milwaukee, and Minnesota Orchestras; the Maryland Handel Festival; Dallas Bach Society; and Charlotte, Kansas City, and Virginia Symphonies, as well as New York's Concert Royal and Chicago's Music of the Baroque. Ms. Michaels has sung Mozart's Mass in C Minor with Stanislaw Skrowaczewski, Bach's Christmas Oratorio with Robert Shaw, Mahler's 4th Symphony with Zdenek Macal, Mozart Arias with Andrew Parrott and Nicolas McGegan, Carmina Burana with Joanne Falletta, and Beethoven's 9th Symphony with Andreas Delfs and Victor Yampolsky.
Ms. Michaels's operatic credits include Candide at Lyric Opera of Chicago. She made her debut with the Cleveland Opera as Marzelline in Fidelio and has sung with Central City Opera; Tacoma Opera; The Banff Centre, Canada; and Chicago Opera Theater, with which she recorded the role of Monica in Menotti's The Medium with Joyce Castle in the title role.
Recital appearances include three consecutive seasons at the Festival of Contemporary Music in Havana, Cuba and tours of Mexico, Japan, Venezuela, Barbados, and Belize. She performs frequently in the United States and Canada, has sung with pianist John Browning for Music at the Supreme Court, as guest artist with the Chicago Chamber Musicians and Trio Chicago & Friends, for the Schubert Club of St. Paul, and for many academic institutions, including Pomona College (her alma mater), Northwestern University, and Harvard.
Patrice has received consistent critical acclaim for her many recordings and can be heard on the Albany, Amadis, Cedille, Decca, and Neos labels.
A native of Southern California, Patrice Michaels holds BAs in Music and Theater from Pomona College; an MFA in Voice from the University of Minnesota, Minneapolis; and a certificate from the Music Theatre Studio Ensemble at The Banff Centre in Alberta, Canada. Her esteemed teachers include Janice McVeigh, Roy Schuessler, Tom Wikman and Shirlee Emmons for voice; Vern Sutton, Wesley Balk, and Colin Graham for Opera Theater; and Dominick Argento and Karl Kohn for composition. Formerly Professor of Music at Lawrence University's Conservatory of Music in Appleton, Wisconsin, Ms. Michaels currently serves as Director of Vocal Studies at The University of Chicago. She is in demand as a master clinician and guest artist, invited to institutions including The Hartt School of Music (Hartford, CT), Tel Aviv's Buchmann-Mehta School of Music, Dreyfoos School of The Arts (West Palm Beach, FL) Pomona College (Claremont, CA), and the Instituto Superior de Arte in Havana, Cuba.
For more information — patricemichaels.com