Store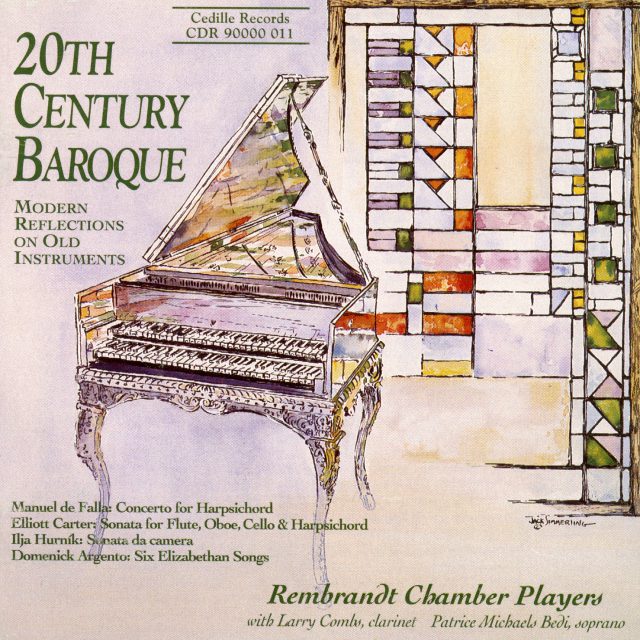 ---
The Rembrandt Chamber Players perform 20th-century works for Baroque ensemble and harpsichord on their debut recording with Cedille Records.
They perform four exemplary works from different genres of the modern harpsichord repertoire, including two by living American composers. Minnesota-based Dominick Argento's "Six Elizabethan Songs" are sophisticated and varied setting of 17th-century English texts (reprinted in the program notes). "In the pantheon of American composers Argento occupies a distinct individual category, outside any certifiable modernistic trend or technical idiom," writes Nicolas Slonimsky in Baker's Biographical Dictionary (1992). "He writes melodious music in a harmonious treatment . . . Audiences, and an increasing number of sophisticated critics, profess their admiration for his unusual songfulness."
Elliott Carter's adventurous Sonata for Flute, Oboe, Cello, and Harpsichord, with its delicate dissonances, explores new harpsichord tone colors. As noted in The New Oxford Companion to Music (1983), "the [harpsichord's] expressive peculiarities fit the views of some of those who desire to avoid artificial inflection and who seek the level surface, so to speak, of its limited dynamic range."
Czech pianist and composer Ilja Hurnik's music is "marked with impressionistic flavor, while retaining a classical format" (Baker's, 1992). His Sonata da camera recalls the period that spawned the instrumentation assembled for this recording.
Manuel de Falla's Concerto for Harpsichord, Flute, Oboe, Clarinet, Violin, and Cello, a seminal work commissioned by Polish harpsichord virtuoso Wanda Landowska, is one of the most important contributions to the harpsichord's revival. Spanish-music authority Gilbert Chase considers it Falla's masterpiece and the most complete embodiment of the "eternal essence" of Spain. "The keyboard style … reveals in the classical lucidity of its writing a certain kinship with Domenico Scarlatti" (Baker's, 1992).
Preview Excerpts
MANUEL DE FALLA (1876-1946)
Concerto for Harpsichord, Flute Oboe, Clarinet, Violin, and Cello
ELLIOTT CARTER (1908-2012)
Sonata for Flute, Oboe Cello, and Harpsichord
ILJA HURNÍK (1922–2013)
9
III. Allegretto innocente
DOMINICK ARGENTO (1927)
Artists
What the Critics Are Saying
---
---
"Congratulations to this Chicago-based ensemble for a wonderful recording of modern works for harpsichord. Each member . . . plays with conviction and flair . . . The works are gorgeous . . . Ms. [Michaels] Bedi's voice has the same crystalline clarity, buoyancy, and colorful vibrato as Dawn Upshaw's."
"If you love winds, . . . and great (none better) wind playing, consider investing in this . . . absolutely first-class production."
"A very attractive program of French music for oboe, clarinet, and bassoon that offers a mini-feast of Gallic appeal, piquant charm, and those naughty harmonies that fascinated French composers in the earlier part of this century . . . The Chicago Chamber Musicians is a very fine group of musicians who dispatch the most taxing passages with an effortless ease."
Modern Reflections on Old Instruments
Notes by Anne Shreffler
In their continuing search for new sounds, 20th century composers have expanded the playing techniques of modern instruments and even invented new ones. Some composers looked into the past as well; for an old instrument can sound new if it has not been heard in living memory.
The harpsichord, revived in the first part of this century by the great musician Wanda Landowska, enchanted composers with its precise, metallic tone. The new sonic possibilities displayed by Landowska's Pleyel harpsichord – a huge, steel-framed instrument built to her specifications – admirably suited the anti-Romantic aesthetic that prevailed especially in France. As composers like Stravinsky, Poulenc, and Milhaud incorporated stylistic elements of 18th century music, they also experimented with this early instrument to give their neoclassical compositions a more "authentic" (and exotic) flavor.
Although Landowska promoted Baroque music, her instrument was a completely modern reconstruction that did not sound at all like a Baroque harpsichord. It was therefore more appropriate for the new works she commissioned, which included Manuel de Falla's Concerto and Francis Poulenc's Concert champetre. These pieces began a tradition of 20th century harpsichord composition that has continued with important contributions by Berio, Xenakis, Martino, Carter, and Ligeti.
The works on this recording employ the harpsichord within the particularly Baroque combination of flute, oboe, and strings. Each composer takes into account both the traditional implications of this ensemble and its potential for creating new textures and sonorities. Two pieces, Elliott Carter's Sonata for Flute, Oboe, Cello, and Harpsichord and Ilja Hurnik's Sonata da camera, deliberately adopt the most archetypal of all Baroque chamber ensembles: that of the so-called "trio sonata." An ideal medium for expressing the essential balance between freedom and control in Baroque music, this group consists of two high voices set against "basso continuo." This arrangement provides ample opportunity for melodic invention in the high parts (which could be played on any two soprano instruments), while the harpsichord – the instrument most suited to playing chords – provides a firm harmonic basis. Considered part of the basso continuo section with the harpsichord, the cello part (which could also be played by viola da gamba or bassoon) really participates in both worlds. While reinforcing the harpsichord's harmonic progressions it also balances the melodic continuity of the upper voices.
Any modern composer who writes for this ensemble is sure to have the familiar trio sonatas of Corelli, Francois Couperin, Telmann, and Bach resonating in his mind's ear. The trio sonata lies at the core of the other works on this CD too; Falla's Concerto and Domenick Argentio's Six Elizabethan Songs for High Voice and Baroque Ensemble simply augment the traditional group with one or two more soprano instruments.
The music of Manuel de Falla (1876-1946) presents a fortunate blend of French precision and color with the folk and elevated musical styles of his native Spain. Landowska's influence almost certainly explains Falla's first use of the harpsichord four years before the Conceto – in a puppet opera based on Don Quixote called El retablo de Maese Pedro (Master Peter's Puppet Show). The Concerto for Harpsichord (or piano), Flute, Oboe, Clarinet, Violin, and Cello (composed 1923-26) is in three movements, all of which showcase the harpsichord as the central instrument. In the first movement, marked Allegro, the keyboard sets out at a breakneck pace while the other instruments interject with clear, forceful gestures, as though Falla intended for them to march the harpsichord's staccato articulation. The movement is based on a 15th century Castilian folk song, which is first played in octaves by flute and oboe, near the beginning of the movement. Echoes of Stravinsky's L'Histoire du soldat, completed eight years earlier, are heard especially in the saucy violin part.
The second movement, marked Lento (giubiloso ed energico), projects a religious intensity confirmed by the composer's inscription at the end of the movement: "the year of our Lord 1926, in the feast of Corpus Christi." Rolled chords in both hands of the harpsichord create a rich, full sound, and reinforce the movement's main theme, which is first played in octaves. The austere and contemplative nature of the slow melody makes the dissonances that result from close canonic imitation seem sublime rather than clashing. The finale, marked Vivace (flessibile, scherzando), is the most Baroque of the three; the cello often takes on its traditional "supporting bass" role, while the upper instruments playfully toss around Baroque mordents and trills.
Elliott Carter (1908-2012) fundamentally reinterpreted the trio sonata ensemble's possibilities in his 1952 Sonata for Flute, Oboe, Cello, and Harpsichord. "It seemed very important," Carter wrote, "to have the harpsichord speak in a new voice, expressing characters unfamiliar to its extensive Baroque repertory."* In the first of the Sonata's three movements, the harpsichord, traditionally a chordal instrument, plays passages of single sustained notes. The flute, oboe, and cello parts continue the reversal by playing staccato (short) or pizzicato (plucking) – the way sound is produced by a harpsichord). Carter constructs his music not on the basis of thematic relationships, but on temporal ones. The first movement, for example, captures the effect of a long ritardando and diminuendo. It opens with an explosive gesture who's "subsiding ripples' gradually dissipate, fading to a quiet close.
In the Lento second movement, Carter's fascination with the "vast and wonderful array of tone-colors available on the modern harpsichord" comes into play. This is complemented by Carter's explorations into what he calls "tone-color melodies." The movement's firs "theme" consists of one pitch, the G above middle C, played by each of the four instruments in succession. The roles from the first movement are now reversed: the harpsichord returns tot its characteristic chordal music and rapid passage work, while the other instruments display melodic virtuosity. Their cadenza-like passages alternate with the harpsichord, resulting in an "expressive dialogue" that forms the basis for the movement, according to Carter. Baroque dance rhythms permeate the last movement. A forlana (a gondolier's dance with a lilting 6/8 dotted rhythm) underlies the whole movement, although other dances are superimposed. Carter has characterized his music as cinematic – and the techniques of fading, cutting, and focusing are indeed a suggestive metaphor for how the various layers interact in this movement.
Although Ilja Hurnik's 1953 Sonata da camera is scored for the same instruments as Carter's Sonata, the two approaches to the traditional trio sonata ensemble could not be more different. Rather than reinvent the genre, the Czech composer (b. 1922) stays close to the Baroque and Classical traditions. Hurnik writes for harpsichord in a manner that C.P.E. Bach would not have found strange. Hurnik's title is traditional as well, recalling one of the two main types of Baroque sonatas: the sonata da camera (chamber sonata), as opposed to the sonata da chiesa (church sonata). A sonata da chiesa would be solemn and abstract (usually with four movements in a slow-fast-slow-fast design), whereas a sonata da camera typically contained several dance pieces, vestiges of which can be heard in the strong Rhythmic profiles of each movement of the Hurnik.
In the Allegretto first movement, the harpsichord's Albert bass figures (shifted to the right hand), passage work, and repeated chords propel the continuous rhythmic flow. The melodic instruments (flute and oboe) take on their traditional role of carrying the themes, which are clearly contrasted in this short sonata-form movement. The second movement, marked Quasi Marcia funebre, is a slow march in A minor. The flute and clarinet's close imitation of the lyrical themes could well be a subtle homage to a similar technique in the slow movement of the Falla (the fragmentation of the theme at the end is also reminiscent of the Marcia funebre of Beethoven's Eroica Symphony). Bisecting the slow march is a free rhapsodic section that features the kind of guitar-like harpsichord writing (rolled chords) that is also characteristic of the Falla. After a simple, folk-like third movement, appropriate marked Allegretto innocente, the Prestissimo finale immediately restores the Classical tone with an arresting unison passage.
It would be tempting to claim that the American Composer Domenick Argento (b. 1927) acquired his penchant for sensitive and idiomatic vocal writing from his Italian ancestry. Training reinforced genes in this case, however; Argento studied in Italy in 1951-52 and considers Florence his second home. He is best known for his vocal compositions including eleven operas, which have achieved public acclaim unusual for a contemporary composer, and several song cycles. Argento originally wrote his six Elizabethan Songs in 1958 for voice and piano but later arranger them for a Baroque ensemble of flute, oboe, violin, cello, and harpsichord. Consistent with the 17th century English texts, the work's melodic contours recall English composers Henry Purcell and William Byrd. The three fast songs, "Winter," "Spring," and "Diaphenia," have the voice carrying the primary melody alone, weaving it among the instrumental flourishes, while the slow songs, "Dirge," "Sleep," and "Hymn," display and almost Wagnerian harmonic richness.
Anne Shreffler
University of Chicago
---
*All Carter quotations are from The Writings of Elliott Carter, compiled, edited, and annotated by Else and Kurt Stone (Bloomington & London: Indiana University Press, 1977), p. 272.
20th Century French Wind Trios
Notes by Andrea Lamoreaux
"His music is characterized by an engaging spontaneity and great technical proficiency. It is often witty. . . not self-consciously neo-classic, but marked on the whole by a classical restraint and sobriety — in a word, by those qualities of clarity, proportion, and elegance which have always been the hallmark of the Gallic spirit in the arts."

— Critic Rollo Myers on Jean Françaix
Professor Myers might well have been writing about all of the composers represented on this CD, not just Françaix, especially in his references to wit and spontaneity, and to the restraint that takes its inspiration from 18th-century Classicism, rather than the 19th-century Romantic age. Above all stands out that word "clarity," so often used to describe the music of France. The fondness for woodwinds that so many French composers have shown may be accounted for in part by this paramount desire to achieve clarity of sound, expression, and tone color.
Jean Françaix (b. 1912) was still a schoolchild in the early 1920s, when Stravinsky, Schoenberg, and others were radically transforming the sounds and styles of music. A graduate of the Paris Conservatory, Françaix also studied with Nadia Boulanger, the famous and highly influential teacher of numerous aspiring European and American composers (including Aaron Copland, David Diamond, and Easley Blackwood). First achieving fame at age 20 with his Concertino for Piano and Orchestra, Françaix has gone on to write music for ensembles large and small, for voices, and for solo instruments.
The Schott music publishers have issued a complete catalog of Françaix's works, with an anonymous biographical note as introduction. The unknown author writes: "[Françaix's] works are typically French — they have charm, spirit, and grace; they are often touched by irony . . . they show their creator's innate sense of humor . . . [it is the work of one] who, through his cultured conception of the musical art, is a spiritual brother to Debussy and Ravel."
Divertissement (Entertainment) would be an appropriate title for most of Françaix's works. In this case, it is a four-movement, three-sided conversation that goes through various topics and climates: a moderately-paced opening, a succeeding section of complex and competitive chatter, a brief lament, and a light-hearted, virtuosic conclusion.
"Others write music to express themselves," Aaron Copland once said; "Milhaud, like no other composer I know, writes music to celebrate life itself." We can imagine that Darius Milhaud (1892–1974) would have enjoyed the exuberant song "L'Chaim" (To Life) from Fiddler on the Roof, because it would speak to the Jewish heritage that was so important to him, and for its theme of cheerful courage in the face of adversity — an attitude that characterized his own outlook. Milhaud was bedeviled by poor health for most of his life, but did not let that prevent him from composing hundreds of works; multifarious scores in many different styles for the stage, films, voices, orchestras, chamber groups, and keyboards made him one of the most prolific composers of the 20th century. And he was able to work productively anywhere: Paris, his beloved native Provence, South America, or California, which became his home for several years after his emigration from World War II France.
Milhaud and Georges Auric (also featured on this disc) were members of Les Six, a group of young, iconoclastic composers who emerged in Paris in the 1920s, voicing opposition to the music of France's past: in their words, "the eloquence of Franck, the impressionism of Debussy, and the scholasticism of D'Indy." The other members of this famous sextet were Francis Poulenc, Arthur Honegger, Germaine Tailleferre, and Louis Durey. They experimented with all kinds of musical endeavor, from opera to jazz; they defied convention and took special pleasure in shocking — exhibiting an attitude Prokofiev called (in reference to his own music) "teasing the geese."
Milhaud's wind trios, the Pastorale and the Suite d'après Corrette, do not share the aggressive modernism preached by Les Six; they reveal instead the composer's firm roots in the musical past, and his interest in both folk music and the composers of the French Baroque. The Suite originated as music for a French-language production of Shakespeare's Romeo and Juliet, staged in Paris in 1937. Milhaud's inspiration was the early 18th-century composer Michel Corrette. In its non-stage form the music takes the shape of a neo-Baroque suite of dance pieces, interspersed with self-described sections such as the Fanfare, the gentle Serenade, and the graphic Cuckoo finale. The tiny Pastorale is a kind of miniature prelude and fugue in which the oboe takes the leading role; its mood and atmosphere are amply described by the title.
The French pastoral tradition is also represented in the trio by Joseph Canteloube (1879–1957), whose art took its inspiration from his country's history and folklore, particularly that of his native region, the district of south-central France known as the Auvergne. Like Bartók and Kodály in Hungary, and Ralph Vaughan Williams in England, Canteloube traversed the countryside noting down traditional songs and dance tunes. His arrangements were published in several collections called Songs of the Auvergne.
As an anonymous biographical note in Grove's Dictionary of Music declares, "[Canteloube's] settings of folksongs . . . have gained widespread favor, but his original works have been neglected." The Chicago Chamber Musicians remedy this situation somewhat with Rustiques, a three-movement evocation of the riches of Gallic folk music every bit as eloquent in the instrumental realm as the Auvergne songs are in the vocal. Especially lovely is the central Réverie that recalls the limpid serenity of a favorite among the songs, Bailerò (Shepherd's Melody).
All of the composers on this recording were born in France except Alexandre Tansman (1897–1986), a native of Poland who attended the Lodz Conservatory and Warsaw University before moving to Paris in 1919, where he became part of Milhaud's circle. He also befriended another emigré musician, Igor Stravinsky (Tansman published a biography of Stravinsky in 1948). While Tansman was more famous as a concert pianist and conductor than as a composer, his list of works is lengthy and varied, including film music from his sojourn in the United States during World War II.
Like Stravinsky's music, Tansman's Suite pour Trio d'Anches (Suite for Wind Trio) places great emphasis on the element of rhythm. Laid out in four short movements arranged slow-fast-slow-fast in the manner of a Baroque trio sonata, the Suite features frequent ostinatos (repeated rhythmic figures) and passages contrasting slow-moving patterns with rapid ones. Movement titles are self-descriptive. Particularly moving is the Aria, which is highlighted by a wandering, mournful oboe melody.
Jacques Ibert (1890–1962) was a central and highly influential figure in French musical life during the first half of the 20th century whose music has survived in the repertoires of both orchestras and chamber groups. A decorated officer in the French Navy during World War I, Ibert made his name between the wars as a composer of operas and symphonic works (notable among the latter is Escales, Ports of Call, inspired by his seafaring experiences), and also explored the then-new world of film music. In 1937, he became director of the French Academy in Rome, a post he held until 1960 — except for the World War II years, when he was persona non grata to both Mussolini and the Vichy regime. Ibert's most famous composition for winds is his Trios pièces brèves for woodwind quintet. No less sparkling are the miniatures he titled Cinq pièces en trio. Contrasting fast and slow tempos, the pieces present inviting tunes intricately intertwined up and down the entire range of the instruments. The quasi marziale finale is a very jolly march, with a folk-like theme that suggests more a hike in the country than a military parade.
The Chicago Chamber Musicians' journey through modern French wind trios began with a virtual "mystery" composer: the nearly forgotten Paul Pierné (1874–1952), a younger contemporary of Debussy, and cousin to the better-known Gabriel Pierné. A graduate of the Paris Conservatory, winner of the prestigious Prix de Rome, and longtime organist at Paris's Church of St. Paul and St. Louis, Paul Pierné wrote operas, symphonic poems, songs, and — naturally — quite a bit of organ music. Despite his productivity, virtually none of his music survives in the standard repertory.
Pierné's Bucolique variée gives a simple, lyrical melody first to the bassoon, then the oboe, with the clarinet providing commentary; the theme is varied with increasingly complex melodic figurations and rhythmic patterns, until simplicity returns at the end. The word Bucolique may be translated as Pastoral Piece.
Georges Auric (1899–1983) was, like Tansman, closely associated with Stravinsky, and also played a major role in the history of French movie-making, composing several scores for films by Jean Cocteau. A sort of junior member of Les Six — Milhaud, Poulenc, and Honegger are viewed as the group's most significant figures — Auric combined a distinguished career as a music critic with his work as a composer. He has several ballets to his credit, plus orchestral pieces, numerous songs, and quantities of piano and chamber music.
The clarinet takes the initial lead in the dancing, vibrantly rhythmic first movement of Auric's 1938 Trio. The very lyrical Romance combines the instruments with intertwining melodies; the word expressif and the dynamic marking piano (soft) pepper the movement's final pages. The final portion of the trio contrasts playful triplet patterns with quieter, more sedate interludes.
Andrea Lamoreaux is Programming Executive at Fine Arts Station WFMT-FM in Chicago.
Album Details
Total Time: 60:27
Recorded: December 19, 20, 22, & 23, 1991 at the Great Hall, First United Methodist Church, Evanston, Illinois
Producer: James Ginsburg
Engineer: Bill Maylone
Front Cover Art: Jack Simmerling
Design: Cheryl A Boncuore, Central Photo Engraving
Notes: Anne Shreffler