Store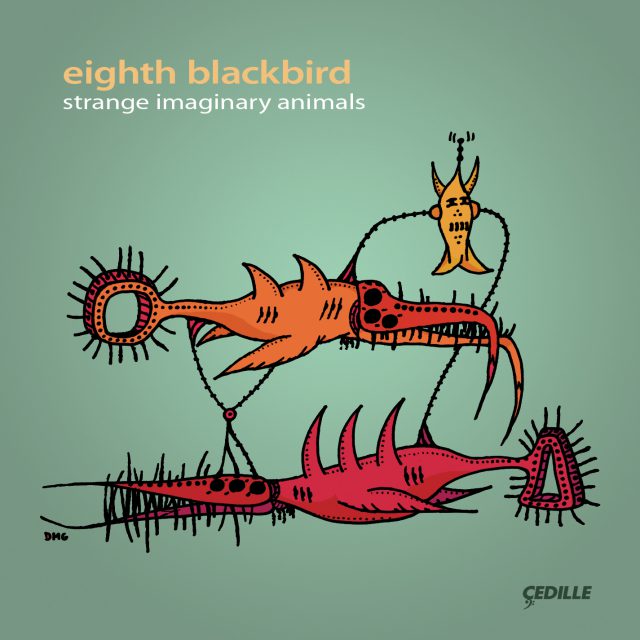 Store
strange imaginary animals
---
2008 Grammy Award Winner
Winner for Best Chamber Music Performance and album producer Judith Sherman received a Grammy Award for Producer of the Year, Classical.
Guitar picks strum a piano. Thimbles appear and strike strings. A clarinet wails wildly, a bass drum roars, ducks, seagulls, even delivery trucks are evoked. strange imaginary animals explores all of these sounds in pieces that stake their claim to their own unique sonic space. Featuring premiere recordings of Jennifer Higdon's Zaka, David M. Gordon's Friction Systems, and Gordon Fitzell's violence and evanescence, also Steve Mackey's Indigenous Instruments and a remix by composer/dj Dennis DeSantis.
Preview Excerpts
Enjoy our recommended preview track excerpts below
JENNIFER HIGDON
GORDON FITZELL
STEVEN MACKEY
DAVID M. GORDON
GORDON FITZELL
DENNIS DESANTIS
Artists
What the Critics Are Saying
---
---
eighth blackbird's latest album, "Strange Imaginary Animals" (Cedille Records), collects eight compositions from five composers, uniting them with interpretations that create the aural imagery of animated creatures, either in full gallop or holding whimsical conversations in an imaginary language. The precision of the playing transforms the instruments' natural sounds, helping build unusual textures, switching up dynamics with restless energy – their efforts earned the group a Grammy nomination for best chamber music performance as well as a classical contemporary composition nomination for composer Jennifer Higdon and a producer of the year nomination for Judith Sherman.
Zaka
Notes by Jennifer Higdon
za• ka (zô'kô)
v. To do the following almost simultaneously and with great speed:
zap, sock, race, turn, drop, sprint. See also: eighth blackbird.
violence
Notes by Gordon Fitzell
In writing violence, I was interested in exploring the concept of aesthetic violence. My concern was not with artistic representations of violence, but with violence inherent to the very structure of the art object. What elements conspire to wage aesthetic war in a work of art? How do issues of syntax, perspective, temporality, ideology, morality, politics, and technology foster such a conflict? Is aesthetic violence chaotic or organized? Is it destructive or constructive? Is it repulsive or alluring? How is violence sublimated?
dimly
glowing
silence ➤ one
instant fluid image
Indigenous Instruments
Notes by Steven Mackey
Indigenous Instruments is vernacular music from a culture that doesn't exist. Fast and goofy? Sure, but sometimes too grand to be believed. De-tuned instruments groan and wail, broken clocks tick irregularly, and funky riff s alternate with calm, fl oating tunes. And the moaning of some strange imaginary animal is sometimes heard . . .
Album Details
Total Time: 72:00
Producer: All tracks produced by Judith Sherman except 7 (Gordon Fitzell) and 8 (Dennis DeSantis)
Engineer Judith Sherman
Digital Editing: Bill Maylone
Mastering: Paul Zinman, SoundByte Productions, Inc.
Graphic Design: Pete Goldlust & Melanie Germond
Front Cover, Back Cover & Disc Illustrations: David M. Gordon
Recorded: at Ball State University August 15-18, 2005
Molly Alicia Barth performs on a Lillian Burkart flute and piccolo
Matthew Duvall endorses Pearl Drums and Adams Musical Instruments

Publishers:
Zaka ©2003 Jennifer Higdon, Lawdon Press
violence ©2001 Gordon Fitzell
evanescence ©2006 Gordon Fitzell
Indigenous Instruments ©1991 Associated Music Publishers
Friction Systems ©2005 David M. Gordon
strange imaginary remix ©2006 Dennis DeSantis, Presspot Press
© 2006 Cedille Records/Cedille Chicago