Store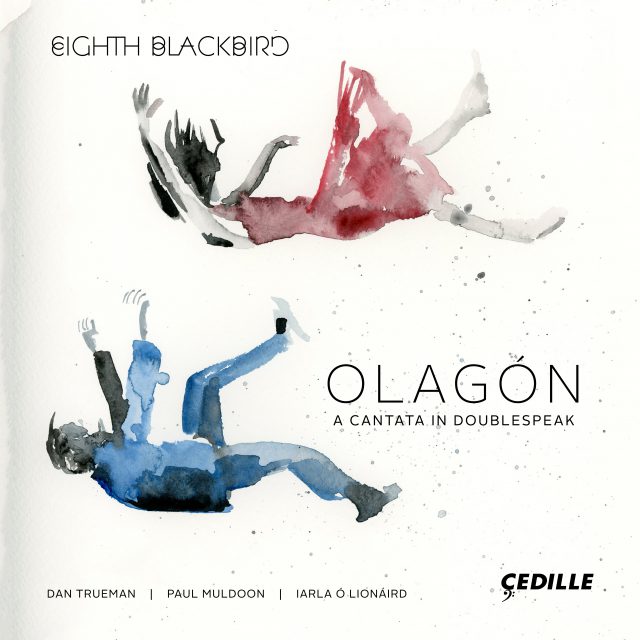 ---
Olagón: a Cantata in Doublespeak is the newest album from multiple GRAMMY Award-winning chamber ensemble Eighth Blackbird. The project finds the innovative new-music sextet collaborating with vocalist Iarla Ó Lionáird of the Irish supergroup The Gloaming, Princeton-based composer-fiddler Dan Trueman, and Pulitzer Prize-winning Irish poet Paul Muldoon. A modern retelling of an ancient Irish epic, Olagón depicts — not without irony and humor — a privileged "power couple" mired in envy, greed, and adultery, descending into criminality and addiction as Ireland's "Celtic-Tiger" economy collapses in the early 21st century.
Trueman's score combines elements of the traditional music of Ireland, Norway, and America with the raw urgency and sonorities of contemporary classical music. Muldoon's text interweaves verses in English and Irish Gaelic, seasoned with word-play and wit.
Ó Lionáird, whom The Guardian calls "one of the most dramatic voices in contemporary music," sings the text in the unique and highly ornamental Irish style known as sean nós. The production incorporates the gorgeous young voices of students of acclaimed Irish sean nós singer Treasa Ní Mhiolláin, who also makes an appearance.
Eighth Blackbird is "one of the smartest, most dynamic contemporary classical ensembles on the planet" (Chicago Tribune). Olagón is the new-music sextet's ninth Cedille Records album. Four of their previous recordings won Grammy Awards in the Best Small Ensemble/Chamber Music Performance category.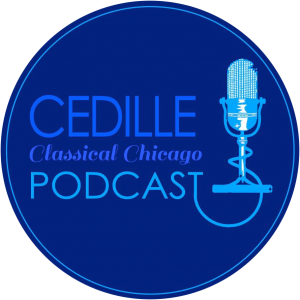 Listen to Steve Robinson's interview
with Eighth Blackbird on Cedille's
Classical Chicago Podcast
Preview Excerpts
Enjoy our recommended preview track excerpts below
Dan Trueman (b. 1968)
12
You Know It's a Salmagundi
Artists
Olagón: a Cantata in Doublespeak
Notes by Eighth Blackbird
SOME MEN WILL GIVE IN
TO BATHTUB GIN
SOME FALL BEFORE AFTERSHAVE
BUT AILÍLL IS DRUNK ONLY ON MEDHBH
Olagón: a Cantata in Doublespeak is inspired by the ancient Irish notion of olagón — a deep, conflicted cry. It is based on the legendary Irish tale Taìin Boì Cuìailnge, which tells the story of a brutal war — the result of a dispute between warrior-queen Medhbh and her husband Ailíll. When Ailíll offends Medhbh's pride by declaring his wealth superior to hers, Medhbh forsakes him and enters into a violent conflict with those around her. Throughout the poem Medhbh is a central figure, whose pursuit of revenge and power leads to tragic results.
Pulitzer-Prize winning poet Paul Muldoon's modern retelling draws from the ancient myth of Taìin Boì Cuìailnge and the struggles of post-Celtic-Tiger Ireland. In Muldoon's version, we discover Medhbh as a dissolute symbol of the broken promises of Ireland's economic bubble — drinking martinis and suffering from drug addiction before ultimately collapsing in a parking lot, marked off by traffic cones. The poem alternates perspectives between Ailíll and Medhbh, as they describe their falling out and the violence that follows. The sobbing cry ochon agus ochon o is woven throughout the text, underscoring the tragic and destructive nature of Medhdbh and Ailíll's dispute.
Working with Paul Muldoon, Dan Trueman, Iarla Ó Lionáird, and the other fantastic vocalists heard on this album has been an important and gratifying experience for all of
us.
Album Details
Total Time: 91:09
Producer: Jesse Lewis
Engineers: Bill Maylone (Chicago Sessions), Andrés Villalta (Princeton University sessions),
Dan Trueman (Galway Sessions)
Editing: Jesse Lewis
Mixing: Jesse Lewis and Kyle Pyke
Vocal Dramaturgy: Mark deChiazza
Recorded: October 9, 2015 at Princeton University (Motet for Medhbh)
January 31, 2016 on Inis Mór Árann, County Galway, Ireland (Reeling Reels; Alill; The Book of Lamentations)
January 5–8, 2017 at IV Lab Studios, Chicago, IL
January 14–16, 2017 at Princeton Univeristy, NJ
February 13, 2017 at Princeton University (A Queen Bee)
April 5, 2017, at SHIRK Studios, Chicago, IL
Graphic Design: Studio Rubric
Cover Art: Natalie Cooperman
© 2017 Cedille Records/Cedille Chicago