Store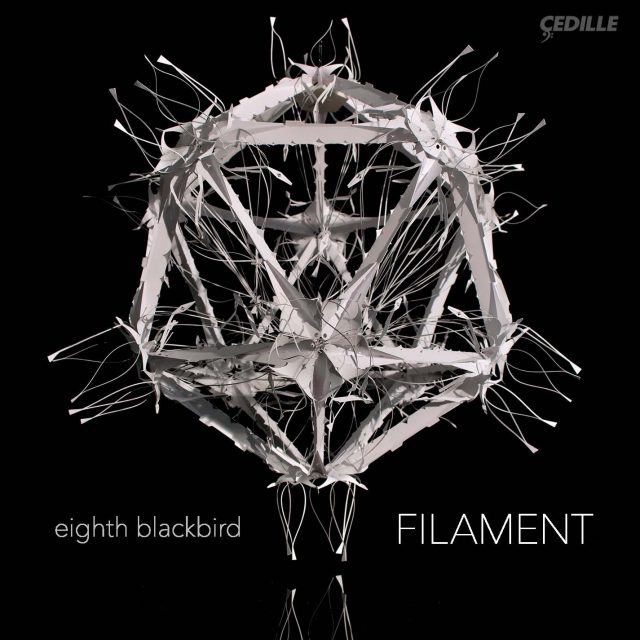 ---
Celebrated new-music sextet eighth blackbird, whose last three Cedille Records albums garnered Grammy awards, continues to soar with FILAMENT, a sizzling selection of four-world premiere recordings, plus a concert performance of Philip Glass's influential Two Pages. The title FILAMENT symbolizes the strong ties of friendship and shared musical interests connecting the composers and performers on the album. FILAMENT offers first recordings of Bryce Dessner's Murder Ballades, a fresh and surprisingly upbeat take on a macabre genre of folk music; Nico Muhly's Doublespeak, an homage to Glass and the insistent, propulsive repetitions of classic minimalism; and short pieces by Son Lux, To Love and This is my Line, creative remixes of sounds from other tracks on the CD. Dessner, on guitar, and Muhly, on organ, join eighth blackbird for Glass's Two Pages, recorded live-in-concert at Chicago's Museum of Contemporary Art.
A genre-spanning musician and composer, Dessner has worked with the Kronos Quartet and Bang on a Can All-Stars and created Cincinnati's MusicNOW festival. In the pop-music world, he's familiar as the guitarist with the Billboard-charting, critically acclaimed indie rock band The National. Muhly has worked with Glass and with pop musicians Bjork and Sufjan Stevens. Among his credits are 11 orchestral works and two operas, one of which was performed at the English National Opera and New York's Metropolitan Opera.
A sextet of flute, clarinet, violin, cello, percussion, and piano, eighth blackbird combines the finesse of a string quartet, the energy of a rock band, and the audacity of a storefront theater company. The Chicago-based "super-musicians" (Los Angeles Times) are "a polished, personable, routinely dazzling sextet" (New York Times). In recent concert seasons eighth blackbird has performed at Carnegie Hall (Zankel and Stern Halls), London's Barbican Centre, Washington, D.C.'s Library of Congress and Kennedy Center, Stanford University, the University of Texas at Austin, the Eastman School of Music, and Chicago's Museum of Contemporary Art and Millennium Park. The ensemble's Cedille Records catalog includes the Grammy-winning albums Meanwhile, Lonely Motel: Music from Slide, and Strange Imaginary Animals and the albums Fred, Beginnings, and Thirteen Ways, eighth blackbird's first commercial release.
Preview Excerpts
Enjoy our recommended preview track excerpts below
BRYCE DESSNER
NICO MUHLY
SON LUX
PHILIP GLASS
SON LUX
Artists
What the Critics Are Saying
---
---
Murder Ballades
Notes by Bryce Dessner
Oh, listen to my story, I'll tell you no lies,
How John Lewis did murder poor little Omie Wise.
The murder ballad has its roots in a European tradition, in which grisly details of bloody homicides are recounted through song. When this tradition came to America, it developed its own vernacular. In Murder Ballades, Dessner crafts original music inspired by the seductive strains, violent stories, and playing styles of these ballads. His Omie Wise, Young Emily, and Pretty Polly are loosely inspired by classic tunes, while Dark Holler is Dessner's own melody, and draws on the sound of the clawhammer banjo style often heard in performances of these songs. Brushy Fork is a Civil War-era murder ballad/fiddle tune. Wave the Sea and Tears for Sister Polly are original compositions woven out of the depths of this strange corner of American music. Bryce Dessner (born 1976) is a composer, electric guitarist, and artistic director, at home in many musical worlds. His compositions draw on elements of Baroque and folk music, late Romanticism and modernism, minimalism, and the blues. Murder Ballades was commissioned by eighth blackbird and Lunapark and funded by The Doelen Concert Hall, Rotterdam, Muziekgebouw aan 't IJ, Amsterdam, and Muziekgebouw Frits Philips, Eindhoven, with the financial support of The Van Beinum Foundation, The Netherlands, with additional support from Museum of Contemporary Art, Chicago, and also by LA Dance Project, 2013 for the work of the same name choreographed by Justin Peck.
Doublespeak
Notes by Nico Muhly
Doublespeak was written for eighth blackbird for Bryce Dessner's Music Now festival in Cincinnati, in honor of Philip Glass's 75th birthday. This piece harks back to a time in the 1970s when, according to Muhly, "classical music perfected obsessive repetition." In Doublespeak, fast music is offset by slow music reminiscent of that era ("Aren't those the intervals from Reich's Violin Phase?" "Was that a bit of Riley's In C?"). An excerpt from Glass's Music in Twelve Parts gradually becomes more and more dominant, overtaking the busy material. The piece ends in a stylized dream-state. Nico Muhly (born 1981) is a composer living and working in New York City.
Two Pages
Notes by Phillip Glass
There is an irony at the heart of Two Pages. This music, which to many listeners is calm, peaceful, even meditative, has the power to tie performers into stress-induced knots. Gazing at the eponymous two pages of music, black with a continuous stream of notes, the prospective performer must contemplate walking a tightrope, with no net below. Two Pages is written as a single unison line of music, and can be played by any combination of instruments. Philip Glass (born 1937) is one of America's most influential living composers. The Baltimore native began as an iconoclastic downtown New York rebel, and has since composed for and collaborated with artists in every conceivable style and genre. The Philip Glass Ensemble, in which Glass plays keyboards, has been performing since 1968.
To Love and This is My Line
Notes by Son Lux
Son Lux's To Love and This is my Line are remixes, stringing together the delicate musical filament of this album. These pieces employ only sounds gathered from the rest of the album, with the exception of the voice of Shara Worden. Worden, known as My Brightest Diamond, took part in the concerts that gave birth to FILAMENT and her song This is my Hand (referenced in both remixes) was written in response to the performance of Philip Glass's Two Pages that is included on this record. Son Lux (Ryan Lott, born 1979) is a recording artist and composer based in New York City. He's worked with a diverse array of artists, including Sufjan Stevens, Lorde, Caroline Shaw, Richard Parry (Arcade Fire), and rappers Busdriver and Serengeti.
Album Details
Total Time: 71:25
Producer: Bryce Dessner
Recording Engineer: Jonathan Low (Dessner and Muhly), Ryan Ingebritsen (Glass)
Mixing Engineer: Jonathan Low
Mastering Enginner: Joe Lambert
Recorded: May 1-2, 2013 at the Museum of Contemporary Art, Chicago, IL
Original artwork, photography, and design: Karl Jensen © karljensen.net
Liner Notes: Tim Munro
Publishers: Two Pages by Philip Glass © 1968 Dunvagen Music (ASCAP)
Doublespeak by Nico Muhly © 2012 St. Rose Music Publishing/Chester Music Ltd. (ASCAP)
Murder Ballades by Bryce Dessner © 2013 Chester Music Ltd. (ASCAP)
To Love and This is my Line by Son Lux © 2015 Ryan Lott (ASCAP)
This Is My Hand written by Shara Worden My Brightest Diamond © 2014 Blue Sword Music (ASCAP). This Is My Hand appears on Asthmatic Kitty #103 asthmatic kitty.com
© 2015  Cedille Records/Cedille Chicago