---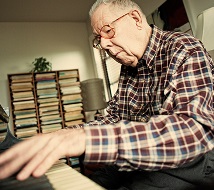 Artists
Easley Blackwood
Composer and Piano
American Midwest-born composer and pianist Easley Blackwood achieved international attention through his 1955 First Symphony and later groundbreaking work in microtonality.
---
Composer, pianist, and musical theorist, Easley Blackwood's career has been consistent only in its seeming contradictions and strong individuality. Blackwood is Professor Emeritus at the University of Chicago, where he has taught since 1958. He received his musical training from such legendary figures as Olivier Messiaen, Paul Hindemith (at Yale, where Blackwood earned his Bachelor's and Master's degrees in 1953 and 1954), and Nadia Boulanger.
Blackwood's return to tonal composition since 1981 stems from his groundbreaking research into the properties of microtonal tunings and his decades-long study of traditional harmony. As a pianist, Blackwood has earned consistent praise for his performances of intricate and demanding contemporary works. Baker's Biographical Dictionary of Musicians says "Blackwood is an accomplished pianist, particularly notable for his performances of modern works of transcendental difficulty"; the International Cyclopedia of Music and Musicians calls him a "gifted concert pianist with a special talent for interpreting modern music"; and the Boston Globe declares Blackwood "famous in his ability to play music others dismiss as 'unperformable'." In addition to his solo performances, Blackwood serves as pianist in the Grammy-winning Chicago Pro Musica, a chamber group largely comprised of Chicago Symphony Orchestra members.