---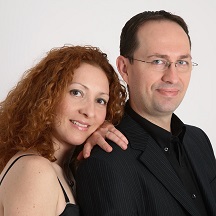 Artists
Cavatina Duo
Flutist Eugenia Moliner and guitarist Denis Azabagic, well-regarded as soloists, perform original and arranged music as the Cavatina Duo.
---
The Cavatina Duo — Eugenia Moliner, flute (from Spain) and Denis Azabagic, guitar (from Bosnia) — has become one of the most impressive combinations of its kind in the world. Critics are raving:
"Style, sympathy, and technical aplomb . . . it's doubtful that the Cavatina's sophisticated and artistic playing could be surpassed." — Fanfare
Cavatina Duo has captivated audiences with their electrifying performances in such major venues and festivals as The Ravinia Festival, Da Camera Society (Los Angeles), Aix-en-Provence Summer Festival (France), Symphony Center Chicago, the National Concert Hall of Taipei (Taiwan), National Center for the Performing Arts in Beijing, National Flute Convention Gala Concert, among many others.
Radio and television stations in Europe and North America (WFMT, NPR) have broadcast the duo's performances. They have been the subjects of interviews in international magazines such as Chamber Music America, TodoFlauta (Spain), Flute Talk (USA), Classical Guitar (UK), Guitarra Magazine, Soundboard (USA), the British Flute Society Journal. They are the first guitar and flute duo featured on both the cover of Classical Guitar Magazine (UK) and the cover of Flute Talk (USA).
Composers from around the world have been inspired to write and arrange new works for the duo. They received the Encore Prize in 2003.
In February 2010, Cavatina Duo premiered Alan Thomas's Concerto for Flute, Guitar, and Orchestra with Camerata Serbica in Belgrade. Since then, they have performed the concerto with orchestras in Europe, the United States, and Mexico; Chicago Sinfonietta, Traverse Symphony, Sarajevo Philharmonic, and the Monterrey Orchestra.
In addition to their two recordings on the Cedille label, the Cavatina Duo has recorded CDs for Spanish and North American labels Ópera Tres, Bridge, and Orobroy Records.
Eugenia Moliner has been acclaimed as a "brilliant young musician" by the British Flute Society Journal. She has performed with principal musicians of the Chicago Symphony and Rotterdam Philharmonic Orchestras, and has been featured on radio and television programs in Europe, Asia, and the United States. Her discography includes six CDs.
Prizewinner in twenty-four international competitions, Denis Azabagic has been described as a "virtuoso with flawless technique" by Soundboard Magazine. He has appeared as soloist with orchestras such as the Chicago and Madrid Symphonies, among many others. His discography includes ten CDs and two DVDs.
Mrs. Moliner and Mr. Azabagic are faculty of the Chicago College of the Performing Arts at Roosevelt University.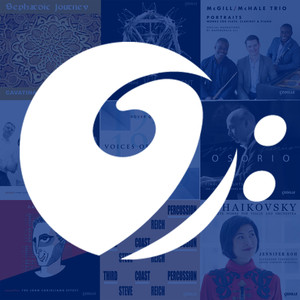 Article