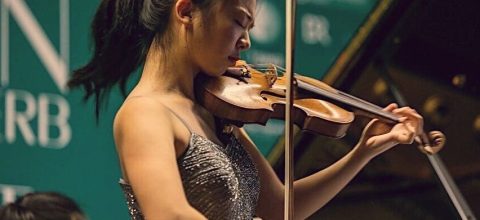 ---
Discover
Emerging Artist Spotlight | Karisa Chiu
Learn more about the talented artists participating in this fall's Emerging Artist Competition
Karisa Chiu, violin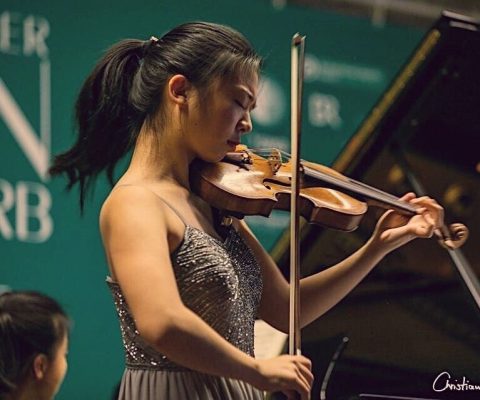 ---
As Cedille approaches the live rounds of its Emerging Artist Competition on November 20-21, 2021, we're taking this opportunity to introduce you to the very talented artists participating in this year's event!
Originally from Chicagoland, violinist Karisa Chiu has appeared as a soloist with several orchestras at home and abroad including the Munich Radio Symphony and the Montgomery Symphony Orchestra among others. Karisa is a fierce competitor and has received top honors on an international level. She has claimed prizes at the Leopold Mozart International Violin Competition, the Irving M. Klein International String Competition, the Stulberg International String Competition, the Blount-Slawson Young Artists Competition, and the Cooper International Competition. Karisa is also a recipient of the prestigious Jerome and Elaine Nerenberg Foundation Scholarship from the 2016 Musicians Club of Women Scholarship Audition.
Learn more about Karisa through the video and interview below.
How were you introduced to music?
I was born into a family of musicians: my father and aunt are violinists, my mother and both my uncles are pianists, my grandparents are singers, my three cousins play viola, cello, and flute, and my two brothers both play cello. My parents started me on violin and piano when I was two years old. Looking up to my parents and other family members, growing up listening to music my whole life—being a professional musician was a dream instilled in me from a very young age.
What artists and genres have influenced you as a musician?
When I'm not listening to classical music, I'm listening to jazz. Being a classical trained violinist, I really admire the great jazz musicians for their spontaneity and different way of thinking. Some of my recent repertoire happens to include pieces with jazz influence; I'm having a lot of fun trying to meld the two worlds together.
What do you find most exciting and unique about Chicago's classical music scene?
Now that I'm in my third year in college, when I look back at my most formative musical years, I realize how lucky I am for having been raised in a city that places such a high value in the arts. From ages 12 to 17, I was in the Music Institute of Chicago's Academy program which is a place that not only gave me a strong musical foundation, but where I made strong friendships that have lasted to this day. In addition, I was also very aware of other programs in the area. Midwest Young Artists, Chicago Youth Symphony Orchestra, Rembrandt Young Artists, Elgin Youth Symphony Orchestra…the list goes on. One of the most meaningful moments for me in high school was the Chicago Youth in Music Festival, where musicians from all of these youth programs came together in partnership with the Fellows of the Civic Orchestra of Chicago to create the Chicago Youth in Music Festival Orchestra to perform in the Chicago Symphony Center. That year, the music director of the Chicago Symphony Orchestra, Riccardo Muti was conducting, and I was selected as the assistant principal. Needless to say, it was a very memorable experience. Most importantly, this festival was, for me, a representation of the close-knit community that Chicago's musical scene provides. The amount of opportunities that I had as an aspiring musician shows the unique dedication the city of Chicago has to advocating the arts and encouraging the next generation of musicians.
What are the three words that describe your artistic style?
Gusto, empathetic, vulnerable.
How will this recording affect your career as an emerging artist?
Releasing an album is one of the best ways to publicize one's artistic vision, and whatever I create I would want it to not only be an accurate representation of who I am as a musician, but to say something to the world. It gives me the opportunity to shows what I have to offer in an outlet that is different than a live performance — one that can possibly reach a wider audience and is infinite in a way that a live performance is not. Of course there is something unique and beautiful to a live performance, but a record is not bounded by time in the same way and can theoretically reach an audience in years to come.
---
Recommended