---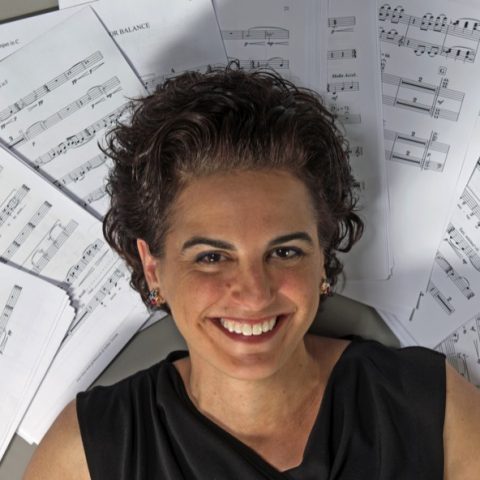 Artists
Stacy Garrop
Composer
Stacy Garrop has written music for many American ensembles, and whether vocal or instrumental, she believes it should tell a story.
---
Stacy Garrop's music is centered on dramatic and lyrical storytelling. The sharing of stories is a defining element of our humanity; we strive to share with others the experiences and concepts that we find compelling. She shares stories by taking audiences on sonic journeys – some simple and beautiful, while others are complicated and dark – depending on the needs and dramatic shape of the story.
Garrop (b. 1969) is a full-time freelance composer living in the Chicago area. Her catalog covers a wide range, with works for orchestra, opera, oratorio, wind ensemble, choir, art song, various sized chamber ensembles, and works for solo instruments.
Recent commissions include Forging Steel for the Pittsburgh Symphony Orchestra, Berko's Journey for the Omaha Symphony, In a House Besieged for The Crossing on texts by Lydia Davis, The Battle for the Ballot for the Cabrillo Festival Orchestra, Goddess Triptych for the St. Louis Symphony Orchestra, Spectacle of Light for the Music of the Baroque Orchestra, The Heavens Above Us for the Reading Symphony Youth Orchestra, and Alpenglow, a double concerto for saxophone, tuba, and wind ensemble commissioned by a consortium of 18 organizations. Notable past commissions include My Dearest Ruth for soprano and piano with text by Martin Ginsburg, the husband of the late Supreme Court Justice Ruth Bader Ginsburg, Glorious Mahalia for the Kronos Quartet, Give Me Hunger for Chanticleer, Rites for the Afterlife for the Akropolis and Calefax Reed Quintets, Slipstream for the Dallas Symphony Orchestra Musicians Chamber Music Series, and Terra Nostra (oratorio), commissioned by the San Francisco Choral Society and Piedmont East Bay Children's Chorus. Her current commissions include projects with Louisiana Philharmonic Orchestra, U.S. Navy Band, and Chicago Opera Theater for a new opera with librettist Jerre Dye that will premiere in the fall of 2024.
Garrop has received numerous awards and grants including an Arts and Letters Award in Music from the American Academy of Arts and Letters, Fromm Music Foundation Grant, Barlow Prize, and three Barlow Endowment commissions, along with prizes from competitions sponsored by the Detroit Symphony Orchestra, Civic Orchestra of Chicago, Omaha Symphony, New England Philharmonic, Boston Choral Ensemble, Utah Arts Festival, and Pittsburgh New Music Ensemble. Earlier in her career, she participated in reading session programs sponsored by the American Composers Orchestra and Minnesota Orchestra (the Composers Institute). Recent performances of her orchestral works were given by the Baltimore, Chicago, Fort Collins, Fort Worth, Philadelphia, Reading, Richmond, and St. Louis Symphony Orchestras, of her wind ensemble works by the U.S. Marine Band and U.S. Navy Band; and of her chamber works by the Avalon String Quartet, Boston Trio, Capitol Saxophone Quartet, Ensemble Échappé, h2 Saxophone Quartet, Kronos Quartet and the Lincoln Trio.
Theodore Presser Company and ECS Publishing carry her works. Garrop is a Cedille Records artist with pieces currently on twelve CDs; her works are also commercially available on more than a dozen additional labels.
In 2022-2023, she served as the featured composer of the Bowling Green State University New Music Festival, Indiana State University Contemporary Music Festival, and the University of Texas at San Antonio New Music Festival, with additional guest residencies at Michigan State University, Florida State University, and the University of Colorado at Boulder. She served as a mentor composer for the Cabrillo Conductors/Composers Workshop and LunART Festival Composers Hub, and is an ongoing mentor for Chicago a cappella's HerVoice Emerging Women Choral Composers Competition and the Toulmin Foundation.
She was the first Emerging Opera Composer of Chicago Opera Theater's Vanguard Program (2018-2020), during which she composed The Transformation of Jane Doe and What Magic Reveals with librettist Jerre Dye. She also held a 3-year composer-in-residence position with the Champaign-Urbana Symphony Orchestra (2016-2019), funded by New Music USA and the League of American Orchestras. She previously served as composer-in-residence with the Albany Symphony (2009/2010) and Skaneateles Festival (2011), and as well as on faculty of the Fresh Inc Festival (2012-2017).