---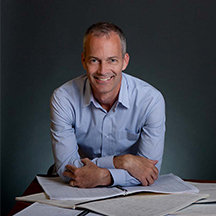 Artists
James M. Stephenson
Composer
James Stephenson's music is a fresh and energizing soundscape that delights audiences while maintaining integrity and worthwhile challenges for the performing musician.
---
Leading American orchestras, instrumentalists, and wind ensembles around the world have performed the music of Chicago based composer James M. Stephenson, both to critical acclaim and the delight of audiences. The Boston Herald raved about "straightforward, unabashedly beautiful sounds," suggesting "Stephenson deserves to be heard again and again!" A formal sense of melody and tonality characterize his works, each embedded in a contemporary soundscape. These qualities, coupled with the composer's keen ability to write to each occasion, have led to a steady stream of commissions and ongoing projects.
James M. Stephenson came late to his full-time composing career, having first earned a degree from the New England Conservatory in trumpet performance, and then going on to perform for 17 seasons in the Naples Philharmonic in Florida. As such, the composer is largely self-taught, making his voice truly individual and his life's work all the more remarkable. Colleagues and friends encouraged his earliest efforts and enthusiasm followed from all directions. As his catalog grew, so did his reputation. That catalog now boasts concertos and sonatas for nearly every instrument, earning him the moniker "The Concerto King" from Chicago Symphony clarinetist John Yeh. The vast majority of those compositions came through commissions by and for major symphony principal players, in Chicago, Boston, New York, Philadelphia, Minnesota, Washington DC, St. Louis, Oregon, Milwaukee, and Dallas, among others. A major break came from the Minnesota Commissioning Club, which led to two works (violin concertos) receiving premieres in 2012 — by Jennifer Frautschi with the Minnesota Orchestra under Osmo Vänskä and by Alex Kerr with the Rhode Island Philharmonic under Larry Rachleff. Other international soloists for whom Stephenson has composed include saxophonist Branford Marsalis and trumpeter Rex Richardson, whose concerto has been performed on five continents. With such prolific output, Stephenson's music is well represented in recordings. Nearly all of his solo brass works (over 50) have been professionally recorded, and in total, his extensive catalog for all instruments can be heard on over 30 CDs.
The 12-month period between June 2018 and June 2019 will see five new major orchestral works from Stephenson: a Low Brass Concerto for the Minnesota Orchestra and conductor Osmo Vänskä; his Third Symphony; a multi-media tone poem for the Quad City Symphony and conductor Mark Russell; a 15-minute chamber orchestra feature with the River Oaks Chamber Orchestra; and a Bass Trombone Concerto for Charles Vernon and the Chicago Symphony Orchestra conducted by Riccardo Muti.
James Stephenson is also a highly sought-after arranger and conductor, rounding out his constantly busy schedule. His arrangements have been performed/recorded/broadcast by virtually every major orchestra in the country, including the Boston Pops, Cincinnati Pops, New York Pops, and more. On the podium, Stephenson has led orchestras in Chattanooga, Bozeman, Charleston, Ft. Myers, Modesto, and Wyoming, in addition to numerous concert bands. With the Lake Forest Symphony, near his Illinois home, he has not only conducted but also has served for seven years as Composer-in-Residence.
Jim originally hails from the Greater Chicago area, as does his wife Sally. In 2007 the couple, along with their four children, returned to the region to pursue the life they now share.