Store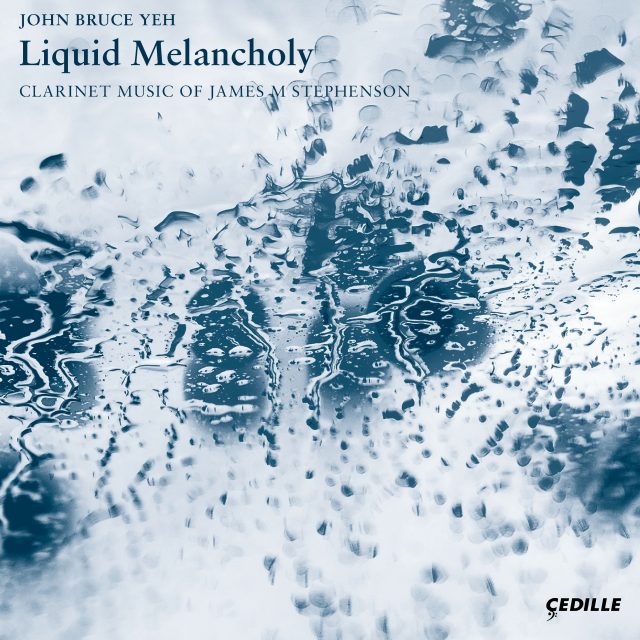 ---
Grammy Nominee: Best Engineered Album, Classical
Liquid Melancholy, featuring virtuoso clarinetist John Bruce Yeh of the Chicago Symphony Orchestra, exudes a kaleidoscope of colors and moods while showering listeners with attractive melodies in a program of music by James M. Stephenson, one of America's most popular and prolific present-day composers. The Boston Herald has praised Stephenson's "straightforward, unabashedly beautiful sounds." The Minnesota Star Tribune calls him "a composer of real talent."
Receiving its world-premiere recording, the title track, Liquid Melancholy, is a concerto for clarinet and orchestra that explores the instrument's fluid lyricism and vast tonal and expressive range. It also marks the commercial recording debut of the Lake Forest Symphony, an acclaimed Chicago-area professional orchestra whose music director, Vladimir Kulenovic, earned the 2015 Sir Georg Solti Conducting Award and was named that year's "Chicagoan of the Year in Classical Music" by the Chicago Tribune.
John Bruce Yeh founded the Grammy Award-winning Chicago Pro Musica ensemble, members of which join him in two works. Colors, for the novel palette of clarinet, oboe, and string quartet, evokes an angry Red, bluesy Blue, rustic Green, and brilliant White. Scored for clarinet, piano, and strings, Stephenson's whimsically named Last Chants channels ancient, exotic sounds of the Near East.
Intimate works for clarinet and piano include Étude Caprice, a literally breathtaking sprint for the clarinetist and a thrill for the listener. Fantasie is a lyrical extravaganza of waltzes, scherzos, and dances. Stephenson's virtuosic four-movement Sonata for Clarinet and Piano is dedicated to Yeh, who gave its concert premiere.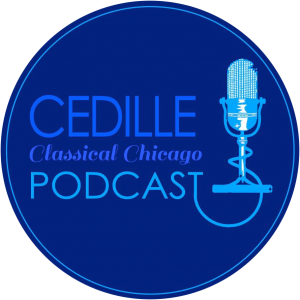 Listen to Steve Robinson's interview with John Bruce Yeh
and James M. Stephenson on Cedille's
Classical Chicago Podcast
Preview Excerpts
Enjoy our recommended preview track excerpts below
JAMES M. STEPHENSON
Liquid Melancholy Concerto for Clarinet and Orchestra
Sonata for Clarinet and Piano
14
III. Interlude, Jam-Bourée
Artists
1: Lake Forest Symphony
Vladimir Kulenovic, conductor
5: Alex Klein, oboe
Chicago Pro Musica
9: Patrick Godon, piano
Chicago Pro Musica
10: Patrick Godon, piano
11: Patrick Godon, piano
12: Patrick Godon, piano
What the Critics Are Saying
---
---
"John Bruce Yeh proves the marvel here, surely as talented as any clarinet player in the world today, and an enthusiastic proponent of new music, and Stephenson in particular. This is one of the finest discs I have heard all year, and there is no way you won't enjoy it as much as I did, especially recorded in such wonderful sound as Cedille provides."
"Yeh demonstrates exceptional facility, an even, beautiful sound throughout the registers of the instrument, and a dynamic range that retains focus and resonance from the softest whisper to the loudest outbursts."
Liquid Melancholy — Clarinet Music of James M Stephenson
Notes by James M. Stephenson
Liquid Melancholy (2011)
In the early spring of 2011, as an effort to keep up with my eldest daughter's reading assignments, I joined her in the enjoyable task of reading Ray Bradbury's Fahrenheit 451. I had read it as a teenager myself, but little did I remember all of the wonderful metaphorical phrases he incorporated in that book! One such phrase was "liquid melancholy" — after the character Mildred Montag attempts suicide by overdose, doctors revive her by pumping her stomach and replacing her blood, storing the fluids in their cases of "liquid melancholy." I knew right then that if I ever had the opportunity to use that as a title, I would jump on it — not because I liked what it portrayed in the book, but because of the imagery those two words evoked in my own mind.
That opportunity came just a few months later, when Liza Grossman, director of the Contemporary Youth Orchestra in Cleveland, wanted to commission me to write a new clarinet concerto for Daniel Gilbert. A consortium of three ensembles was quickly formed, including Liza/CYO, the Midwest Young Artists (John Bruce Yeh, soloist; Allan Dennis, conductor) and the Portland Youth Philharmonic (David Shiffrin, soloist; David Hattner, conductor). This project excited me on multiple levels: I had never written a major work for the clarinet, and everyone for whom I was writing were terrific friends and wonderful musicians (Liza, David Hattner, and I going back to high school days at the Interlochen Arts Academy).
I've always been fascinated by the clarinet's ability to play such smooth and fluid lines, at all dynamic levels. This "liquidity" is something I wanted to highlight in this concerto. This is most evident in the first movement, when the clarinet is set against angular lines, first introduced by the solo cello. For the melancholy aspect, I wanted to write some searching music: some deeply personal and intimate music, a chance for the soloist and audience to relate and reflect upon what I put out there. This is the second movement. The third and fourth movements are played without break — an accompanied cadenza followed by a wispy and light final scherzo.
The concerto is roughly 18 minutes, and is scored for Solo Clarinet +
2 Flutes, 2 Oboes, 2 Bb Clarinets, 2 Bassoons
2 Horns, 2 C Trumpets, 2 Trombones, Bass Trombone, Tuba
Timpani (doubling on percussion) Percussion (1 player)
This new "reduced" and composer-preferred score was commissioned by the Lake Forest Symphony, to match their Bruckner 4 orchestration for the concert, plus the addition of harp and one more percussionist.
It is with great pleasure that I dedicate this work to the consortium of three orchestras/soloists plus the Lake Forest Symphony for their belief in commissioning new music, and to Liza and Dan, for initiating the idea and premiering the work.
Colors (1997)
Colors, written in 1997, represents my impressions of four colors that most inspired me musically at the time. Red is an angry color, pitting three members of the ensemble against the other three in a musical argument. They briefly 'get along' while pausing to notice the red hues of the sunset, but quickly begin to fight again. Hints of composers who lived in the old Red regime of Russia are undeniable as well. Blue is, of course, bluesy, but also depicts a lazy summer afternoon on the front porch, with a glass of cold lemonade, watching the clouds slowly drift across the vivid blue sky. Green, incorporating faint elements of an Irish jig, is either a dark, forest green, or a summer meadow green. I will let the listener decide. White, written in C Major (representing all of the white keys of the piano), is a flurry of notes evoking the blinding image of throwing open the curtains on a bright, sunny morning.
Last Chants (2015)
It's funny how life takes interesting turns, and unexpected collaborations come up as we move forward in our careers. In the summer of 2003, I enrolled in a conducting camp — Medomak — to be held in Maine. Though doing a lot of composing, I was still mainly employed as a professional trumpeter at the time, but had an inkling that I wanted to try some stick-waving as yet another creative outlet. Part of the three-week seminar involved standing in front of a string ensemble and piano as we labored through a Beethoven or Shostakovich score, under the watchful eye of the mentor conductor. It is there that I met Tim Christie and his wife, Maria Samen. It was a little more than a decade later when Tim reached out to me about composing something for his chamber music festival in Walla Walla, Washington.
Interestingly enough, this was one of the rare occurrences where I was asked to provide a title before writing the music. Somehow — while driving through town for a completely unrelated issue — the title "Last Chants" popped into my head. I've always been a fan of wordplay, and I knew immediately that the word "chants" would be a pun, because of the sonic implications immediately available to me as a result. Therefore, the music is very much taken from older "chant-like" melodies and harmonies (open intervals and pitch-bends). This will be immediately apparent. Secondly, because the title also sounds like "Last Dance" — the music breaks off for quite an extended period of time into odd-metered dance-like material, still based on the chant sonorities already established. There is an exhaustive amount of pitch bending and intense rhythmic material as we approach the end, so as to signify that this might indeed be the last chants (chance), because the musicians should be simply too tired to attempt anything further.
Fantasie (2005)
The Fantasie was originally written for trumpet, and later adapted for clarinet (with help from Scot Humes). The original notes for the trumpet version are as follows:
While Paul Merkelo (principal trumpet, Montreal Symphony) was visiting me in Florida, we finally solidified a long-discussed idea of a new composition for him to premiere. Paul and I had known one another since our childhood days in the Chicago area, so the opportunity to compose something for him was nothing less than a true joy and true honor.
He initiated the idea that the piece should pay homage to one of the long-time greats in the trumpet world, Timofei Dokshizer, who had recently passed. Growing up as a trumpeter myself, Dokshizer had a great impact on my musical development — I was given several of his albums by one of my first trumpet teachers, Peter Labella, who had died several years before, and much too young. The piece, then, is a tribute on many levels. First to my friend, Paul, a constant source of inspiration and character. It is, of course, dedicated to Mr. Dokshizer, whose impact on the trumpet and music world, and my early love of the trumpet, is immeasurable. It also is written with remembrance to Mr. Labella, who had the insight to recognize my love of music, and gave me his depth of knowledge that has stayed with me to this day.
When Paul first mentioned the idea of writing the tribute piece, I was immediately struck with ideas on how to construct the piece. I wanted to write a piece that would be reminiscent of the old recordings: the concert waltzes, scherzos, and dances that he played so touchingly and delicately, yet with his inimitable Russian flair. I wanted to step back, and not try to produce sounds no one has ever heard before, but yet create something that sounded as if it has always been there; something where the audience could just sit back, relax, enjoy, and give thanks to the legacy of the great musical mastery of Timofei Dokshizer.
This clarinet edition is dedicated to John Bruce Yeh, who demonstrates a true joy and love for music-making at every occasion. Trumpet and clarinet have many similar musical associations. First, they are both often pitched in Bb, meaning that music written for one can readily be adapted for the other. Second, articulations are often written similarly for both instruments', such that, especially in this piece, the slurring and tonguing involved matches the clarinetist's technique quite well. And last, with just a bit of exception on either end of the spectrum, the two instruments ranges are quite similar. All of these made my Fantasie well-suited for transcription to the clarinet.
Étude Caprice (1997)
The Étude Caprice was originally composed as a technical showcase for solo clarinet. As might be expected in an étude, it is a study in different scale patterns, intervals, and theme with variation. The piano part was subsequently added to produce a concert piece. The performer must take a good breath at the beginning of the work, because that is his last chance!
Sonata for Clarinet and Piano (2015)
The Sonata for Clarinet and Piano came about through a discussion initiated by John Bruce Yeh. I first got to know John through the collaborative effort to co-commission and premiere at Ravinia (the summer home of the Chicago Symphony Orchestra) my Devil's Tale, sequel to Stravinsky's Soldier's Tale. I did not know at the time of John's fervor for new music and collaboration, but it was due to that revelation that the idea of a clarinet sonata sprung up. Together, we put the word out that we'd like to co-create a new work, and much to our delight, 25 clarinetists pledged their support to the sonata project.
The piece was initially to be premiered in the spring of 2016, but John got an invitation to do a recital at Interlochen Arts Center in November 2015. Interlochen is where I spent seven summers, three school-years, and two years teaching (trumpet), and I knew this was an opportunity not to let slip by — for artistic and personal reasons — so it was time to get to work. I wrote the work in the last two weeks of October, handed the score off to John and the very accomplished collaborative pianist at Interlochen, Nozomi Khudyev, and let them do the rest!
The sonata is in four movements, but with a twist. It is, at its core, a typical three-movement sonata: fast–slow–fast. But due to John's exemplary E-flat clarinet playing, which I have so often witnessed at CSO concerts, I decided to offer an optional movement (Interlude) for clarinetists to play on E-flat clarinet only if they so choose.
The first movement offers both lyrical and technical opportunities in a mostly tuneful exploration of D minor. As to be expected, the clarinet and piano converse back and forth, and my personal bent toward jazz-inflected harmonies reveals its head once again. This continues in the second movement — now in G minor — the most personal and introspective movement of the sonata, where lyricism and beauty preside over a mixed-meter. The optional Interlude — still in G minor — provides brief relief from the surrounding movements. Subtitled "Jam-Bourrée," it is a cross between baroque counterpoint and somewhat bi-tonal relationships. The final movement opens with confused frenzy amongst the performers, before materializing into the main melodic material, again infused with mixed-meter grooves. Many themes of the sonata are restated, before the final buildup drives to a high-pitched resolution in G major.
Album Details
Total Time: 77:25
Producer: Jim Ginsburg
Engineers: Bill Maylone and Mary Mazurek (concerto)
Recorded: May 21, 2017 James Lumber Center for the Performing Arts at the College of Lake County, Grayslake, IL; July 13–15, 2017 Reva and David Logan Center for the Arts at the University of Chicago
© 2018 Cedille Records/Cedille Chicago