Store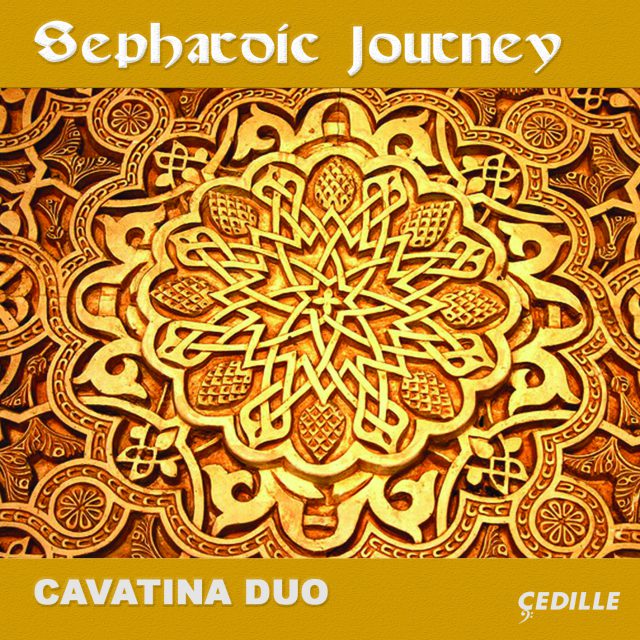 ---
The Cavatina Duo's Sephardic Journey emerged from startling discoveries in their family history. When Spanish flutist Eugenia Moliner and Bosnian guitarist Denis Azabagic learned they each had distant roots in the Sephardic Jewish world of Old Spain, the husband-and-wife duo of "consummate virtuosos" (American Record Guide) decided to explore their mutual heritage through music. Sephardic Journey, the duo's third and newest Cedille Records album, comprises five world-premiere recordings of new works — not arrangements — written expressly for them. All are based on early Sephardic melodies in the way Bartók, for example, used Hungarian folk music in his own compositions. Joseph V. Williams II's Isabel for flute and guitar pays tribute to a tragic victim of the Spanish Inquisition. Alan Thomas's Trío Sefardí for flute, cello, and guitar draws on melodies from the Sephardic diaspora. Carlos Rafael Rivera's Plegaria y Canto (al Bodre de La Mar) for alto flute, violin, and guitar depicts an intimate scene of despair and hope on the Spanish coast. Clarice Assad's Sephardic Suite for flute, guitar, and string quartet evokes contrasting aspects of romance and family life. David Leisner describes his Love Dreams of the Exile for flute, guitar, and string quartet as "stream-of-consciousness meditations on Sephardic folk music." Stellar guest artists include Cedille label-mates violinist Desirée Ruhstrat and cellist David Cunliffe from the Lincoln Trio and the Avalon String Quartet.
"If there is a finer flute and guitar duo in the world than Cavatina Duo, I have not heard them." — Guitar Foundation of America's Soundboard magazine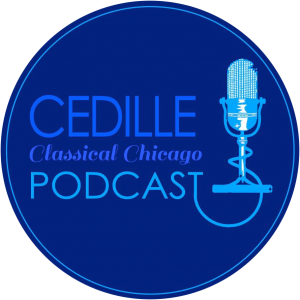 Listen to Steve Robinson's interview
with Cavatina Duo on Cedille's
Classical Chicago Podcast
Preview Excerpts
Enjoy our recommended preview track excerpts below
ALAN THOMAS (b. 1967)
Trío Sefardí for flute, cello, and guitar
1
I. Como páxaro en su vuelo
2
II. D'un aire d'una mujer
JOSEPH V. WILLIAMS II (b. 1979)
CARLOS RAFAEL RIVERA (b. 1970)
5
Plegaria y Canto (al Bodre de la Mar)
DAVID LEISNER (b. 1953)
8
III. Va, buxcate otro amor!
CLARICE ASSAD (b. 1978)
Artists
What the Critics Are Saying
---
---
Trío Sefardí
Notes by Alan Thomas
Like many other composers, I have often looked to what is called "folk music" for inspiration and musical ideas. I was therefore delighted when the Cavatina Duo commissioned me to write a substantial piece drawing on the music of the Sephardic Jews — i.e., the Jewish ethnic group that emerged as a distinct community in the Iberian peninsula around the start of the second millennium. None of the melodies known today as "Sephardic" can be traced back to the Jews in Spain prior to their expulsion in 1492. Nonetheless, over the subsequent centuries a beautiful repertoire of song grew from the experience of the Sephardic Jews as they migrated and settled throughout the Mediterranean, North Africa, and the Balkans. As they did so, they adapted their Ladino (Judeo-Spanish language) song texts to the musical styles and melodies of their new cultures. Thus, what we call Sephardic music today is a rich mixture of musical styles found in Morocco, Turkey, the Balkans, and many other countries. As with all folk music, the Sephardic repertoire was in a constant state of transformation,
and indeed has only become relatively fixed since a number of important transcriptions were published in the 1950s and 60s and the melodies were taken up and recorded by early music groups and world music singers in recent decades.
My Trío Sefardí for flute, cello, and guitar is in three movements, with each movement employing one melody from the Sephardic repertoire for its musical material. The first movement is based on the song "Ya viene el cativo" ("Here comes the slave"), the lyrics of which involve a slave girl's lament
in memory of her homeland. Apart from the emotional content of the lyrics, what particularly attracted me to this song was the symmetrical intervallic properties of the song's opening melody, which consists of three chromatic notes surrounded by a minor third on both sides. I am fascinated by such symmetries in music, and by the possibilities they open up for development in different harmonic contexts and in permutations of the intervallic patter (inverted, reversed, re-ordered, expanded/contracted etc.). While this movement might best be described as a set of linked and continuous variations, several main formal sections can be delineated: a slow and lyrical initial presentation and variation of the Sephardic melody leads to an energetic scherzo; the theme is then modified in a slow major key version and finally used as the subject of a fast fugue.
The second movement uses the melody "Yo m'enamori d'un aire d'una mujer," which might be best translated as "I fell in love with the scent of a woman." The lyrics of the song speak of intoxicating emotions and the dangers of a moonlit encounter with a beautiful woman. Of course, the title immediately put me in mind of the Al Pacino film The Scent of a Woman and the tango danced in that film. With this tango connection in mind, converting the melody from 3/4 time to 4/4 and setting it for the sultry voice of the alto flute seemed the ideal way to approach this beautiful Sephardic song.
The third movement is based on the melody "Una matica de ruda" — in English "A sprig of Rue" ("rue" being a type of herb native to the Balkan peninsula as well as a synonym for "regret"). In addition to being attracted to these multiple meanings, I was immediately drawn to the song's lyrics, which take the form of a dialogue between mother and daughter. The daughter tells her mother that a young man is in love with her and has given her a bouquet of rue. The mother warns the daughter not to sacrifice her virtue to young love, and that a bad husband is better than a new lover. It is the daughter's perfect and poetic reply though that makes the song: "A bad husband, my mother? There is nothing worse. But a new lover, my mother? The apple and sweet lemon."
In the Sephardic song repertoire, "Una matica de ruda" is known in two different versions — one playful and rhythmic, the other simple and lyrical — that together perfectly capture the dual emotional character of the song's lyrics. In my third movement, the two different versions serve as first and second themes in a quasi-sonata form.
Plegaria y Canto (al Bodre de la Mar)
Notes by Plegaria y Canto (al Bodre de la Mar)
What most attracted me about this commission was the opportunity to explore the register and near infinite sustain of the violin as a welcome addition to the familiar flute and guitar combination. Rather than compete with the range of the violin, I chose to use the alto flute (for the most part) for its wonderful and grounded color, allowing the guitar to live comfortably in its own register. The commission's challenge was that the melodies used to inform this piece had to be of Sephardic origin. My knowledge about Sephardic music was desultory, but Eugenia and Denis's passion for it was contagious. So I began to investigate and learned about the troubled history of the Sephardic Jews in Spain. Subsequently, I fell into their poetry and music. From the many works I was able to study, I became infatuated with the two songs that permeate this piece: "Ven Kerida" (Come, My Love) and "La Tuya Gracia y Hermosura" (Your Grace and Beauty).The lyrics to "Ven Kerida" loosely translate to:

Come my love to the edge of the sea. I will tell you of the sufferings I have lived through, as they will make you weep. An orphan, without Father or Mother, I have nowhere to rest. Stretch your leg out a little so I may sleep, for in your arms I shall die…
It was this poem and its gorgeous melody that formed the pillar of my piece, while "La Tuya Gracia y Hermosura" informed the middle section. Throughout the writing process, I had a recurring vision of a proud, yet helpless, soul at the edge of the coastal town of Burriana in Eastern Spain, singing her plight to the Sea. She gains solace as her song is joined — perhaps by the Sea herself. It is a story wrought with sadness, but also hope: a perfect metaphor for the troubled yet inspiring journey of the Sephardic people.
Sephardic Suite
Notes by Clarice Assad
Sephardic Suite consists of three pieces inspired by love songs and relationships. Each movement represents a different aspect of these connections, be it an emotional condition, psychological state, or the poetry associated with the lyrics.The through-composed portions of this musical composition are meant to be perceived as an expansion and development of these ideas in a programmatic, story-telling way. The first movement is a song about a young woman who loses her innocence when deceived by a scoundrel —her spirit is lifted while looking for justice through God's work. The second movement is a song about letting go of an old love — and meeting a new one. It is that in-between-place where feelings are still raw and unsettled. The music goes back and forth between those different worlds of emotions like a roller coaster.
The third and final movement is a humorous depiction of a couple. Upon hearing the song, I visualized a bickering older couple, founders of a vivacious and vociferous family who enjoy gathering around the house — a little too often. They contribute to a somewhat chaotic, albeit party atmosphere. The piece was constructed based on the lyrics, which provide the following scenario: Husband sits and rests comfortably. Too lazy to get up, he nags his wife to bring him some water. Midway through the piece, a flute cadenza sets the tone — quite irritated, representing the wife's voice. Displeased by the constant amount of work and requests she gets from him and everyone else, she is met by a sorrowful and apologetic guitar cadenza (husband) who seems to promise they'll be more loving and caring. Everyone's happy and the family celebrations resume in fun, lively, even more exciting ways than before.
Sephardic Journey
Notes by Denis Azabagic
The human spirit connects us with each other, regardless of natural or man-made borders, regardless of the passage of time. Cultures endure over the millennia. In 1996, after five and a half years of brutal war in the former Yugoslavia, I was able to visit my new home country, Bosnia and Herzegovina. I came back with my wife and duo partner Eugenia Moliner. During one of the visits to my relatives, my great aunt, Razija Prcic, started talking to my wife in Spanish. My wife, who is from Spain, was surprised; the rest of us were astonished. Even Razija's daughter, my aunt Azra, was in disbelief. How could this lady talk in Spanish? When did she learn it? Furthermore, Eugenia told me that she was speaking in a really old form of Spanish known as Ladino. As the conversation progressed, Razija told us that her mother converted from Judaism to Islam at the outset of World War II. She did so to avoid persecution by the Nazi army, allowing them to survive and remain as one of only two families of Jewish origin in their hometown of Tuzla. Razija's real name was Matilde. She said to Eugenia, "With you the circle is complete; we are back to Spain."
This was such a profound and unexpected discovery. Razija told us the Spanish language was kept in her family for generations, hundreds of years. She was the descendant of Sephardic Jews who left Spain at the end of the 15th century and spread around the world. They carried with them their culture, their language, and their music. As we researched and discussed this in the years that followed, my wife discovered that her last names, Moliner-Ferrer, were ones that Jews in medieval Spain took from their professions (Moliner = miller, Ferrer = blacksmith) when they converted to Christianity in order to stay in Spain. Many years later, we found ourselves looking for music from our native countries. Our friend Sergio Assad suggested we explore our native folk musics: music that was there all along, waiting to inspire modern composers and musicians alike. Then everything fell into place like a perfect puzzle. It had to be Sephardic music: it was in my family back in Bosnia, and it is in my family here.
Sephardic Journey
Notes by Eugenia Moliner
I had a dream . . . long ago . . . and imagined that Denis and I would play music based on the beautiful Sephardic melodies rooted in my native Spain from more than five centuries ago. This dream began almost twenty years ago and needed to come to fruition. Today I'm very excited about our Sephardic Project. I thank those who helped the dream come to life: Aunt Matilde; Sergio for always giving the best ideas; Jim for believing in us; and Tom, Mark, and Howard for making this possible with their generous gifts.
We have commissioned music from four wonderful composers — Clarice Assad, David Leisner, Carlos Rafael Rivera and Alan Thomas — and received a delightful gift from Joseph V. Williams II and Austin Classical Guitar. The commissioned works are for flute, guitar, and strings: two pieces for flute, guitar, and string quartet and two trios with cello and violin respectively. The gift from Joseph V. Williams II is for flute and guitar alone.
I kept the dream, just as our ancestors kept their language, traditions, and culture. The music is here to stay.
Isabel
Notes by Joseph V. Williams II
Isabel bears witness to the tragic history of Isabel de los Olives y López. She was a Sephardic woman who lived during the Spanish Inquisition. Like many, she was secretly a Jew, but outwardly a convert to Christianity. However, Isabel was found out, put on trial, tortured and coerced into informing on her family and community. After months of imprisonment, she recanted her testimony. She was hysterical in her resistance and, in an act of supreme defiance, ended her life through self-martyrdom.
The composition draws from the Sephardic folk tune Durme, durme mi linda donzella. Under the guise of a love ballad, this song is, in fact, a resistance song. It is filled with gentle words of anguish spoken by the singer to his beloved. As the story comes to a close — with what seems to be a simple question (Who is this woman…) — it is transformed into an ominous accusation against Queen Isabella I of Castile and the tyranny of the Spanish Inquisition.
Durme, durme mi linda donzella
Sleep, sleep my beautiful maiden,
Sleep without pain or sorrow.
Hear girl, the sound of my guitar Hear me sing my grief, beautiful.
For ten years, my soul has suffered
For you my jewel, my beautiful lady.
I sleep neither night nor day,
for those who love are guided by sorrow.
Who is this woman and sestico
Who came to the fertile garden
And is tearing up all the flowers?
Isabel was commissioned by Austin Classical Guitar and is dedicated to Denis Azabagic and Eugenia Moliner.
It was premiered at the Austin Chamber Music Festival on July 12, 2014 by the Cavatina Duo at Bates Concert Hall, University of Texas at Austin.
*Translation by Emily Dickenson and Joseph V. Williams II
Love Dreams of the Exile
Notes by David Leisner
The three movements of Love Dreams of the Exile are stream-of-consciousness meditations on Sephardic folk tunes. The folk song source of each movement is quoted at the beginning of the first, in the middle of the second and at the end of the last. In addition to its rich musical inspiration, Sephardic folk music also often has intense and surprisingly dark lyrics. These particular songs are all about love, just out of grasp — searching, rejection, and loss. In each of the three movements, the lyrics suggested a certain dramatic background to my music.
In "Yo bolí," (I flew) the singer intones, tinged with a kind of sad hope, "I flew from branch to branch to catch up with a pretty bride. With your permission, good mother, I am going to find happiness." The second
movement is based on the ballad, "Una pastora yo amí." A young man expresses his love to a beautiful young shepherdess whom he has loved since childhood. She answers "You're too young for love!" (which gives the movement its title, "Sus chico para amor!"), chooses another, and he continues to love her even as she forgets him. In the middle of the movement, there appears a passage from another folk song, "Scalerica de oro," a happy wedding celebration song that appears here in muted strings as a distant mirage. The final movement centers around "Tu madre cuando te parió," in which a woman tells a man to "Go, look for another love!" (the movement's title, "Va, buxcate otro amor!") because he has been unfaithful and has destroyed her wish to live: "Wait for another burning love. As for me, you are dead." Her raging anger is mixed with irrepressible tenderness and nostalgia.
Michael Cavalenes, for whom this work is a memoriam, was a prolific writer and poet who passed away tragically at age 30. He wrote the following poem, about "the sufferings of attachment," which parallels some of the feelings expressed in my piece:
Taste of Tears
The taste of tears in a downfall of sorrows
Some crestfallen, some forlorn,
The sufferings of attachment
That possesses a soul and the body it borrows;
Farewell to the days of yesterday
Where rivers and lakes of tears still lay:
Undrawn, untouched, and unknown.
Eyes that weep like a cloud that bleeds translucent tears
That take in light to flash rainbows
which ease the world and its hard years,
With a stench of salty sweetness.
In youth, life is nascent and death a lifetime away
And all is innocent, full of hope and tearless,
But in the later days of gerontic caducity
age is fleeting and to be revered
And death is an apotheosis,
an epiphany from God and man's reality
As if it is no longer dark, sad, and warranted of fear;
death be all it be,
Like it was meant to be, a birth not an end.
The acceptance of mortality that hollow tears portend
Raise and profit from an unkempt soul
In a world where tears are not for pains,
Where fires burn alone without coal,
Where there is no shame to tears even if it rains,
Where no tongue can taste the taste of tears.
Album Details
TT (75:44)
Producer: James Ginsburg
Engineer: Bill Maylone
Editing: Jeanne Velonis
Recorded: June 26–27, 2015, ICON Pro Studios Chicago (trios) and October 28 & 30, 2015, Fay and Daniel Levin Performance Studio at 98.7 WFMT, Chicago (Isabel and sextets)
Graphic Design: Nancy Bieschke
Cover Art: Geometric carving (from Alhambra Palace) by Maureen Jameson
Publishers:
Trío Sefardí ©2014 Alan Thomas
Isabel ©2014 Joseph V. Williams II
Plegaria y Canto (al Bodre de la Mar) ©2014 Carlos Rivera Music
Love Dreams of the Exile ©2015 David Leisner
Sephardic Suite ©2015 Clarice Assad
© 2016 Cedille Records/Cedille Chicago