Store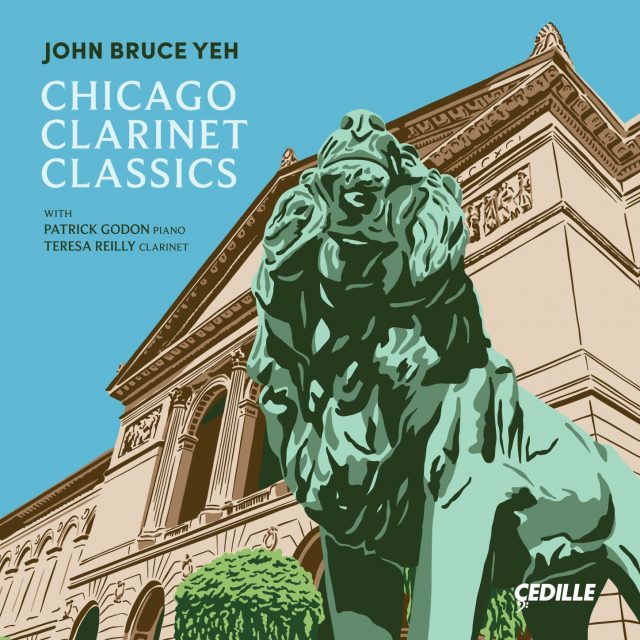 ---
John Bruce Yeh, the Chicago Symphony Orchestra's celebrated assistant principal clarinet and solo E-flat clarinet for over 40 years, headlines a program of lyrical and engaging chamber and solo works by noteworthy Windy City composers of the past and present, including four world-premiere recordings.
Yeh, with Patrick Godon, the Chicago Symphony's principal keyboardist, and freelance clarinetist Teresa Reilly, who performs with the CSO at home and on tour, presents mid-20th-century works by Alexander Tcherepnin and Leo Sowerby, a late-century work by Robert Muczynski, and recent pieces by Stacy Garrop, Shulamit Ran, and clarinetist Reilly.
World-premiere recordings include the album's centerpiece, Sowerby's witty and inventive 1938 Sonata for Clarinet and Piano; Ran's tender, heartfelt Spirit for solo B-flat Clarinet; and Reilly's The Forgiveness Train for two clarinets, an insistently rhythmic, pandemic-fueled dreamscape about personal peril amid natural beauty. Garrop's dramatic Phoenix Rising — a world-premiere recording of the version for clarinet — depicts the fiery death and triumphant rebirth of the Phoenix of Greek and Egyptian myth. The album opens with Tcherepnin's vivacious Sonata in one movement for clarinet and piano. Muczynski's Time Pieces for Clarinet and Piano, a popular repertoire staple, brings the program to a brilliant close.
Chicago Clarinet Classics was recorded by the Grammy Award-winning Cedille team of producer James Ginsburg and engineer Bill Maylone. Yeh's previous Cedille Records release was the critically acclaimed, Grammy-nominated Liquid Melancholy: Clarinet Music of James M. Stephenson. The Clarinet proclaimed, "Yeh's performances deserve special mention for his exquisite interpretations. Yeh demonstrates exceptional facility, an even, beautiful sound throughout the registers of the instrument, and a dynamic range that retains focus and resonance from the softest whisper to the loudest outbursts." Audiophile Audition declared it "a whopping stunner of an album," adding, "John Bruce Yeh proves the marvel here, surely as talented as any clarinet player in the world today."
The longest-serving clarinetist in Chicago Symphony Orchestra history, Yeh joined the CSO in 1977 as bass clarinet by invitation of Georg Solti. Two years later, he was named assistant principal and E-flat clarinet. He has performed as guest principal clarinet of the Philadelphia Orchestra, Seoul Philharmonic, and Guangzhou Symphony and as guest bass clarinet of the Mariinsky Orchestra and Hong Kong Philharmonic. He is director and co-founder of Chicago Pro Musica, which received the 1985 Grammy Award for Best New Classical Artist.
This recording is made possible by generous support from the Sage Foundation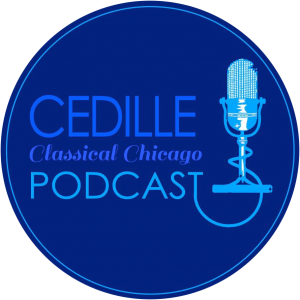 Listen to Jim Ginsburg's interview
with John Bruce Yeh
on Cedille's Classical Chicago Podcast
Preview Excerpts
Enjoy our recommended preview track excerpts below
Alexander Tcherepnin (1899 - 1977)
Sonata in one movement for clarinet and piano
Stacy Garrop (b. 1969)
Phoenix Rising for Solo Clarinet
Leo Sowerby (1859 - 1968)
Sonata for Clarinet and Piano
5
II. Exuberantly, but not too fast
Shulamit Ran (b. 1945)
Teresa Reilly (b. 1976)
The Forgiveness Train for two clarinets
9
I. The Derailment of Fear
10
II. The Gifts Beneath the Wounds
Robert Mucsynski (1929 - 2010)
Time Pieces for Clarinet and Piano, Op. 43
15
IV. Introduction: Andante molto – Allegro energico
Artists
1: John Bruce Yeh, Patrick Godon
2: John Bruce Yeh
4: John Bruce Yeh, Patrick Godon
8: John Bruce Yeh
9: John Bruce Yeh , Terea Reilley
12: John Bruce Yeh, Patrick Godon
What the Critics Are Saying
---
---
Yeh plays with a clear tone, good fingers, excellent control, and refined phrasing and dynamics. Godon, meanwhile, is fantastic at the keyboard, offering smooth technique and transparent neo-classical textures that shimmer at soft volumes and pop with force at loud volumes. Reilly is a fine collaborator; and while her duet relies heavily on program elements, it is a nice contribution to the clarinet literature.
–American Record Guide
"With such a varied program, the clarinetist must have a wide range of technical ability and emotional intelligence. Mr. Yeh has both these qualities in abundance, as well as reserves of energy when needed. But it is his skill at shaping a phrase and his low notes that most remain with the listener. His frequent accompanist Patrick Godon, principal keyboardist of the CSO, is a worthy foil in the pieces with piano, especially in Muczynski's and Sowerby's works. As usual with Cedille releases, this disc does Chicago performers and composers proud."
The tracks flow beautifully together and it's interesting to note that as much care and attention to detail has been poured into the structure of the album has been injected into the recordings.
A beautifully presented album that you'll get years of pleasure out of.
–Darren Rea
Personal Note
Notes by John Bruce Yeh
Back in 2020, toward the beginning of the COVID pandemic that turned the world upside down, I got a message from my friend, Cedille Records mastermind Jim Ginsburg, asking if I could convene a group to record Leo Sowerby's 1916 Wind Quintet. Chicago Pro Musica went on to perform this quintet for a CSOtv episode in the Spring of 2021. In the meantime, Jim's request sparked an ongoing exploration that we decided to call "Chicago Clarinet Classics." In researching Sowerby, I discovered his 1938 Sonata for Clarinet and Piano (published in 1944), a massive work on the scale of a Brahms Sonata. The next discovery was Alexander Tcherepnin's delightful 1939 miniature, Sonata in one movement. With these two contrasting Sonatas, grouped with Robert Muczynski's 1983 Time Pieces, already a classic with clarinet players, my long-time piano collaborator, Patrick Godon, and I had the basis for an album. Jim and I agreed that diversity in the form of three 21st-century clarinet works by outstanding composers with whom I've had decades-long associations, would be the ideal complement to this collection. Accordingly, we are delighted to present the first recordings of Stacy Garrop's 2017 Phoenix Rising for Solo Clarinet, Shulamit Ran's 2017 solo clarinet work Spirit, and my wife Teresa Reilly's recent clarinet duet, The Forgiveness Train (2020). I truly hope you enjoy this program of works by these six composers, all with strong personal and musical ties to Chicago.
I dedicate this album to the loving memory of my generous clarinet mentor in my formative years, Gary Gilbert Gray, who passed away too soon in Los Angeles on December 12, 2021, and also to composer/pianist Easley Blackwood, another Chicago Classic, who passed away January 22, 2023, just weeks before this album's release.
Alexander Tcherepnin: Sonata in one movement (1939)
Notes by John Bruce Yeh
Russian-born composer and pianist Alexander Nikolayevich Tcherepnin (1899–1977) was part of an extraordinarily musical family. His father, Nikolai (pupil of Nikolai Rimsky-Korsakov), and his sons, Serge and Ivan, along with two of his grandsons (sons of Ivan), Sergei and Stefan, were composers. Serge was involved in the earliest development of electronic music and instruments. Alexander's mother was a member of the artistic Benois family, a niece of Alexandre Benois.
Tcherepnin played the piano and composed prolifically from a very early age. He was stimulated by the atmosphere at home which, thanks to his family's Benois-Diaghilev connections, was a meeting place for renowned musicians and artists of the day. By the time he began formal theory and composition studies during his late teens, he had already composed hundreds of pieces, including over a dozen piano sonatas. He went on to study at the St. Petersburg Conservatory. After the 1917 Russian Revolution, however, the family fled the city and settled in Tbilisi, Georgia.
Due to the harsh political environment in Tbilsi after Georgia was sovietized, the Tcherepnins decided to leave Russia permanently in 1921. They settled in Paris, where Alexander completed his studies at the Conservatoire and became associated with a group of composers that included Bohuslav Martinu. From Paris, Tcherepnin launched an international career as a pianist and composer. In 1925, he won the Schott Prize for his Concerto da Camera, Op. 33. He began yearly visits to the United States in 1926 and later went to the Far East, making several extended visits to China and Japan between 1934 and 1937.
While in China, he met the young Chinese pianist Lee Hsien Ming (1915–1991), and the two later married in Europe. They had three sons together: Peter, Serge, and Ivan. The family lived in France during World War II. They came to the United States in 1948, settling in Chicago in 1950. Alexander acquired U.S. citizenship in 1958. He and his wife both taught at Chicago's DePaul University. In 1964, they moved to New York and Tcherepnin subsequently divided his time between the U.S. and Europe.
Not much has been written about Tcherepnin's Sonata in one movement, Op. posthumous. Presumably composed in Paris just before World War II, the piece employs some of the hybrid scalar patterns found in many of his subsequent works.
Stacy Garrop: Phoenix Rising for Solo Clarinet (2017)
Notes by John Bruce Yeh
Stacy Garrop's (b. 1969) music is centered on dramatic and lyrical storytelling. She notes that the sharing of stories is a defining element of our humanity; we strive to share with others the experiences and concepts we find compelling. Stacy Garrop shares stories by taking audiences on sonic journeys — some simple and beautiful, others complicated and dark — shaped by the needs and dramatic arc of each story.A full-time freelance composer based in the Chicago area, Garrop served as Chicago Opera Theater's first Vanguard Emerging Opera Composer-in-Residence (2018–2020). She also served as composer-in-residence for the Champaign-Urbana (Illinois) Symphony Orchestra (2016–2019), a position funded by New Music USA and the League of American Orchestras. Theodore Presser publishes her works. Garrop is a Cedille Records artist with works currently on a dozen Cedille CDs. Her music is also available on numerous other record labels.
Stacy Garrop writes:
Legends of the phoenix are found in stories from ancient Egypt and Greece. While each culture possesses a range of stories encompassing the phoenix myth, these tales tend to share similar traits: a sacred bird with brilliantly colored plumage and a melodious call lives for typically 500 years; then the bird dies in a nest of embers, only to be reborn among the flames.

In Egyptian stories, the phoenix gathers scented wood and spices for its funeral/rebirth pyre, then collects the ashes from its earlier incarnation and flies them to the temple of the sun in Heliopolis to offer as a tribute to the sun god.

In Greek myths, the phoenix was approximately the size of an eagle and was adorned with red and gold feathers; it would fly from either India or Arabia to Heliopolis to give its offering. The bird's association with immortality and resurrection are particularly intriguing aspects of these tales, providing numerous writers (including Shakespeare, C.S. Lewis, and J.K. Rowling) a rich resource for their own stories.

Phoenix Rising consists of two movements. I. "Dying in embers" represents an old phoenix settling on top of a pile of embers and breathing its last breath. II. "Reborn in flames" depicts the newly reborn phoenix enjoying its first taste of flight.
Originally composed in 2016 for soprano saxophone, Phoenix Rising was commissioned by saxophonist Christopher Creviston, who recorded the work on the Blue Griffin label. Stacy Garrop has subsequently made versions for flute, clarinet, and violin (all versions are available from Theodore Presser Company). The clarinet edition is dedicated to Jennifer Woodrum.
Leo Sowerby: Sonata for Clarinet and Piano, H240a (1938)
Notes by Francis Crociata
Leo Sowerby (1895–1968) began as an aspiring concert pianist and wunderkind composer and ended life as the generally acknowledged Dean of American Church Musicians. His life-history was as variegated as his catalog of 550 works in every form (except opera), almost equally divided between concert works and music for organ and the church. He was born in 1895 in Grand Rapids, Michigan, and moved to Chicago at age 13 to study theory and piano. Later, he studied briefly with Percy Grainger, who had come to Chicago in 1915. His main contribution to Sowerby's musical development was to encourage him to learn to play the clarinet in case the U.S. should enter the World War. By the time Sowerby was 18, the Chicago Symphony had premiered his Violin Concerto. Two years later, the Symphony presented an all-Sowerby concert at Orchestra Hall, conducted by Sowerby mentor/colleague Eric DeLamarter. From those early concerts until music director Frederick Stock's passing a quarter-century later, Sowerby acted as the CSO's de facto composer-in-residence. Even after Stock's death in 1943, Sowerby continued to be performed by the CSO, although less often than during Dr. Stock's regime, and finally conducted the CSO himself in 1954, leading his 1946 Pulitzer Prize-winning cantata The Canticle of the Sun.
In addition to receiving the fourth Pulitzer Prize for music, Sowerby gained the first American Prix de Rome fellowship in music in 1921. He wrote a dozen large works and performed throughout Europe from the base of the American Academy in Rome from 1921–1924. Apart from his Rome sojourn and a year as a clarinetist and Second Lieutenant/Bandmaster in the US Army 332nd Field Artillery, Sowerby lived and worked exclusively in his adopted city of Chicago in two parallel posts: professor of theory and composition at his alma mater, the American Conservatory, and organist/choirmaster of St. James Episcopal Church (later Cathedral). He left those posts and the city in 1962 to become founding director of the College of Church Musicians at Washington Cathedral, a post he held until his death in 1968.
1938 was a particularly busy year for Sowerby, albeit less prolific than typical for him in that period. The Chicago Symphony played three of his works, including the Organ Concerto he wrote for E. Power Biggs, who premiered it earlier that season with Koussevitzky in Boston. Sowerby himself conducted the New York Philharmonic in his suite, A Set of Four: Ironics for Orchestra and returned to Italy to hear Dimitri Mitropoulos conduct his Second Piano Concerto at the Naples Festival. Sowerby wrote no orchestral works that year, although he began sketching his third orchestral symphony (that prominently features the clarinet), which became his contribution to the Chicago Symphony's 50th Anniversary Season of 1941–1942. The Sonata for Clarinet (or Viola) and Piano, H 240, composed between October 15 and November 19, is the most substantial of the works he completed that year.
Sowerby wrote his sonata in gratitude to a now mostly forgotten musical polymath, Burnet Corwin Tuthill (1888–1982). The son of the designer of Carnegie Hall, Tuthill was a musicologist, composer, music educator and administrator, founding conductor of the Memphis Symphony, founder of the Society for the Publication of American Music, and a clarinetist who took an entrepreneurial approach to the expansion of repertory for wind instruments. In 1937, Tuthill wrote for The Musical Quarterly the most extensive scholarly (and sympathetic) examination of Sowerby's life and music to appear during his lifetime. Tuthill already had had a hand in the publication of five Sowerby instrumental works. After the Clarinet Sonata's publication in 1944, Tuthill would also instigate Sowerby's Trumpet Sonata for the Chicago Symphony's new young principal (who went on to serve for over 50 years), Adolph Herseth.
The Sonata for Clarinet and Piano — the title emphasizing the two instruments having equal voice — reflected Sowerby's adaptation of sonata form into what he sometimes dubbed "fantasy-sonatas." This becomes immediately apparent in the sonata's atmospheric opening movement ("Slow and sombre"), essentially a prelude in which all of the sonata's thematic material appears. Sowerby then develops the two main themes in surprising ways by cutting them apart, inverting the pieces, and then reassembling them in the three more traditionally structured sonata movements that follow. The second movement is a scherzo with the two solo instruments using wry jazzy insinuation to poke gentle fun at one another. The third movement, marked "Quietly flowing," again states and then breaks apart the themes introduced in the first movement, this time constructed as a canon in which the clarinet and piano alternate stating the main theme, with the instrumental interplay weaving a sensual love duet. Sowerby brings the sonata to a rollicking climax with a rondo marked "Bright and merry" in which the clarinet pokes gentle fun at both the thematic material and the piano, which mostly takes the lead to move the piece to its optimistic climax.
Shulamit Ran: Spirit for Solo Clarinet (in memory of Laura Flax) (2017)
Notes by John Bruce Yeh
Shulamit Ran (b. 1949) joined the faculty at the University of Chicago (where she is now Professor Emeritus) in 1973. She was subsequently named the Andre MacLeish Distinguished Service Professor in the Department of Music and became the artistic director of Contempo (formerly the Contemporary Chamber Players). She was also elected as a member of both the American Academy of Arts and Letters and the American Academy of Arts and Sciences.
Ran's achievements include fellowships and commissions from the Ford Foundation, National Endowment for the Arts, Guggenheim Foundation, Fromm Music Foundation, Serge Koussevitzky Music Foundation, American Academy of Arts and Letters, and numerous major American symphony orchestras, among many, many others. She became the Chicago Symphony Orchestra's second composer-in-residence in 1990, served until 1997, and won the Pulitzer Prize for music with her Philadephia Orchestra-commissioned Symphony in 1991. Her works are published by Theodore Presser Company and the Israeli Music Institute.
Shulamit Ran writes:
Spirit was composed in memory of Laura Flax (1952–2017), the renowned New York-based clarinetist and my cherished friend. Our musical and personal association began in 1977 when Laura invited me to compose a solo clarinet work, For an Actor: Monologue for Clarinet, in memory of her mother, Hazel Flax, whom I had known.

After composing For an Actor for Laura, I came back to the clarinet in many of my compositions over the years, sometimes as a lead instrument and at other times as an important voice. In all of my clarinet music Laura is present. The rich sound, blazing technique, and brain and guts that she brought to her playing, and her remarkable person, have inspired me in so many ways during the four decades of our friendship, and beyond.

I did not want Spirit to be about absence, though. I wanted the piece to exhibit a wider range of emotions, as well as capture at least a tiny glimpse of Laura's brilliant spirit and spiritedness. Only in the work's final stretch does the sense of "parting," and of loss, take over.

Upon completing Spirit on October 21, 2017, I found myself compelled to add at the bottom of the score the words "To Laura, always in my heart," as though in an effort to reach out, for a brief moment, and touch the unreachable.
Teresa Reilly: The Forgiveness Train for two clarinets (2020)
Notes by Teresa Reilly
While I have never had formal training as a composer, I have always enjoyed writing music. As part of my musical training over the years, I am fortunate to have been inspired by, and to work informally with, these special Chicago composers and music educators: Bill Karlins, David Bloom, and Janice Mitchell.
The Forgiveness Train was spawned during the spring and summer of 2020 in response to the coronavirus pandemic. During that time, on one of my darkest days, I had a dream about being on a train that took me through the forest. The train derailed and was left hanging over an open body of water. As I lay there in a capsized train, I heard bird songs as clear as day. There was peace and beauty in the forest amidst the frightening and precarious train wreck. The pandemic seemed to unearth past trauma within me and in the outside world as well. All I wanted to do was wrap myself in a blanket and hibernate until it was over! My Grandmother, Geraldine Porto, was famous for hand-making quilts for everyone in the family. With her in mind, I wove together the many motifs that came to me during the pandemic lockdown. The quilt-like forms of the outer movements are programmatic, like story quilts. The middle movement is aleatoric in nature and represents an opening, a sort of magical forest oasis. Here, the two clarinets read from the same selection of musical motifs but choose them individually in the moment.
Here are the thoughts that inspired my music:
Movement I: The Derailment of Fear
We hear a train motif — the train, it's
always running.
You just need to hop on.
It's a bumpy ride at times.
There are breakdowns.
Birdsong brings us out of our fear.
Movement II: The Gifts Beneath the Wounds
Two voices, independent, yet dependent
on each other. Like birds in the forest.
We choose our themes in the moment.
Creating something beautiful, and sometimes dissonant.
Movement III: The Rhythm of Birth
From bird song to earth song.
Strong rhythms take us from the heavens back to earth.
Something new is being born.
Screams push through the upper range of the clarinet and we approach breakdown.
However, playfulness pokes through.
We step out and see where the train has taken us.
Robert Muczynski: Time Pieces for Clarinet and Piano, Op. 43 (1983)
Notes by John Bruce Yeh
Polish-American, Chicago-native, composer Robert Muczynski (1929–2010) studied piano and composition (with Alexander Tcherepnin) at Chicago's DePaul University, where he received his Bachelor (1950) and Master (1952) of Music degrees in Piano Performance. Muczynski later taught at DePaul, Loras College, and Chicago's Roosevelt University. In the 1960s he joined the faculty of the University of Arizona in Tucson, serving as a composer-in-residence and chairman of the composition department until his retirement in 1988.
Among Muczynski's over-50 published works, his Sonata for flute and piano, Op. 14 (1961), Sonata for alto saxophone and piano (1970), and Time Pieces for clarinet and piano (1983) have entered the repertory and remain frequently performed in recitals, as has much of his solo piano music. His works have also appeared with increasing frequency on programs in the U.S., Europe, the Far East, Australia, and Mexico. His orchestral music has been performed by the Chicago, Cincinnati, Tucson, and National Symphony Orchestras, the Minnesota Orchestra, and other orchestras in the U.S. and abroad.
Muczynski dedicated his Time Pieces, Op. 43, to commissioning clarinetist Mitchell Lurie, who was Principal Clarinet of the Chicago Symphony in 1949–1950. The work's premiere took place at the Clarinet Congress of the International Clarinet Society in London on August 15, 1984. The performers were Lurie on clarinet with the composer at the piano.
Robert Muczynski writes about Time Pieces:
Technically and musically there is quite a lot going on in this four-movement suite, and much of the time both instruments share the action equally. The music is made up of a number of elements: energetic, syncopated rhythms, long and sustained melodic lines, cadenzas for solo clarinet, tongue-in-cheek humor, and an overall "up" feeling. For me, the title refers to when and where I was composing the work, sort of a frozen-in-time idea. However, some listeners have offered their own interpretations as to what I HAD IN MIND…. And that keeps things lively.
Although Muczynski describes the title, Time Pieces, as having no relation to mechanical clocks, it is rumored that he had a fascination with clocks and all kinds of mechanical time pieces. Muczynski also noted that the piece is about an "awareness . . . [that] everything exists in time: history, our lives and, in a special way, music."
Album Details
PRODUCER
James Ginsburg
ENGINEER
Bill Maylone
STEINWAY PIANO
Technician Ken Orgel
YAMAHA CSVR CLARINET
Technician Tomoji Hirakata
RECORDED
February 7–8 and March 18, 2022 at the Reva and David Logan Center for the Arts at the University of Chicago (Chicago, IL)
COVER ART
Steve Shanabruch
GRAPHIC DESIGN
Bark Design
PUBLISHERS
TCHEREPNIN: Sonata in one movement © 1980 Schott Music GmbH & Co.
GARROP: Phoenix Rising for solo B Clarinet © 2019, 2020 Theodore Presser Company
SOWERBY: Sonata for Clarinet and Piano © 1996 The Leo Sowerby Foundation
RAN: Spirit for solo B Clarinet © 2018 Theodore Presser Company
REILLY: The Forgiveness Train for twoclarinets © 2022 Teresa Reilly
MUCZYNSKI: Time Pieces for Clarinet and Piano, Op. 43 © 1985 Theodore Presser Co.