---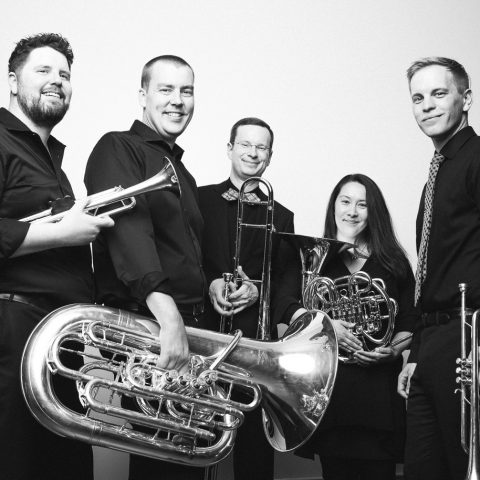 Artists
Gaudete Brass
Gaudete Brass comprises five musicians who believe strongly in the expressive and communicative power of brass chamber music. Since 2004 the quintet has engaged in creatively expanding the brass quintet repertoire, developing unique programs that have resonated with chamber music audiences all over the country.
---
Founded in 2004, Gaudete Brass is devoted to presenting serious chamber music at the highest level of excellence. The quintet is also dedicated to encouraging worldwide appreciation of the art of chamber music on brass instruments through live performances, recordings, education, and the creation of new works. Gaudete has expanded the brass quintet repertoire by commissioning works from noted composers including David Sampson, John Cheetham, Jan Bach, Rob Deemer, and Stacy Garrop, and by working with emerging young artists through programs such as the advanced composition course at Columbia College-Chicago and the com-position program at Roosevelt University. The ensemble is also dedicated to historically informed performances of Renaissance music, creating and performing its own editions of these works.
Gaudete has performed in prominent concert venues including Merkin Hall and Symphony Space in New York City, the Cedarhurst Center for the Arts Chamber Music Series (Mount Vernon, Illinois), and Millennium Park's Onstage at Noon in the heart of Chicago, and has served as Artist-in-Residence at Carthage College in Kenosha, Wisconsin. The quintet's live radio broadcasts include the Dame Myra Hess Memorial Concert Series and Live from Mayne Stage series on Chicago's WFMT, the Live in Studio C program on Nashville Public Radio, the 21st Century Classical program on WMSE in Milwaukee, and Kenosha Public Radio. Gaudete has collaborated with renowned organists on brass and organ programs and presented possibly the world's first collaboration of brass quintet and theremin, with classical theremin virtuoso Randy George. The quintet has had the privilege of performing the National Anthem at MLB, NBA, and WNBA games. Gaudete has presented performances and educational programs on tour at numerous universities, colleges, and conservatories including The Juilliard School, Eastman School of Music, Vanderbilt University, University of Chicago, University of Missouri, Western Illinois University, University of Georgia, University of Alabama, Furman University, Illinois State University, St. Cloud State University, Western Carolina University, Eastern Illinois University, and the University of Notre Dame.
For more information visit gaudetebrass.com.