---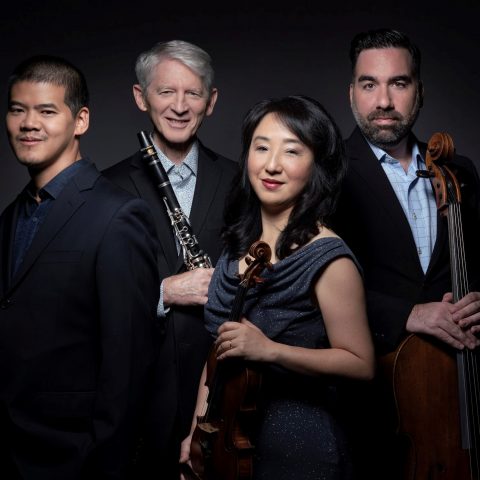 Artists
Civitas Ensemble
Chicago's innovative Civitas Ensemble is celebrated for integrating performances of classical chamber music with other art forms and disciplines.
---
In 2011, four of Chicago's top musicians — Yuan-Qing Yu, Kenneth Olsen, Winston Choi, and Lawrie Bloom — joined forces to found Civitas Ensemble, a chamber music group dedicated to presenting engaging live performances of new and traditional works, inspiring a young generation of classical musicians, and bringing the healing power of music to those with limited access to live performances.
What make Civitas unique is its artistic excellence, its cross-disciplinary programming, its daring presentation of both old and new works, its connection with living composers, its international reach, and its robust outreach program. Civitas has presented many interdisciplinary programs such as showcasing Ravel and Poulenc's music with French posters by Lautrec and Chéret, and has commissioned and premiered numerous pieces by living composers. The Ensemble is regularly invited to perform at prestigious venues such as Chicago's Art Institute, Symphony Center, and WFMT.
As an advocate of music education, Civitas offers free tickets to all current students, free masterclasses to several Chicago Public Schools, and serves as the Ensemble-in-Residence at Valparaiso University in Indiana, where it gives three public chamber music concerts and six coaching sessions annually.
Praised for the quality of its performances, its innovative programming, and its community engagement efforts, Civitas Ensemble was invited to perform with Yo-Yo Ma at the Chicago Humanities Festival and participate in a panel discussion on the topic of "Artist and Citizenship." Since its inception, Civitas has performed over 40 outreach concerts for hospitals and senior living facilities across Chicagoland and in other major cities while on tour. Civitas receives rave reviews from the Chicago Tribune, Chicago Classical Review, and Chicago on the Aisle for its artistic excellence and its devotion to the community.
Yuan-Qing Yu | Violin
Assistant Concertmaster of the Chicago Symphony Orchestra
Kenneth Olsen | Cello
Assistant Principal Cello of the Chicago Symphony Orchestra
J. Lawrie Bloom | Clarinet, Bass Clarinet
of the Chicago Symphony Orchestra
Winston Choi | Piano
Head of the Piano Program at Roosevelt University CCPA