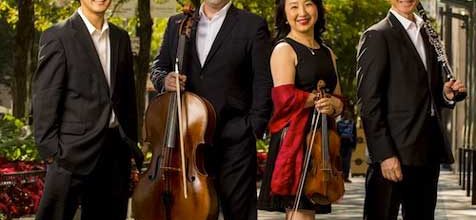 ---
Discover
Take 5: Civitas Ensemble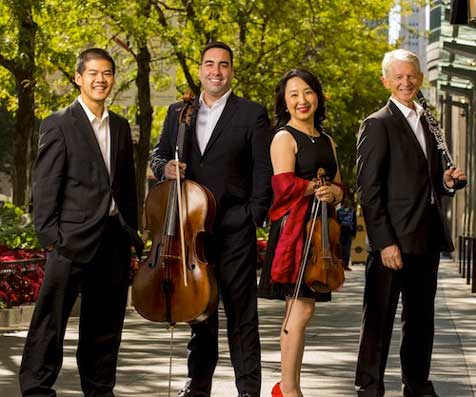 ---
This edition of Take 5 features Yuan-Qing Yu and Lawrie Bloom from Civitas Ensemble! Their upcoming album Alla Zingarese with Gipsy Way Ensemble is a groundbreaking collaboration at the crossroads of Western classical and Romani musical traditions. The album marks the Civitas Ensemble's recording debut and the Cedille label debut for Gipsy Way. Years in the planning, the project is the outgrowth of the enduring friendship between Gipsy Way violinist Pavel Šporcl and Civitas violinist Yuan-Qing Yu dating back to their student days. You can pre-order your copy today — all CDs and downloads ship August 17!
If you weren't a musician, what would you be?
When I was 12 entering middle school/high school in Shanghai, I was selected by 3 specialized schools: a math and science high school; a high school for foreign languages; and the Shanghai Conservatory Middle School. My family had a family meeting that decided my path and I feel lucky that they picked music. It's not easy to imagine a life not as a musician, but I have always been fascinated with medicine because of its logical way of problem solving and its endless possibilities of helping people. About 10 years ago, I thought that I had to quit playing due to some playing related injuries, and I considered starting my second career as a medical student. Fortunately, I recovered with extensive physical therapy and other treatments.
— Yuan-Qing Yu
As I looked at college I thought of pursuing acting, English literature, or music. But I've always wanted to be a boat jock — delivering boats to people, moving boats around for them, etc. And woodworking, one of my great interests.   
— Lawrie Bloom
What is your most recent project and what sparked your interest in it?
My most recent project was a poetry/music concert where I programmed four pieces and worked with my writer/poet friend to select poems to pair with each piece. I love literature and I am passionate about cross-disciplinary collaborations. Projects like this one perfectly fuse two art forms and expand the minds of both the performers and the listeners.
— Yuan-Qing Yu
Was there a formative moment for you as an artist?
Right around the time when I turned 10, my father used our limited savings to purchase a mono radio for me so that I could finally listen to the masters play. This was during the early eighties, I heard Heifetz, Menuhin, and the Chicago Symphony Orchestra through the mono. I was in awe of the magnificent sounds.
— Yuan-Qing Yu
Growing up in the house of a singer (my mom), I always was aware of music and performance. My three years at the Columbus Boychoir School, 7th-9th grade, where we had daily theory class, 3 hours of choir rehearsal a day, and I played clarinet as well, were certainly the most formative period for me. We toured the world, worked at an extremely high level, were on stage all the time, and had a great time. Who wouldn't want to do that for a career?
— Lawrie Bloom
What album/band are you listening to right now?
I am listening to compositions by various Chinese composers in preparation for Civitas Ensemble's second Cedille recording.
— Yuan-Qing Yu
I spend the most time listening to new music, so it moves around a great deal. Always trying to find something else I don't know about.
— Lawrie Bloom
What makes the Chicago classical music scene unique?
Chicago is a great city for artists to connect and collaborate. There are no shortage of creative ideas — the challenge is to fit them all in.
— Yuan-Qing Yu
---
Recommended