---
Discover
Spotlight On: Civitas Ensemble
The group brings its "music with a mission" credo—and a new album—to people and spaces most in need of the power of music.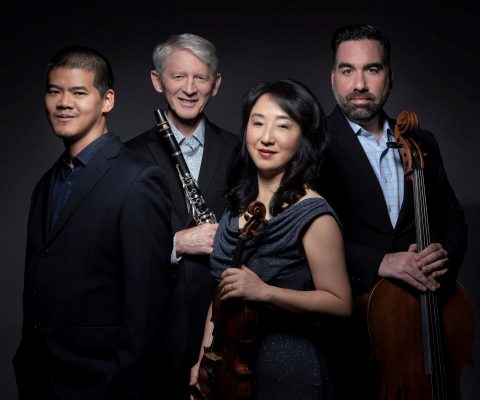 ---
Classical concerts in Chicago don't all happen in the Windy City's major concert halls. Thanks to Civitas Ensemble, some of the city's most transcendent classical music events are popping up in hospitals, senior residences and any manner of unexpected places.
Civitas comprises three Chicago Symphony Orchestra members: assistant concertmaster Yuan-Qing Yu, assistant principal cello Kenneth Olsen and bass clarinetist J. Lawrie Bloom, who joined forces with pianist Winston Choi from Roosevelt University to form Civitas in 2011.
The ensemble is dedicated to exploring an unusual repertoire and bringing the transformative power of music to those with medical challenges or limited opportunity to experience live performances.
The Healing Power of Music
This is music with a mission.
"As musicians, we want to know that we are making a difference," says the violinist Yu. "I went through a difficult experience involving a family member in the hospital. I thought very hard about what I could do to contribute to a part of the experience that was missing at the children's hospital—and that was music."
Yu and the group came up with a plan.
"I wanted music to give children some distraction as they were in treatment," Yu says. "We began bringing music to hospitals, to people and spaces in need of music. We are beginning to do concerts for memory-loss patients and their families. I am working with a neurologist to gauge the direct impact of music on their agitation and level of connection and support it with data. This is at the core of the group, that we continue to do this important work outside of concert halls and use music as a way of connecting people."
Civitas plays these concerts free of charge.
"I don't want to be presumptuous and say we are healing people," she says. "Music is not medicine, but it is a form of medicine. When people are suffering, music can bring them out of their pain for 30 minutes. I think that is beautiful."
In an era in which music is rapidly fading from our school curricula, Civitas has also emerged as a strong advocate for music education, offering master classes and classical concerts in Chicago public schools and area universities.
"Last season we tried to connect the two elements of our mission—education and healing. I brought some piano and violin students to a senior residence to perform. It was quite an experience for the students and for the residents, who were so happy to see the younger generation come and play for them."
Golden Sound
Not that the ensemble's profile within the formal recital environment is languishing. Civitas regularly appears in Chicago's most prestigious concert venues, including Symphony Center, WFMT and the symphony's Chamber Music at the Art Institute series. The group's programming reflects a formidable range of traditional and contemporary compositions, and often fields intriguing collaborations with visual artists, poets and musicians who cross borders from classical to other musical genres. It is no surprise that Chicago Classical Review has designated Civitas "among Chicago's finest and most adventurous chamber groups."
It is that willingness to break boundaries that characterized Civitas' first Cedille recording, Alla Zingarese, in which the group joined with Czech violin virtuoso Pavel Šporcl and the invigorating sounds of his Gipsy Way Ensemble. The album's presentation of works by Brahms and Sarasate, alongside those of Jenő Hubay, Lukáš Sommer and Šporcl himself, pitches an electrifying fusion of Romani and Western classical traditions that crackles with such energy that the music virtually leaps from the speakers and sends you twirling about your living room.
Early this year, Cedille released a new Civitas CD: Jin Yin, a collection of works by five Asian composers, including three world premiere recordings plus the first recordings of Zhou Long's Five Elements and Chen Yi's Night Thoughts in new arrangements created specially for Civitas. The album's title, Jin Yin, literally means "golden tone" or, more broadly, "golden music."
It is a typical Cedille project in its passion for an unusual repertoire produced in a spirit of "true collaboration from beginning to end," Yu explains.
"Recording can mean long days," she says, "but they don't feel long because of the energy in the room. It isn't draining. It's a very collaborative, creative process. That makes Cedille unique."
---
Recommended