---
Discover
Sneak Peek: Alla Zingarese
---
Last week, we concluded our recording session with the Civitas Ensemble, a Chicago-based chamber group comprised of Chicago Symphony Orchestra musicians Yuan-Qing Yu (violin), Kenneth Olsen (cello), J. Lawrie Bloom (clarinet), and Winston Choi (piano). This is the ensemble's recording debut, and the concept for the album is an exciting one: an exploration of Roma (aka Gypsy) music's influence on classical repertoire. For this, Civitas joins forces with Prague's Gipsy Way Ensemble, comprising internationally renowned violinist Pavel Šporcl and three Gypsy jazz musicians. The program is genre-defying and really highlights the richness of Romani musical heritage.
The recording session took place in two large chunks: one session in May at the Chicago Recording Company, and another in August at one of our favorite spots, the Reva and David Logan Center for the Arts at the University of Chicago. On the day I got to visit, Civitas was at the Logan Center recording several works for their full quartet and one work for unaccompanied violin. The morning began with George Enescu's Romanian Rhapsody (arr. Cliff Colnot), a lively piece reminiscent of Eastern European dance music. After the first take, the musicians joined engineer Bill Maylone and producer Jim Ginsburg in the green-room-turned-recording-studio to listen to themselves and get a feel for the acoustics of the hall. There was a lot of energy in the room; the Civitas members laughed and congratulated each other after hearing particularly nasty passages go by smoothly, and everyone was eager to really dive into the nitty-gritty process of creating the perfect recording.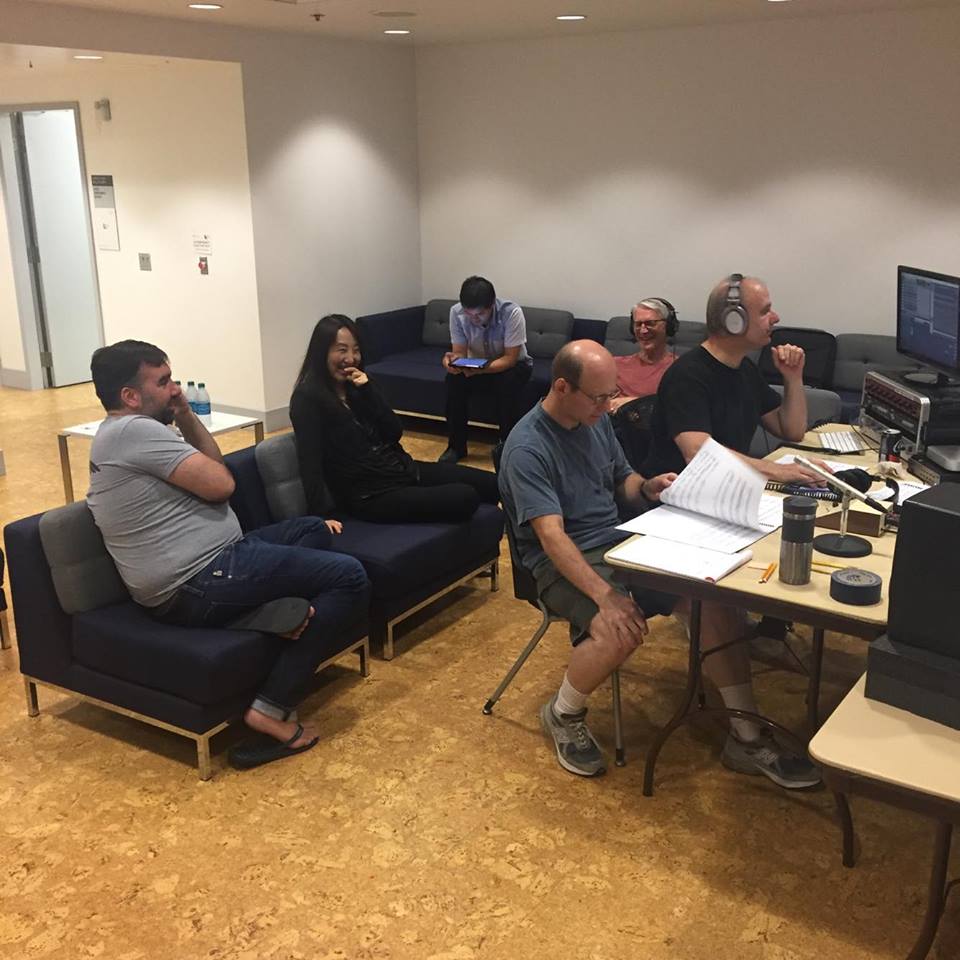 The group recorded another quartet after lunch, a world premiere work called Cigi-Civi written for the Civitas Ensemble by Lukáš Sommer. It's a short but tricky piece, and the group handled the virtuosic passagework with ease ("There's a reason these guys are in the CSO!" Bill remarked while we listened from the green room). The last piece of the day, a solo violin work called Dzha more by Sylvie Bodorová, was recorded by Yuan-Qing. There are a variety of moods in this piece; the opening is longing and melancholic, the finale fiery and technically dazzling. Yuan-Qing is a masterful violinist and drew the raw emotion out of the music at every turn. I enjoyed all of the works on the docket, but this one may have been my favorite of the day.
It's incredibly exciting to watch a group of this caliber record such an intriguing and informed program. Civitas Ensemble is relatively new — they were formed in 2011 — and this debut recording is sure to solidify their spot in Chicago's thriving chamber music scene. Alla Zingarese will be out in the fall of 2018.
---
Recommended