Store
---
Enterprising chamber group Fifth House Ensemble, noted for its "conviction, authority, and finesse" (New York Times), joins forces with swinging and virtuosic Mediterranean folk band Baladino and 2014 Rome Prize-winning composer Dan Visconti for an exhilarating, boundary-breaking collaboration.
Nedudim, Hebrew for "wanderings," is a world-premiere album of eleven new vocal and instrumental works created from a palette of international influences, including accents of Indian raga, plus fresh arrangements of folk melodies from the U.S., Europe, and the Middle East. The album's title evokes its geography-hopping global perspective. Modern orchestral instruments meet their exotic Asian and North African counterparts — oud, bansuri, ney, duduk, and ram's horn — on works ranging from the rollicking opening track Si Veriash a la Rana, the minimalist ostinatos and pop influences of Kenneth Benshoof's Traveling Music, and meditative drone strings and jazz-flute riffs of Raga Etude to the warm, sultry romantic landscape of Noches Noches and the heart-felt, captivating Ladino folk ballad Tres Ermanikas Eran, featuring Israeli singer Yael Badash.
The album producer is Steve Rodby of Pat Metheny Group fame, whose discography includes thirteen Grammy Awards. Recording engineer is Cedille Records' own three-time Grammy nominee Bill Maylone. Nedudim is Fifth House Ensemble's follow-up to Excelsior, its 2014 Cedille Records debut. The San Francisco Chronicle said, "The whole undertaking is marked by spirited music-making of the finest kind." Classical Modern Music praised Fifth House as "a world-class chamber ensemble dedicated to new music . . . and an exceptional one at that." Excelsior was featured as an "Album of the Week" on New York's WQXR/Q2 Music.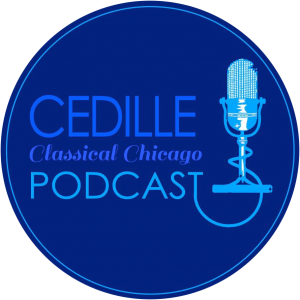 Listen to Steve Robinson's interview
with Fifth House Ensemble on Cedille's
Classical Chicago Podcast
Preview Excerpts
Enjoy our recommended preview track excerpts below
TRADITIONAL
TRADITIONAL
DAN VISCONTI
THOMAS MOKED BLUM and DAN VISCONTI
ROBERT BEASER, arr. DAN VISCONTI
5
Mountain Songs: He's Gone Away
TRADITIONAL
TRADITIONAL
DAN VISCONTI
BALADINO / THOMAS MOKED BLUM
KENNETH BENSHOOF
10
Traveling Music: iii. Driving
TRADITIONAL
Artists
What the Critics Are Saying
---
---
Nedudim
Notes by The Artists
Fifth House Ensemble, Mediterranean folk band Baladino, and 2014 Rome Prize-winning composer Dan Visconti have come together to create and present Nedudim, a genre-defying album of works rooted in Middle Eastern, European, and American folk music. Co-created with a diverse group of cultural organizations across Chicago representing Israel, Spain, Iran, and India, this recording taps into the shared experience of musical memories and serves as a catalyst for an exploration of music as an indelible part of cultural identity.

Composer Dan Visconti writes:
The inspiration behind  Nedudim began with a simple  question: what is your earliest musical memory? In posing this question to the  project's diverse cultural partners,  we were thrilled to affirm the power of music in forming our sense of identity, and also how in every culture music plays a crucial role in marking the most important life events from birth, marriage, and the passing of loved ones. In sharing our stories we came to learn so much about each other, and how our diverse tellings and traditions are different ways of inflecting the timeless stories that connect us all, more so than we often appreciate.
This recording reflects the same process of musical and cultural inquiry, featuring music chosen by each musician that reflects a cherished musical experience – from Baladino vocalist Yael Badash's earliest musical memory of the lullaby Durme Durme that frames my composition Native Tongues, to American composer Ken Benshoof's Traveling Music reimagined as a musical journey through a menag­erie of exotic non-western instruments. Some of the most exciting musical moments resulted from familiar traditions colliding in unexpected ways, as in the album's funky Greek Blues and a version of my fiddle-driven Black Bend, where folk and bluegrass licks play off of Persian-influenced improvisation.
Our hope is that listeners might experience Nedudim as an intimate gathering of musical friends, the kind of music we make with our own families. This is music that we make from scratch, slowly, with ingredients both familiar and unexpected – music with deep roots that sustains us, for more than a moment. Come, wanderer, break bread with us and share your own story.
Fifth House Ensemble would like to thank the following organizations, which served as cultural partners on this project: Eye on India Chicago, the Consulate General of Israel to the Midwest, lnstituto Cervantes and Pasfarda Arts &  Cultural Exchange. Nedudim is supported  in part by the John D. and Catherine T. MacArthur Foundation, the National Endowment for the Arts, the Consulate General of Israel to the Midwest, the Jewish United Fund/Jewish Federation of Metropolitan Chicago, and the Elizabeth F. Cheney Foundation.
Si Veriash a la Rana
Traditional, arr. Saladino and Dan  Visconti
Si Veriash a la Rana (If You Could Only See the Frog) is one of the most famous traditional Ladino songs originating from the Balkans, with a Turkish refrain. Its charming verses tell the stories of animals (a frog, a camel, and a mouse) that prepare traditional food (fries, nuts, and some kind of very thin dough, like Phyllo) to share with their siblings. This song has a great groove in a 9-beat cycle, which is one of the reasons we love it. When we play this, we feel like a metal band playing power chords, and it's really fun for us to play around with distortion pedals to find the right sound for this tune. We brought the shofar (ram's horn) into the party to take things to the next level. It's an instrument that has stayed in its original shape since biblical times and is still used in Jewish rituals. We wanted to use it in our music, and the haunting sound felt perfect for this arrangement.
-Yonnie Dror
Noches Noches
Traditional, arr. Thomas M oked Blum and Dan Visconti
Noches Noches (Nights, Nights) is a traditional Ladino romance, a sentimental narrative ballad that originated in ancient Spain during the 10th or 12th century.This is a melody that I have always wanted to bring to the stage, and one that is very challenging to sing. While the original song has 13 verses, we chose the first three, which describe beautiful,warm nights that are full of love. I love these lyrics because they send me back to the nights I remember from my home in Tel Aviv. Because I live in Europe now, I don't have these anymore; I can imagine that the Jews who were exiled from Spain felt a similar longing. It's something that anyone who grew up in a very hot climate can understand; when the sun goes down, there's this indescribable feeling as the bonfires are lit and the music begins to play. We play this song on top of a Turkish Zeybek rhythm, a wide 9-beat cycle that has this magical anticipatory silence before every downbeat,which tends to emerge from traditional musicians in the latest part of these enchanted nights.
-Yael Badash
Black Bend
Dan Visconti
My music is known for combining the elements of classical music with jazz and folk music. It provides classical artists the opportunity to sound and feel like jazz artists and improvisers, breaking the shackles imposed by our more "classical" training. Black Bend is a wild ride for both the players and the audience. It begins with some haunting, back-woods thematic material, but gives the listener the impression that this is an engine that is just warming up. Once we shake off all of our inhibitions and start to put our foot on the gas, Charlene assumes the role of the insane electric guitarist shredding a guitar solo and trying to light her violin on fire. What makes this performance truly amazing is that now we get to perform alongside Baladino, who are virtuoso performers and improvisers. What you will hear is a mix of written and improvised solos, all played over the original score. It is an amazing opportunity to be able to collaborate in this way, where we get to show off and share our strengths as artists, and grow as a result. Black Bend is fantastic because it allows the performers the space and openness to express their individuality, and is written in such a way that it makes any group look and feel like real jazz artists.
-Dan  Visconti
Greek Blues
Thomas Moked  Blum and  Dan Visconti
One of the most fascinating aspects of our collaboration with Baladino is finding points of convergence in the music of seemingly distantly related cultures. After  working on my blues-influenced composition, Black Bend, we began to play around with the "feel" of a blues with different cultural inflections; it was  remarkable  how many cultures have musical scales and structures that share the power and endlessly malleable  possibilities of the blues form. As Thomas and I both have fond memories  of being inspired the blues, we decided to put a twist on it that mashes up American blues guitar  playing with Greek modes and rhythmic patterns. The result is an extended jam for guitar and percussion, culminating in a call-and-re­sponse section that features some wild licks for clarinet! I love how a mashup of a recognizably American idiom with more ancient scales creates an experience that is both old and new -an homage to one of our cherished musical memories that's anything but strictly traditional.
-Dan  Visconti
Mountain Songs: He's Gone Away
Robert Beaser
This American folk tune has its roots in North Carolina. While its exact age and origins are not definitively known, the song is thought to be sung by the lover of a Confederate volunteer going off to the battlefield during the Civil War. It survives today in concert music; I first got to know it as part of Robert Beaser's collection, Mountain Songs, for flute and guitar. The intimacy of this song is even more present in this arrangement by Thomas Moked Blum and Dan Visconti, which features the lowest possible end of Yael's vocal range. When we were setting the arrangement in Berlin, the fragility of her voice in that range was the perfect match for this tender moment  between a woman  and her departed  love.
– Melissa Snoza
La Esclava
Traditional, arr. Thomas Moked Blum and Dan Visconti
Another Sephardic Romance, La Esclava (The Slave) tells the story of two captive sisters -one a queen, the other a slave -who were separated in childhood. They give birth to children sired by the same king. When the slave sings to her newborn baby, her sister  recognizes her for the first time. The text of this Romance appears in  a manuscript copied in 1702 by Rabbi ben Mose Mikael   Hacohen. We fell in love with this song after hearing a recording of this melody. We then wrote a chorus to complement the verses to tie the song together. The way this particular song repeats is really catchy; it's almost like a Mediterranean rock song, so we captured that spirit in our arrangement.
-Thomas Moked Blum
La Kumida
This traditional Ladino song, whose title translates to "The Morning Meal," has its origins in Jerusalem and Turkey. It is about a young woman who Is so anxious to marry her beloved that she refuses to eat. She sings, "The morning meal, in the evening I'll bring it back, so my mother will understand that I wish be engaged to you."
-Yael Badash
Native Tongues
Dan Visconti
Native Tongues is inspired by early musical memories and family experiences with music as shared by members of Baladino, Fifth House Ensemble, and our cultural partners, beginning with a setting of the folk lullaby Durme Durme (singer Yael Badash's earliest musical memory, a tune that was sung to her before bed). It's hard to find a Jewish  lullaby collection that doesn't include some version of Durme Durme, a song that accompanied Sephardic Jews fleeing Spain and dispersing into exile communities in North Africa, the Balkans, and North America. The words are touchingly direct, "Sleep my little one. Sleep without worry or  pain." Soon the music meanders to other musical memories, both literal quotations of cherished melodies and my evocations of stories and situations -the sound of sirens, the hiss of a tea kettle, etc. The work features so many references to different musical styles that a lot of the fun came in composing the transitions that morph the melody from the sound of one culture into that of another by playing with the "connective tissue" or point of similarity between seemingly unrelated tunes. It's a vivid way to show off the hidden relationships among joyous outbursts of different source material and feature all members of our ensembles performing.
-Dan Visconti
Raga Etude
Baladino, Thomas Moked Blum
Joseph Bor of the Rotterdam Conservatory of Music defined "raga" as a "tonal framework for composition and improvisation." A raga uses a series of five or more musical notes upon which a melody is constructed. However, the way the notes are approached and rendered in musical phrases and the mood they convey are more important in defining a raga than the notes themselves. In Raga Etude, we wanted to experiment with the defining elements of a raga without literally adhering to the form and tradition of an actual raga. Thus,the result is an experiment or etude in which a short sequence of pitches is passed through a variety of inflection patterns. Gradually unfolding over a low cello drone, our Raga Etude features Fifth House bassoonist Eric Heidbreder trading phrases with Baladino wind player Yonnie Dror, while the piano is played like a percussion instrument at times – it's a reimagining of how we can engage the feel and inflections of a raga using modern western instruments and sensibilities.
-Dan  Visconti
Traveling Music: iii. Driving
Kenneth Benshoof
Before we first played/jammed/rehearsed with Baladino in Berlin in January 2015, we had a strong suspicion that Driving,the final movement of Ken Benshoof's string
quartet Traveling Music No. 4, could work very well as a showcase piece for Baladino and Fifth House's collaboration. But it wasn't until we got to know each other's musical capabilities and passions through hours of working together that we realized the full potential of this intensely groovy piece. Right from the start, Benshoof has the musicians alternate between the roles of an intricately precise rhythmic motor and freely improvising bluesy melodies on top of this engine of energy. And so it was into this framework of accuracy and artistic freedom that our friends in Baladino entered, and their unique instruments and backgrounds wonderfully let us all travel that much farther with this amazing piece.
-Clark  Carruth
Tres Ermanikas Eran
Traditional, arr. Thomas M oked Blum and Dan  Visconti
Tres Ermanikas Eran (There Once Were Three Sisters) is one of the most beautiful Ladino ballads,which reminds us of the kind of tender melodies popular in Western love songs. This Romance tells the story of three sisters, described as a bunch of beautiful white roses. Two of them were married and the third "lost herself." Her father, out of shame, exiled her to Rhodes. In our traditional culture, it was very important for a woman to be married; if a woman remained single it could be seen as a source of shame for her family. I sing this song from a place of wanting to comfort the third sister,with the hope that her fate will not be the situation for women in the future. I think it's important to play this particular song, because so many from this time period are about the traditional roles women have as servants to their husbands. While in today's society we tend to laugh about these lyrics and not take them too seriously, this song warns us of the traditional view, in which women who don't follow the rules no longer have a place to be.
-Yael  Badash
Album Details
Producer: Steve Rodby
Engineer: Bill Maylone
Assistant Engineer: Jonathan Lackey
Recorded: Chicago Recording Company – September 14-19, 2015
Pluto Studios Tel Aviv – January 17, 2016
Cover Art and Layout: DM Smith
Photography: SnoStudios, Dror-Forshee, and Danielle Jadelyn
Publishers:  Si Veriash a la Rana – arrangement © 2015 Baladino and Dan Visconti
Black Bend © 2003 and Native Tongues © 2015 Dan Visconti
Noches Noches, La Esclava, La Kumida, and Tres Ermanikas Eran – arrangements © 2015 Thomas Moked Blum and Dan Visconti
Greek Blues © 2015 Thomas Moked Blum and Dan Visconti
Mountain Songs: "He's Gone Away" © 1984 Helicon Music Corporation
Raga Etude © 2015 Baladino and Thomas Moked Blum
Traveling Music © 1974 Kenneth Benshoof
© 2016 Cedille Chicago