---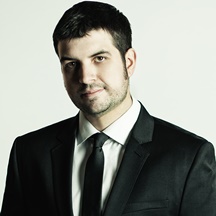 Artists
Dan Visconti
Composer
Composer Dan Visconti (b. 1982) is updating the role of the classical musician for the 21st century as he creates new projects in collaboration with the community. For his ongoing initiatives to address social issues through music by reimagining the arts as a form of cultural and civic service, Visconti was awarded a 2014 TED Fellowship and delivered a TED talk at the conference's 30th anniversary.
---
Dan Visconti composes concert music infused with the directness of expression and maverick spirit of the American vernacular. His compositions often explore the rough timbres, propulsive rhythms, and improvisational energy characteristic of jazz, bluegrass, and rock—elements that tend to collide in unexpected ways with his experience as a classically-trained violinist, resulting in a growing body of music the Plain Dealer describes as "both mature and youthful, bristling with exhilarating musical ideas and a powerfully crafted lyricism."
In addition to collaborating closely with his fellow Fifth House Ensemble artists, Dan's commission credits include works written for the Kronos Quartet, Da Capo Chamber Players, Scharoun Ensemble of the Berlin Philharmonic, Silk Road Ensemble percussionist Shane Shanahan, soprano Tony Arnold, and many others. New music supergroups such as Eighth Blackbird and orchestras including the Albany Symphony and Minnesota Orchestra have also performed Dan's works around the world at venues including Carnegie Hall, the Kennedy Center for the Performing Arts, London's Barbican Theatre, and Sydney Opera House.
Dan's music has been recognized with the Rome Prize, Berlin Prize, and awards from the Fromm Foundation, Naumburg Foundation, and the American Academy of Arts and Letters. When he's not composing music into the wee hours or cooking up mischief with other 5HE artists, Dan loves to lay down some blues licks on his '57 Stratocaster or indulge in his passion for baking traditional Italian biscotti.