Store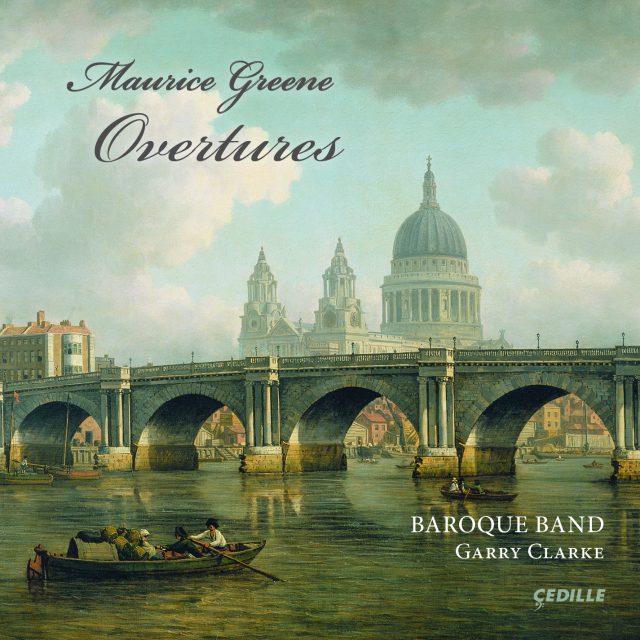 Store
Maurice Greene Overtures
---
British-born Baroque violinist and conductor Garry Clarke and his Baroque Band, Chicago's period-instrument orchestra, highlight unfamiliar and thoroughly enjoyable orchestral overtures by 18th-century English composer Maurice Greene, who is otherwise best-remembered for his choral music.
For its second Cedille recording, the "stylish and exciting" (Chicago Tribune) ensemble has selected a program of delightful works with what Clarke calls "whistle-able melodies, easy harmony, and inventive counterpoint" that evoke "the charm of the English countryside and the frivolity of the English 18th century. "Selections from Greene's "Lessons for the Harpsichord, "performed by ensemble member (and longtime Cedille solo keyboard artist) David Schrader, offer similar pleasures.
Preview Excerpts
Enjoy our recommended preview track excerpts below
MAURICE GREENE
Six Overtures in Seven Parts: No. 1 in D major
9
III. Allegro ma non troppo
Pieces in C minor from Lessons for the Harpsichord
Pieces in A minor from Lessons for the Harpsichord
Pieces in G minor from Lessons for the Harpsichord
Artists
What the Critics Are Saying
---
---
I know what you're thinking, because it's what I was thinking too: "Maurice who?" So here's the deal: Greene is yet another example of a baroque composer who was popular and well-regarded in his time but is little known today. (When he's remembered at all, it's mainly for his choral music.) Listening to this wonderful program of overtures and harpsichord etudes, I immediately thought of William Boyce, another often-overlooked English composer of the 18th century with a similar melodic gift. Given the obscurity of this music, this disc is a must-have for any classical collection, but it's also simply a pure joy to listen to.
Under the direction of Garry Clarke, the Baroque Band evokes British baroque charm performing Maurice Greene's Six Overtures. A contemporary of Handel, Clarke's overtures capture both the verdant countryside and bustling metropolis of eighteenth-century England.
Maurice Greene
Notes by Garry Clarke
Alongside George Frideric Handel (1685 – 1759), Dr. Maurice Greene (1696–1755) was one of the most important figures in English musical history in the 18th century. Yet he is little known today and his instrumental pieces are rarely performed. But why?
Born on August 12, 1696, into a well-to-do family, Greene had been appointed to every major musical post in England before he reached the age of 40: Organist of St. Dunstan-in-the-West, Fleet Street (1714) and St. Andrews, Holborn (1718), Organist of St. Paul's Cathedral (1718), organist and composer of the Chapel Royal (1727), and Master of the King's Music (1735). On July 7, 1730, he was made a Doctor of Music and Professor of Music at Cambridge University (a primarily honorary position).
Today, Greene's claim-to-fame lies mainly in his choral music, in particular the 1743 publication of his Forty Select Anthems including the best known, "Lord, let me know mine end" and "Lord, how long wilt thou be angry?" This collection of verse anthems attracted 133 subscribers, with 281 print copies — a mammoth accomplishment, especially when considered alongside something like Handel's Twelve Grand Concertos, published in 1739, which attracted just over 100 subscribers. In his later years, Greene was also responsible for the Cathedral Music collection, completed by his pupil William Boyce and published in three volumes between 1760 and 1778.
First published c. 1750 by London music publisher John Walsh, Greene's Six Overtures in Seven Parts were probably written for performances at the Apollo Society. Greene co-founded the Apollo Society with Italian composer Giovanni Bononcini in 1731; the Society met at the Devil Tavern in Fleet Street, London. The two composers founded the Society after their much-publicized falling out with fellow members of the Academy of Ancient Music, Handel in particular. "Dr. Greene has gone to the Devil," Handel would remark, referring cheekily to the ale house in which the Apollo Society met. The dispute arose when Bononcini tried to pass off as his own a madrigal by Italian composer Antonio Lotti. Greene, having initially introduced the madrigal and sided with Bononcini, was forced to resign. The overtures were previously published in an arrangement for "harpsichord or spinet" in 1745.
For Greene, the loss of friendship with Handel was a sad blow because he was a great admirer of the German composer. In Greene's early days as organist of St. Paul's Cathedral, London, he had invited Handel to play the organ there. According to 18th-century musical historian Charles Burney (1726–1814):
from Greene's great admiration of Handel's manner of playing, he had literally condescended to become his bellows-blower, when he [Handel] went to St. Paul's to play on the organ…. Handel, after the three o'clock prayers, used frequently to get himself and young Greene locked up in the church together, and in summer often stript unto his shirt, and played till eight or nine o'clock at night.
Greene also assumed an important role in several other areas of English musical life. Although his position of Professor of Music at Cambridge University was largely honorary, Greene counted among his pupils composers William Boyce (1711–1779), John Stanley (1712–1786), and John Travers (1703–1758). With Talbot Young (1699–1758), Greene was a founding member of the Castle Society, an assemblage for musical entertainment; in 1738 he was a leading figure in establishing the "Fund for the Support of Decayed Musicians and their Families" that later became the Royal Society of Musicians.
Greene was appointed composer of the Chapel Royal in 1727; in 1735, on the death of John Eccles, Greene was awarded the highest musical office in England: Master of the King's Music. Despite Greene's ascent to these prestigious positions, the Hanoverian Royal Family still favored the German-born Handel, upon whom they called whenever music for royal occasions was required. This may, in part, account for the paucity of Greene's output of instrumental music.
Greene's Six Overtures in Seven Parts display a quintessential Englishness while recognizing the "new" Italian style being imported by composers such as Francesco Geminiani. In his book Englishness in Music, historian James Day describes his subject as "pathos without sentimentality, vitality without coarseness, and mockery without malice." The overtures are charming and delightful, with whistleable melodies, easy harmony, and inventive counterpoint. They conjure up the charm of the English countryside and the frivolity of the English 18th century. Composed for strings, flutes, and oboes, the overtures are very much within the conventions of the day: a suite of three or four movements, usually slow/fast, slow, fast, beginning with a French overture first movements could easily have been opera overtures, and we know, again courtesy of Burney, that Greene was "a constant attendant at the opera, and an acute observer of the improvements in composition and performance, which Handel, and the Italian singers employed in his dramas, had introduced into this country."
The overture to Phoebe is taken from Greene's charming pastoral opera (or masque) of the same name. Composed in 1747, it probably received its first performance in the late 1740s by the Apollo Society shortly before the society's dissolution in 1750 due to Greene's failing health. Greene's Ode on St. Cecilia's Day, from which we take the overture, was first performed on July 6, 1730, the day before Greene's appointment as Doctor and Professor of Music at Cambridge, for the opening of the new Senate House in Cambridge. The Daily Journal reported on the occasion:
The University was treated with an extraordinary exhibition of musical talent. By Maurice Greene, the celebrated composer, who set to music Pope's Ode on St. Cecilia's Day, altered and enlarged by the poet himself for the occasion.
Greene's Collection of Lessons for the Harpsichord, from which the keyboard works on this disc are taken, were published in 1750 by John Johnson "at the Harp & Crown in Cheapside." They are charming pieces with an easy gait.
In preparing Greene's works for recording it was necessary to examine Greene's legacy and the circumstances around the creation of his music — the man alongside the music. He was, after all, a link from the generation of John Eccles, William Croft, and Richard Brind to that of Boyce, Stanley, John Alcock, and Thomas Arne. The original sets of part books from which we worked, both in the recording process and before, when creating scores for each overture, revealed many pleasures and nuances while also allowing us, as performers, the freedom to create these works anew and bring them to life once more.
Richard Graves, writing in the Musical Times in 1955, said of Maurice Greene: "So many of his works lie almost totally forgotten. When we at last turn to them, we shall find them full of unexpected beauty and charm, and as fresh as on the day they were written." I hope that this disc will help bring Dr. Maurice Greene's charming Six Overtures in Seven Parts to the public's attention and increase awareness of Greene's important place in the history of English music.
Album Details
Total Time: 63:05
Producer: Jim Ginsburg
Engineer: Bill Maylone
Editing: Jeanne Velonis
Cover Art: William Marlow's Blackfriars Bridge and St. Paul's Cathedral c.1762, © Guildhall Art Gallery, City of London/Bridgeman Images
Recorded: Overtures Nos. 1–5 in Nichols Hall at the Music Institute of Chicago in Evanston, Illinois, October 18, 20 & 21, 2010; Overture No. 6 and Overtures to Phoebe and St. Cecilia at College Church in Wheaton, Illinois, June 9 & 10, 2014; Pieces from Lessons for the Harpsichord in the Fay and Daniel Levin Performance Studio at 98.7 WFMT in Chicago, June 26, 2014
Booklet & Inlay Card Design: Nancy Bieschke
© 2014 Cedille Records/Cedille Chicago