---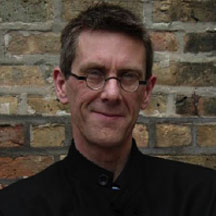 Artists
Garry Clarke
Conductor
Garry Clarke is a British violinist and conductor. He directed Chicago's Baroque Band from 2007–2016.
---
British violinist and conductor Garry Clarke has recently come to notice as one of the finest of the new generation of interpreters of baroque music. Time-Out Chicago music critic calls him "an outstanding violinist, (Clarke) plays with real style and panache," while the Washington Post praises his playing as "a riveting, cut-to-the-bone performance, every note crackling with purpose and electricity." As director of Baroque Band, Chicago's period-instrument orchestra, Clarke has assembled a "stylish and exciting period-instrument group" (Chicago Tribune) which gave "a tremendous debut" in May 2007 with "an abundance of style, a crisp esprit de corps, and a palpable affection for it's repertoire." (Chicago Tribune)
In the UK, as Artistic Director of The 18th Century Concert Orchestra (2001 – 2006), he was praised by the Oxford Times as "one of the finest exponents of baroque music in the country." Clarke has performed, recorded, and broadcast with The Academy of Ancient Music, The Sixteen, The Orchestra of the Age of Enlightenment, The Kings Consort, The Hanover Band, and the Scholars, working with musicians including Christopher Hogwood, John Elliot Gardener, Harry Christophers, Andrew Manze, Sir Charles Mackaras, Rene Jacobs, Anthony Halstead, and Robert King. Clarke was also a member of the European Baroque Orchestra under the direction of Ton Koopman, and has performed, recorded, and toured with William Christie and the French ensemble Les Arts Florissants.
Since moving to the United States in 2004, Mr. Clarke has concentrated on conducting, chamber music, and solo engagements, working in a duo with American harpsichordist Michelle Roy and serving as principal conductor of the Garth Newel Music Festival in Virginia in 2005 and 2006. Other American ensembles with which Clarke has performed include the Washington Bach Consort, Opera Lafayette, The National Cathedral Baroque Orchestra, and The Orchestra of the 17th Century in Washington, D.C.; Ars Antigua and the Callipygian Players in Chicago, and New Trinty Baroque in Atlanta. He is also a member of the early music faculty of the Music Institute of Chicago and teaches at Roosevelt University, Chicago.
Clarke graduated from the Royal College of Music in London, where he studied with Catherine Mackintosh, concertmaster and soloist of the Academy of Ancient Music and the Orchestra of the Age of Enlightenment, and founding member of the Purcell Quartet. He also studied with the late Michela Comberti of the English Concert and the Salomon Quartet, and he has performed in masterclasses with Monica Hugett, Marie Leonhardt, Lucy Van Daal, and Sigiswald Kuijken.