---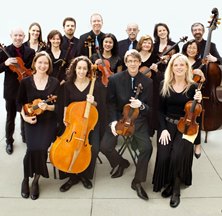 Artists
Baroque Band
Baroque Band reigned for a decade as Chicago's leading larger period instrument ensemble between 2007 and 2016.
---
Founded in 2007 by British baroque violinist Garry Clarke, Baroque Band has rapidly established itself as an important member of Chicago's musical community with regular performances in several Chicago venues, including downtown at Symphony Center (home of the Chicago Symphony Orchestra). As Chicago's period-instrument orchestra, it has been hailed by critics and audiences and has gained a reputation as one of the most exciting period-instrument ensembles in the United States.
In summer 2008, Baroque Band was named Resident Ensemble of WFMT Radio, giving audiences throughout the world the opportunity to hear the orchestra's performances through live and recorded radio and internet broadcasts. Baroque Band is also Ensemble-in-Residence at the Music Institute of Chicago, where it offers educational programming as well as concerts, and from 2007–2009 was Artistic Partner of The University of Chicago's Rockefeller Memorial Chapel.
During its first two seasons, Baroque Band gave more than 80 performances. In addition to its own subscription concerts, Baroque Band performed on both the Sunday Salon Series and the Dame Myra Hess Memorial Concert Series at Chicago's Cultural Center, at Illinois College in Jacksonville, at Purdue University, as part of the Byron Colby Barn Series in Grayslake, and at the 2008 Madison Early Music Festival in Wisconsin. The orchestra also performed concerts as part of the 2008 and 2009 Chicago Latino Music Festival.
To commemorate the 250th year since Handel's death, Baroque Band added to its regular 2008–2009 concert series performances of Handel's rarely heard "Dublin" Messiah — the original version of his masterpiece, given at the premiere performance in Dublin in 1742.
Baroque Band continues to offer educational programs at the Music Institute of Chicago, including a series of free master classes by renowned experts in baroque performance practice.
In 2009 they were invited to perform at the Ravinia Festival to which they will return in 2010 along with a return to Madison to perform for the American Bach Society.