Store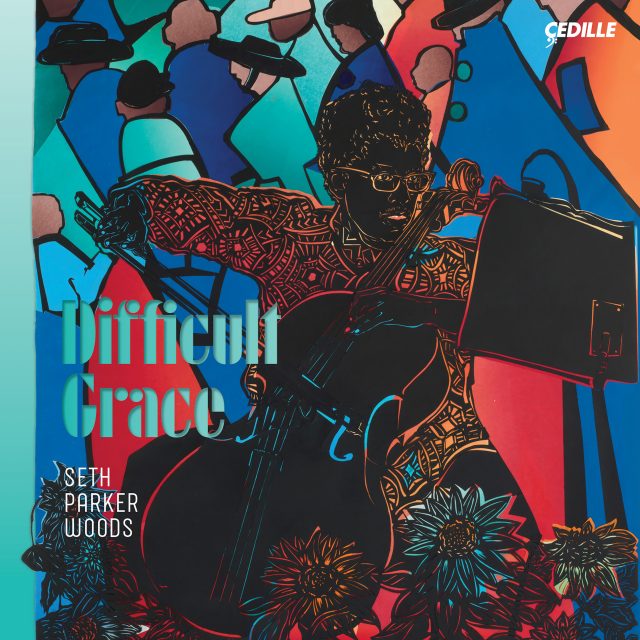 ---
Difficult Grace, based on Grammy Award-nominated cellist Seth Parker Woods' multimedia concert tour de force, conceived by and featuring Woods in the triple role of cellist, narrator/guide, and movement artist, is Woods' debut album for Cedille Records. Hailed by The Guardian as "a cellist of power and grace" who possesses "mature artistry and willingness to go to the brink," Woods has established a reputation as a versatile performer straddling several genres. He is the recipient of the 2022 Chamber Music America Michael Jaffee Visionary Award.
Difficult Grace is a semi-autobiographical exploration of identity; past/present histories and personal growth that draws inspiration from the Great Migration; the historic newspaper, The Chicago Defender; immigration; and poetry by Kemi Alabi and Dudley Randall. The album features music written for and with Woods including the world premiere recording of the title work, "Difficult Grace," by Fredrick Gifford (b. 1972) that layers solo cello, electronics, and spoken text (delivered by Woods) derived from Dudley Randall's poem, "Primitives." Coleridge-Taylor Perkinson's (1932–2004) "Calvary Ostinato," the all-plucked third movement from Lamentations Black/Folk Song Suite, references traditional African American music.
Additional world premiere recordings include Monty Adkins' (b. 1972) Winter Tendrils and Nathalie Joachim's (b. 1983) The Race: 1915. Alvin Singleton's (b. 1940) Argoru II and Joachim's Dam Mwen Yo, featuring Joachim as vocalist, follow. The program ends with a final world premiere: Ted Hearne's (b. 1982) multi-movement, Freefucked, a suite of songs set to poems by Kemi Alabi, featuring Hearne on vocals and electronics on the final track, "After We Ruin."
In its review of the live performance of Difficult Grace, The New York Times described Woods as "a cellist of prodigious technical gifts and sharp intellect… Woods is an artist rooted in classical music, but whose cello is a vehicle that takes him, and his concertgoers, on wide-ranging journeys."
I Care if You Listen wrote, "Difficult Grace posed the daunting task of intertwining a complex past with a developing present… With music at its core, each artistic medium on the program complements the others. The program's intention to highlight underrepresented voices is in line with its central message of bringing perspectives together to explore the concept of identity."
Difficult Grace is produced by Elaine Martone, Seth Parker Woods, and Ted Hearne (Freefucked), and engineered by Bill Maylone. It was recorded September 12–17, 2022 at Chicago Recording Company, Chicago, IL, and October 18–19 and November 14, 2022 at Unsettlement Studios in Los Angeles, CA (Freefucked vocals).
This recording is made possible by generous support from the DEW Foundation.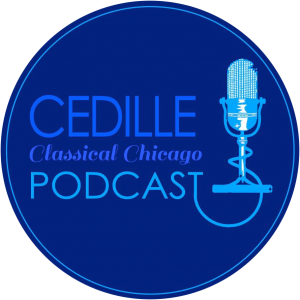 Listen to Jim Ginsburg's interview
with Seth Parker Woods
on Cedille's Classical Chicago Podcast
Preview Excerpts
Enjoy our recommended preview track excerpts below
FREDRICK GIFFORD (b. 1972)
COLERIDGE-TAYLOR PERKINSON (1932–2004)
2
Calvary Ostinato from Lamentations: Black/Folk Song Suite
MONTY ADKINS (b. 1972)
NATHALIE JOACHIM (b. 1983)
ALVIN SINGLETON (b. 1940)
NATHALIE JOACHIM
TED HEARNE (b. 1982)
8
A Wedding, or What We Unlearned from Descartes
10
The Lion Tamer's Daughter vs. the Ledge
Artists
1: Seth Parker Woods
2: Seth Parker Woods
3: Seth Parker Woods
4: Seth Parker Woods
5: Seth Parker Woods
6: Seth Parker Woods with Nathalie Joachim
7: Seth Parker Woods
8: Seth Parker Woods
9: Seth Parker Woods
10: Seth Parker Woods
11: Seth Parker Woods with Ted Hearne
What the Critics Are Saying
---
---
Taken as a whole, this programme is dazzlingly inventive and reveals Woods to be a musician of uncommon communicative power.
In its curated cacophony, Difficult Grace elicits the same kind of awe you feel perusing your smartest friend's bookshelf: Here are the ideas, artists, and words that shaped Woods, arranged in plain sight. Luckily for us, his library is ever growing.
Seth Parker Woods's cello is at once an instrument, prop and weapon of mass distraction; indeed, the live version of this exploration of identity was a very physical one. Some of that is of course lost to the listener, but what remains is attention grabbing and occasionally very beautiful.
Notes by John Fallas
In a 1934 essay, the writer and anthropologist Zora Neale Hurston suggests that there is something common — what she calls a "will to adorn" — uniting a wide variety of African American cultural articulations, from styles of speech to clothing and home decoration. Understood thus, adornment may be both an expression of self and community and a creative response to trouble — especially when that trouble arises in the context of a shared history of pain and injustice.
This aesthetic of adornment — of constant, joyous multiplication — is embodied in cellist Seth Parker Woods' ambitious, already acclaimed project Difficult Grace, with its relentless, exploratory acts of translation across different artistic media and dizzying expansion of what we might expect a solo instrumentalist to do, on stage or in the studio. The project was initially developed during Woods' time as a lecturer at the University of Chicago (2019–2021) and concurrent artist residency with the Seattle Symphony, then expanded into an evening-length concert performance that premiered at the 92nd Street Y in New York City in November 2022. Tours of the program continue through 2023 and 2024. The concert version of the project features newly created video material, projected artworks, and live dance in addition to Woods' own multiple roles as cellist, speaker and movement artist. The present iteration, specially developed for this recording, is necessarily experienced in audio only, but retains the sense of the solo cello as pressed in on by, actively responding to, and indeed creating plural realities both human and artistic.
As heard here, Difficult Grace comprises four works written specially for Woods, by Fredrick Gifford, Monty Adkins, Nathalie Joachim, and Ted Hearne; another recent work by Joachim; and two pieces written for Black cellists by significant composers of Black expression in America active in the 1970s and 1980s. The five recent works all incorporate electronic sound design, spoken or sung text, or both. Even the two older, purely acoustic works coax forth polyphonies of meaning and resonance from within a single instrument: Alvin Singleton's Argoru II creates virtual theater from a dialogue of musical styles and registers, while the ostinato movement from Coleridge-Taylor Perkinson's Black/Folk Song Suite remembers — and adorns — what was originally a sung melody, and in doing so also draws history into the piece's orbit of meaning.
This double broadening of scope might stand for the whole project. Throughout Difficult Grace, the expansions/adornments of the medium also bring a further "outside" into the music — that of human history, in the form of testimonies both public and personal. Nathalie Joachim's The Race: 1915 focuses in on the Black newspaper The Chicago Defender and its role in encouraging and documenting what would become known as the Great Migration. (In live performance the piece is played in front of projections from the series of 60 captioned panels in which the painter Jacob Lawrence depicted these events at the beginning of the 1940s.) Woods sees the newspaper's use of the term "the race" ("race farmers," "race women") as especially significant: as a reclamation by African Americans of the choice over how to refer to themselves, it is another act of adornment or "translation," and an expressively and politically weighted one.
Another historical moment, and another creative response to trouble: mid-1960s Detroit, where the poet Dudley Randall published numerous Black writers through his Broadside Press, edited the influential anthology The Black Poets, and responded powerfully to the aims and contradictions of the nascent Black Power movement in his own poetry, itself frequently concerned with questions of self and community presentation — of which "mask" to choose.
Then there is the more private history embodied in Nathalie Joachim's recordings of Haitian women singing, which additionally evoke for Woods the strong women in his own upbringing. Here, and in the last of Ted Hearne's settings of the poet Kemi Alabi (where cellist and composer sing together), we hear for the first time voices other than Woods' own; but, in fact, the whole album is shot through with other voices. The space in which they emerge and interact is shared space, just as much as is that of the histories and experiences which they narrate and evoke, remember and bear witness to. As Woods speaks through and alongside his instrument, he is cast as spokesman for and guide through a whole varied, communal history, responding to trouble with difficult grace and with complex, multilayered affirmation.
© 2023 John Fallas
John Fallas is a writer and editor specializing in the music of the 20th and 21st centuries. He has a particular interest in the different ways in which text and the human voice impinge on, or are implied presences in, instrumental music.
Album Details
PRODUCERS
Elaine Martone
Seth Parker Woods
Ted Hearne (Freefucked)
ENGINEER
Bill Maylone
ASSISTANT ENGINEER
Jonathan Lackey
MIX ENGINEER (A Wedding, or What We Unlearned from Descartes)
Christopher Bott
RECORDED
September 12–17, 2022 at Chicago Recording Company, Chicago, IL
October 18–19, November 14, 2022 at Unsettlement Studios in Los Angeles, CA (Freefucked vocals)
ARTWORK
Barbara Earl Thomas, Joyful Noise (2022)
GRAPHIC DESIGN
Bark Design
PUBLISHERS
GIFFORD: Difficult Grace © 2023 Fredrick Gifford (ASCAP)
PERKINSON: Calvary Ostinato, Lamentations: Black/Folk Song Suite © 1980 Lauren Keiser Music Publishing
ADKINS: Winter Tendrils © 2014 Monty Adkins
JOACHIM: The Race: 1915 © 2019 Flutronix Publishing
SINGLETON: Argoru II © 1971 Schott Music New York
JOACHIM: Dam Mwen Yo © 2017 Flutronix Publishing
HEARNE: Freefucked © 2023 by Unsettlement Music (ASCAP)
Against Heaven © 2022 Kemi Alabi and Graywolf Press
Primitives © 2009 Estate of Dudley Randall and Wayne State University Press
Image from The Migration Series by Jacob Lawrence courtesy of The Jacob and Gwendolyn Lawrence Foundation and The Phillips Collection, Washington, D.C.