Store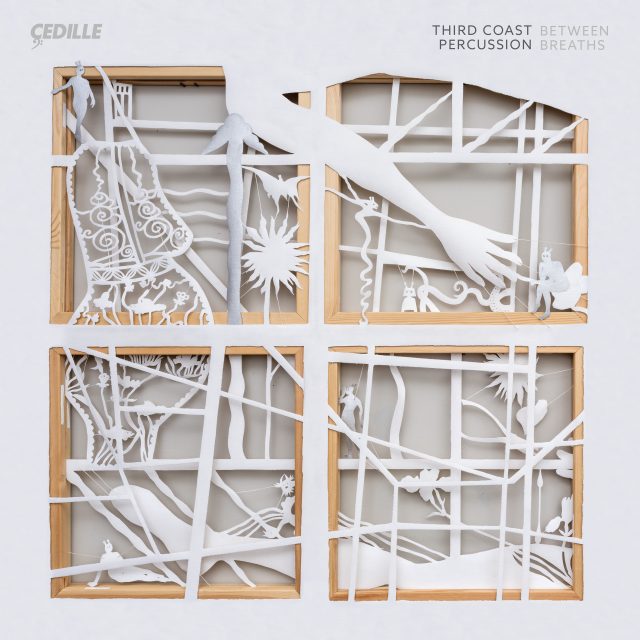 ---
Grammy Award-winning Chicago-based percussion quartet Third Coast Percussion (Sean Connors, Robert Dillon, Peter Martin, David Skidmore) presents Between Breaths, an album of world premieres of works by four contemporary composers, plus a new work by the quartet itself.
Known for their captivating performances and innovative approach to modern classical music, TCP has been praised for "commandingly elegant" (New York Times) performances and the "rare power" (Washington Post) of their recordings.
Between Breaths, a follow up to TCP's widely praised 2022 album, Perspectives, "continues to push percussion in new directions, blurring musical boundaries and beguiling new listeners" (NPR). The works on Between Breaths explore aspects of meditation in sound, incorporate unconventional timbres and tones, invite listeners to lose themselves within a captivating sonic landscape.
Missy Mazzoli's five-movement Millennium Canticles transports listeners into a vivid realm where a group of people strive to recreate the rituals and stories of human life after an apocalypse. Mazzoli skillfully crafts an evocative soundscape using diverse elements such as wooden planks, resonant metal pipes, tone chimes, drums, discordant metallic tones, a resounding lion's roar, and an array of vocal expressions.
In Practice, a collaborative composition by TCP, began as a sound meditation drawing upon the personal rituals of the quartet's members, from a warm-up routine to using sounds created with everyday objects. This source material laid the foundation for the work, which developed its own sense of direction and purpose, with an atmosphere of meditation and balance.
Tyondai Braxton's Sunny X juxtaposes otherworldly acoustic and electronic timbres against a steady rhythmic drive. Within this sonic tapestry, resonant wooden planks, metallic pipes and plates, and an array of gongs and woodblocks contribute to a distinctive and immersive experience.
Chicagoan Ayanna Woods' Triple Point refers to the unique state where a substance simultaneously exists as a gas, liquid, and solid due to temperature and pressure conditions, which results in liquids bubbling into gas, rapidly freezing, exploding, and melting into liquid again. Woods' composition mirrors this phenomenon, as it encapsulates moments of dynamic energy and musical elements that rise to the surface and dissolve again.
Gemma Peacocke's Death Wish, composed in tribute to Hinewirangi Kohu-Morgan, a Māori artist, poet, and activist, has become a staple of TCP's repertoire. Performed by four players on two marimbas, the music creates a powerful landscape of melancholy, personal devastation, and hope.
Between Breaths was produced by Elaine Martone, Colin Campbell, and Tyondai Braxton (Braxton). It was recorded May 21, 2021 (Peacocke); November 16–17, 2021 (Braxton); December 14–16, 2022 (Mazzoli, Third Coast Percussion, Woods). All music was recorded at Chicago Recording Company.
This recording is made possible in part by generous support from Bonnie McGrath and Bruce Oltman.
Preview Excerpts
Enjoy our recommended preview track excerpts below
MISSY MAZZOLI
1
Part 1: Famous Disaster Psalm
2
Part 2: The Doubter's Litany
4
Part 4: Choir of the Holy Locusts
THIRD COAST PERCUSSION
TYONDAI BRAXTON
AYANNA WOODS
GEMMA PEACOCKE
Artists
What the Critics Are Saying
---
---
"The highly programmatic and hypnotic new album showcases the quartet's vision for commissioning works by living composers… This display of thrilling precision and thoughtful musicianship permeates the entire project, creating an album that underscores the ensemble's commitment to exploring relevant aesthetic and social questions."
The fascinating interpretation of Third Coast Percussion, with a monumental attempt to think about percussion sound, rigorously tackles a lot of diverse themes, proposed by four composers who dedicate themselves to conceiving reality with a set of sounds with an artistic and creative dimension.
—Carme Miró, Sonograma
Notes by Third Coast Percussion
The daily rituals that ground us, and the moments of meditative pause that modern life rarely affords, have been top of mind for us and many of our collaborators of late. The percussionist's vast garden of unfamiliar timbres creates many opportunities for getting lost in a sound, and we have long found that the visually engaging physical actions that create these sounds evoke ritual for many of our collaborators and audience members.
The general sense of chaos and information overload that has dominated the last few years has pushed us to explore these aspects of our artform even more than usual. Our everyday routines take on heightened meaning when everything else seems unstable, and meditating on a sound, just like meditating on one's breath, can clear the mind and create some space: space for processing, for connecting, for finding purpose, for simply existing.
Each of the pieces on this album has given us a chance to disappear into another world and emerge slightly changed. We have savored those moments of escape and are grateful for the opportunity to share these journeys with you.
The remainder of these notes are expanded from what appears in the album package.
Missy Mazzoli: Millennium Canticles
Deemed "one of the more consistently inventive, surprising composers now working in New York" (The New York Times) and praised for her "apocalyptic imagination" (The New Yorker), Missy Mazzoli has had her music performed by the Kronos Quartet, LA Opera, Eighth Blackbird, the BBC Symphony, Minnesota Orchestra, and Scottish Opera and many others. In 2018 she became, along with Jeanine Tesori, one of the first women to receive a main stage commission from the Metropolitan Opera, and was nominated for a Grammy award in the "Best Contemporary Classical Composition" category. From 2018–2021 she served as the Mead Composer-in-Residence at the Chicago Symphony Orchestra, and from 2012–2015 she was Composer-in-Residence with Opera Philadelphia.
Mazzoli is currently on faculty at Bard College Conservatory of Music. In 2016, Missy and composer Ellen Reid founded Luna Lab, a mentorship program for young female composers created in partnership with the Kaufman Music Center. Her works are published by G. Schirmer.
Millennium Canticles imagines a group of four people trying to re-create the rituals and stories of human life after a massive rapture or apocalypse. Despite the dark premise, the piece focuses on the hope and optimism of these survivors, exploring the human need to tell stories and create meaning through repeated actions, such as chanting, praying, or playing drums. Participation or rejection of these rituals define the social fabric of the community, and the objects used in these rituals become a platform for experimentation and further discovery.
One of a series of works by Mazzoli with apocalyptic themes, Millennium Canticles took inspiration from a dark comedic play called Mr. Burns, in which a group of survivors try to remember the plot of an episode of The Simpsons, recreating it in an increasingly ritualized and exaggerated way.
The work charts a journey through the dramatic, surreal, and haunting over its five movements:
I. Famous Disaster Psalm: The first attempt at a ritual. The group comes together to form a rhythm that is only complete when all four people participate. The group's exploration is tinged with suspicion.
II. The Doubter's Litany: A greater coming together of the group but also skepticism, fear, and dissent. A nervous anticipation takes hold amongst all present.
III. Bloodied Bells: The creation of a new hymn, again that can only be played with the participation of the whole group. The hymn ends with a ritual showing devotion to a new deity, an expression of gratitude for survival.
IV. Choir of the Holy Locusts: The locusts have become the new gods and the survivors imitate them in a touching and tender song. One dissenter tries to break the others out of their trance-like state, but the others continue with their ritual.
V. Survival Psalm: A reversal of movement one. The group fragments, individuals break out of the composite and go out on their own, only to come back together at the very end.
Millennium Canticles was commissioned by Third Coast Percussion with lead support from Elizabeth and Justus Schlichting, and additional support from Bruce Oltman, the Third Coast Percussion New Works Fund, and the Maxine and Stuart Frankel Foundation.
Third Coast Percussion: In Practice
Compositions by members of Third Coast Percussion have always been an important part of the ensemble's repertoire, and many works by TCP members have entered the repertoire for percussion groups around the world. TCP began co-composing works together as a quartet beginning in 2016 with Reaction Yield, followed immediately by their Paddle to the Sea concert program and album. In 2019, the four ensemble members (Sean Connors, Robert Dillon, Peter Martin, and David Skidmore) each contributed a movement to the Archetypes project with Sérgio and Clarice Assad, for which all 6 composer-performers were nominated for a GRAMMY® for "Best Contemporary Classical Composition."
Most people practice some sort of rituals that help form their identities and shape their days. They can be as structured as a ceremony carried out at prescribed times of the year, or as informal as the moment of calm found in a morning routine; a repeated mantra to center oneself in difficult situations or a weekly walk with friends. Our composition was inspired and created by the four of us bringing together our own contrasting and very much individual understandings of the practice of rituals.
For one of us, a ritual could mean a warm-up routine, used to stay anchored in fundamentals, develop technique, and get the hands and mind going before diving into a practice session. The highly ornamented rhythmic vocabulary of drummers' rudimental exercises appears here on a marimba instead of in its traditional place on marching drums or practice pads, taking on new dimensions of texture and harmony.
For another one of us, the practice of creating music via a synthesizer is an escape from the constant stimulus of the touring musician's life, a comforting chance to meditate on sound itself outside of physical limitations. Electronic sounds created in real time by a Prophet Synth Module became central to the sound world from very early in the compositional process, as well as providing a harmonic mantra with a sense of meaning and calm that belies its simplicity.
We also included simple objects from the steady routines of our lives — coffee mugs, cereal bowls, electric toothbrushes — which have a very literal but often unnoticed presence in our daily existence. These specific objects take on new roles, creating white noise drones, pure bell tones, or bubbly interlocking repeated patterns.
Once the foundation solidified from these elements, the piece developed its own sense of direction and purpose. As with previous co-composed works, different members of the ensemble took over subsequent revisions of sections, shaping the piece into a coherent creation and blending the voices of four individuals into one musical journey.
In Practice was composed with support from the Maxine and Stuart Frankel Foundation and the Julian Family Foundation.
Tyondai Braxton: Sunny X
Tyondai Braxton has been writing and performing music under his own name and, collaboratively, under various group titles, since the mid-1990s. He is the former front man of the experimental rock band, Battles, whose debut album, Mirrored, was a critical and commercial success. Braxton has composed commissioned pieces for ensembles including the Bang on a Can All-Stars, Alarm Will Sound, Brooklyn Rider, and Third Coast Percussion. His 2015 Nonesuch debut, HIVE1, was praised by NPR Music for its "playfulness — the feeling that experimenting with sound is a joyful game." Braxton followed that release with the 2016 five-song EP Oranged Out, proceeds from which supported the work of Everytown for Gun Safety. Braxton was recently appointed to Princeton University's Music Composition faculty as an Assistant Professor of Music. In 2022, Nonesuch released his Telekinesis, an 87-piece work for guitars, orchestra, choir + electronics. Record Collector called it "an astonishing tour de force that gives new meaning to the word 'epic.'"
Braxton's new work for Third Coast Percussion, Sunny X, further develops his experiments with electronic sounds and live percussionists by using idiosyncratic instruments such as wooden and metal slats, steel pipes, Thai gongs, and crotales, with electronic playback generated with modular synthesizer. Braxton writes:
Predominantly set up as meditations on small phrases of non-pitched (or *partially* pitched) percussion and mercurial electronics, the piece explores different permutations of these meditations where the relationship between the acoustic and electronic realms seems to work together, slip around and contrast.
Sunny X evolved through multiple workshops together in TCP's studio, experimenting with combinations of these unique sounds and discovering musical content that emerges naturally from the idiomatics of the instruments and their physical layout. In particular, a musical and physical gesture that plays prominently in the piece revealed itself when the wooden planks were stacked on top of each other, rather than set side-by-side on a table.
Sunny X was commissioned for Third Coast Percussion by the Sewanee Music Festival, George Mason University, and Carnegie Hall, with additional support from Third Coast Percussion's New Works Fund.
Ayanna Woods: Triple Point
Ayanna Woods is a Grammy-nominated performer, composer, and bandleader from Chicago. Her music explores the spaces between acoustic and electronic, traditional and esoteric, wildly improvisational and mathematically rigorous. A collaborator across genres and forms, her work spans new music, theater, film scoring, arranging, songwriting, and improvisation. She earned her B.A. in music from Yale University.
Woods has been commissioned by Third Coast Percussion, Chanticleer, The Crossing, the Percussive Arts Society, Manual Cinema, Lorelei ensemble, the Chicago Children's Choir, Boston Children's Choir, and Chicago Chamber Choir. She is a recipient of a 2017 3Arts Make A Wave grant and a 2020 DCASE Individual Artist Program grant and was a participant in Third Coast Percussion's 2017 Currents Creative Partnership, where she composed Triple Point, about which she writes:
The Triple Point of a pure substance is the temperature and pressure where it can be a solid, liquid, and gas in equilibrium. That sounds a lot more tranquil than it actually is; you can find videos online of liquid bubbling into gas, rapidly freezing and then exploding and melting into liquid again. In some ways it's always the same, and in some ways, it never stops moving. It's something that's stable on the one hand, and colliding with itself on the other.
This title came out of one of our workshops together as the piece was taking shape. We talked about the sound world being meditative and groovy at the same time. That's something that I tried to lean into as I was writing.
Gemma Peacocke: Death Wish
A composer from Aotearoa (New Zealand), Gemma Peacocke has a particular interest in interdisciplinary projects. Her first album, Waves & Lines, a 2019 release on New Amsterdam, set poems by Afghan women. Gemma is co-founder of the Kinds of Kings composer collective which is focused on amplifying and advocating for under-heard voices in classical music. She has been commissioned by the Auckland Philharmonia, Christchurch Symphony Orchestra, Rochester Philharmonic, Third Coast Percussion, PUBLIQuartet, Bang on a Can, Rubiks Collective, Stroma, and Alarm Will Sound.
Peacocke's work for four players on two marimbas, Death Wish, has become a staple of TCP's repertoire, creating a powerful landscape of melancholy, personal devastation, and hope. About the piece, Peacocke states:
I wrote Death Wish after watching a short film featuring New Zealand survivors of sexual assault. One of the survivors, Hinewirangi Kohu-Morgan, spoke about the out-of-control spiraling of her life for many years and how she developed what she called a 'death wish.' In the piece I thought about the spooling and unspooling of energy and how we are all bound and driven by forces both within and beyond ourselves.
With the greatest of respect for Hinewirangi Kohu-Morgan, who has used her life to create art and music, and to help survivors of abuse and those who have perpetrated abuse.
I ōrea te tuātara ka patu ki waho. Aroha nui.
Album Details
PRODUCERS
Elaine Martone, Colin Campbell, Tyondai Braxton (Braxton)
SESSION ENGINEERS
Bill Maylone, Dan Nichols, Mark Alletag, Jonathan Lackey
EDITING AND MIXING ENGINEER
Bill Maylone, Tyondai Braxton (Braxton), Seth Manchester (Braxton)
MASTERING ENGINEER
Joe Lambert 
RECORDED
May 21, 2021 (Peacocke); November 16–17, 2021 (Braxton); December 14–16 (Mazzoli, Third Coast Percussion, Woods). All music was recorded at the Chicago Recording Company. 
ARTWORK
Contemplation © 2022
Zelene Jiang Schlosberg
LINER NOTES
Robert Dillon, Rebecca McDaniel, and David Skidmore, with contributions by Tyondai Braxton, Missy Mazzoli, Genna Peacocke, and Ayanna Woods
GRAPHIC DESIGN
Bark Design
PUBLISHERS

Millenium Canticles © 2022 by Schirmer, Inc. (ASCAP) 
In Practice © 2022 Third Coast Percussion Publications (ASCAP)
Sunny X © 2020 Tyondai Braxton Music (BMI)
Triple Point © 2018 Ayanna Woods LLC (ASCAP)
Death Wish © 2017 Oronoa (ASCAP)