Store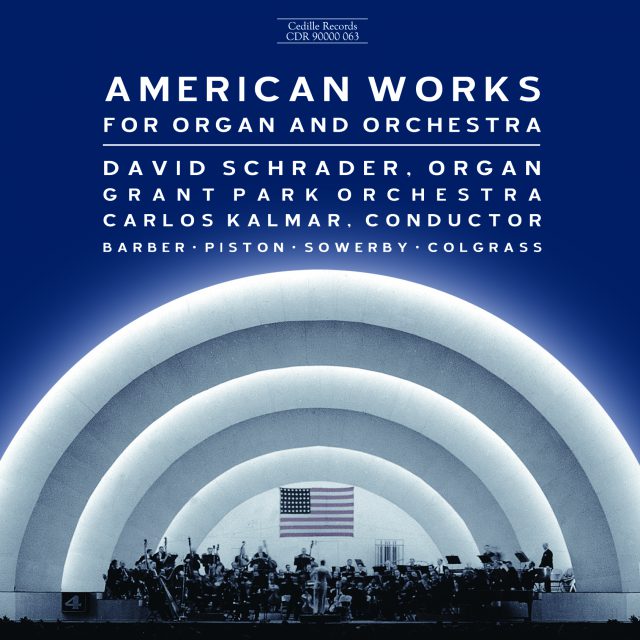 ---
American Works for Organ and Orchestra offers a sonic extravaganza of neglected masterpieces by noted American composers. Here are four works that showcase the spectacular sonority of full organ combined with large symphonic ensemble.
Samuel Barber's Toccata Festiva for Organ and Orchestra, Op. 36, written for the 1960 dedication of the Philadelphia Orchestra's organ, opens the program with explosive eruptions of sound leading to passages of great majesty and lyrical beauty.
Emotionally reminiscent of Barber's famous Adagio for Strings, the profoundly moving, passionate first half of Walter Piston's 1943 Prelude and Allegro for Organ and Strings (first time on CD) gives way to an exciting, rhythmically charged conclusion.
Leo Sowerby's 1951 Concertpiece for Organ and Orchestra (world premiere recording) percolates with his urbane lyricism and ebullient high spirits.
From a whole other world comes Michael Colgrass's fascinating 1990 Snow Walker for Organ and Orchestra (also a world premiere). Surging winds depicted by the strings and howling wolf cries from a trombone set the stage for this inventive, impressionistic work evoking the frozen expanses of the North American Arctic and the fortitude, humor, and spirituality of its native Inuit peoples.
Making its recording debut is the magnificent new (1998) Casavant Frères organ in Chicago's Orchestra Hall, with acclaimed organist David Schrader at the keyboards. Chicago's esteemed Grant Park Orchestra, now in its seventh decade, makes its own commercial recording debut, with principal conductor Carlos Kalmar at the helm.
Preview Excerpts
SAMUEL BARBER (1910-1981)
1
Toccata Festiva for Organ & Orchestra, Op. 36
WALTER PISTON (1894-1976)
Prelude & Allegro for Organ & Strings
LEO SOWERBY (1895-1968)
4
Concertpiece for Organ & Orchestra, H.307
MICHAEL COLGRASS (b. 1932)
Snow Walker for Organ & Orchestra
6
II. Throat-singing, with Laughter
7
III. The Whispering Voices of the Spirits Who Ride with the Lights in the Sky
Artists
American Works for Organ and Orchestra
Notes by Richard E. Rodda
Toccata Festiva for Organ and Orchestra, Op. 36 Samuel Barber (1910-1981)
Barber's Toccata Festiva is scored for three flutes (including piccolo), three oboes (including English horn), three clarinets (including bass clarinet), two bassoons, four horns, three trumpets, three trombones, tuba, timpani, percussion and strings. The Grant Park Orchestra first performed Toccata Festiva on August 9, 1997. Eiji Oue conducted, with David Schrader, organist.
Early in 1960, the telephone rang in the office of Eugene Ormandy, Music Director of the Philadelphia Orchestra. "Eugene," said the voice on the receiver, "are you standing? Please sit down — I'm giving you that pipe organ for the Academy of Music that you've been longing for." "Do you know how much that will cost?" he asked incredulously. "Don't worry about that," came the reply. The caller was Mary Curtis Bok Zimbalist, a staunch patron of the Orchestra and one of Philadelphia's most ardent champions of the arts. She explained that she wanted to donate the instrument in memory of her father, Cyrus H.K. Curtis, himself an organist, and that she would like to request a piece from her protégé Samuel Barber to dedicate the organ. Ormandy eagerly accepted the proposal, and Barber agreed to write the work, but refused to accept the proffered commission fee in appreciation of Mrs. Zimbalist's continuing friendship and support. The Aeolian-Skinner Company of Boston was engaged to build the instrument, and was instructed to design it for a tonal brilliance that would complement the stentorian sonorities of the Philadelphia Orchestra. The resulting instrument, the largest movable pipe organ in the world at the time of its completion, was made to be set up on stage when needed, and then dismantled and stored until its next use. It was constructed at the cost of $150,000, weighed 200,000 pounds, and had 4,102 pipes, three manuals, and 73 stops. The dedication of the organ through the medium of Barber's new Toccata Festiva took place at the Academy of Music on September 30, 1960. Paul Callaway, organist and choir director of the Washington Cathedral, was the soloist. The event also marked the beginning of Ormandy's 25th season as Music Director of the Philadelphia Orchestra.
Barber wrote the Toccata Festiva to exhibit both the full technical possibilities of the new organ and the sonorities it could create in combination with the virtuoso orchestra. The work is in several sections encompassing meditative solo passages, majestic full-ensemble fanfares, and organ-orchestra dialogues. These are unified by transformations of a brief, two-measure theme in 5/8 meter, first presented by the organ following the sweeping introductory proclamation.
Prelude and Allegro for Organ and Strings Walter Piston (1894-1976)
The Grant Park Orchestra's first performances of Piston's Prelude and Allegro took place at its concerts on July 7 and 8, 2001.
The grandson of an Italian seaman (Antonio Pistone) who settled in New England, Walter Piston was born in Rockland, Maine on January 20, 1894. The boy taught himself to play violin and piano after the family moved to Boston in 1905. His initial professional training was not in music but in draftsmanship and architecture at the Massachusetts Normal School of Art, where he met his future wife, Kathryn Mason. He worked as a draftsman for the Boston Elevated Railway while a student, and also played violin in pickup bands and theater orchestras around Boston. After graduating in 1916, Piston enlisted in the Navy as a bandsman and was assigned to play saxophone in a band stationed in Boston (he learned the instrument from an instruction manual in just a few days). Determined to follow a music career after his stint in the Navy, Piston enrolled in Archibald T. Davison's counterpoint class at Harvard upon his discharge in 1919. He entered the school's formal degree program in music the following year and graduated summa cum laude in 1924. A John Knowles Paine Traveling Fellowship enabled him to spend two years in Paris, where he studied composition privately with Nadia Boulanger and Paul Dukas. Upon his return to America in 1926, Piston accepted a teaching position at Harvard, a tenure that lasted until 1960. For his creative work, he was honored with two Pulitzer Prizes (for his Symphonies No. 3 [1948] and No. 7 [1961]), a Naumburg Award (for Symphony No. 4), a Guggenheim Fellowship, and two New York Music Critics Circle Awards.
After moving to America in 1930, the Englishborn organist E. Power Biggs established himself among the leading performers of his generation with his recordings, international concert tours, and weekly recitals broadcast over CBS from 1942 to 1958. In 1943, Biggs wanted to include a movement from a concerto by the 18th-century Prelude and Allegro for Organ and Strings Walter Piston (1894-1976) The Grant Park Orchestra's first performances of Piston's Prelude and Allegro took place at its concerts on July 7 and 8, 2001. Spanish master Antonio Soler on one of his programs, but had only a recording to work from; the manuscript score was in Spain and unobtainable. Biggs asked Piston to transcribe the piece, which he did in a day. Suitably impressed, Biggs commissioned Piston to write an original work for one of the broadcasts. Biggs premiered the result, Piston's Prelude and Allegro for Organ and Strings, on August 8, 1943 with conductor Arthur Fiedler. (For many years Fiedler balanced his duties as music director of the Boston Pops with more serious fare performed by his own Fiedler Sinfonietta.) Piston biographer Howard Pollack hears the work as a product of its troubled time: "The Prelude expresses the tragedy of the War, while the Allegro expresses the determination to win it." The organ part of the Prelude, measured in pace and somber in expression, is a three-voice canon (a polyphonic composition in which all the voices are derived from a single melody and heard in succession according to the instruction or "rule" ["canon" in Greek and Latin] provided by the composer). The strings provide accompaniment and often participate in the canonic processes. The energetic and sternly heroic Allegro is based on a strongly rhythmic theme that returns, rondo-like, in varied forms throughout the movement.
Concertpiece for Organ and Orchestra, H.307 Leo Sowerby (1895-1968)
Leo Sowerby's Concertpiece is scored for two flutes, two oboes, two clarinets, two bassoons, four horns, two trumpets, three trombones, tuba, timpani, percussion and strings. The Grant Park Orchestra's first performances of Concertpiece took place at its concerts on July 8 and 9, 2000.
Composer, teacher, and church musician Leo Sowerby was born in Grand Rapids, Michigan on May 1, 1895. By the time his family moved to Chicago fourteen years later, he had shown genuine talent as a pianist and had begun to compose and teach himself to play organ. In Chicago, he studied piano with Percy Grainger and theory with Arthur Olaf Anderson. The Chicago Symphony Orchestra premiered his Violin Concerto No. 1 in 1913. Chicago Symphony premieres of his Piano Concerto and Cello Concerto followed before Sowerby left to serve as a military bandmaster during World War I. Soon after returning to Chicago following the War he earned a degree from the American Conservatory. In 1920, he became the first composer to be awarded the American Prix de Rome, and lived at the American Academy in Rome until 1924. Back in Chicago in 1925, Sowerby joined the faculty of the American Conservatory and two years later became organist and choirmaster of the Episcopal Cathedral of St. James. He served in both posts until 1962, when he moved to Washington, D.C. to become founding director of the College of Church Musicians at the National Cathedral. Sowerby died in Port Clinton, Ohio on July 7, 1968. He was honored with election to the National Institute of Arts and Letters in 1935 and a Pulitzer Prize in 1946 (for his cantata The Canticle of the Sun), and was the first American to be made a Fellow of the Royal School of Church Music in London (1957). Among his large creative output, which includes almost all of the traditional genres except those for the stage, are more than fifty works for organ that accommodate a wide range of idioms yet always display his particularly American voice.
Sowerby's 1951 Concertpiece for Organ and Orchestra is arranged in three large formal paragraphs, with brilliant and virtuosic music in the outer sections framing a more meditative central episode.
Snow Walker for Organ and Orchestra Michael Colgrass (b. 1932)
Snow Walker is scored for piccolo, two flutes, two oboes, E-flat clarinet, two B-flat clarinets, bass clarinet, bassoon, contrabassoon, two horns, two trumpets, two trombones, tuba, timpani, percussion, piano, celesta, harp and strings. The Grant Park Orchestra's first performances of Snow Walker took place at its concerts on July 7 and 8, 2001.
From his early childhood, music held an irresistible attraction for Chicago-born Michael Colgrass. He purchased his first set of drums at age ten from his earnings as a golf caddy and formed his own jazz band two years later. After graduating from Riverside–Brookfield High School in Chicago in 1950, he entered the University of Illinois at Urbana to study percussion with Paul Price and composition with Eugene Weigl — his first formal instruction. Colgrass spent the following summers studying composition at Tanglewood with Lukas Foss and at Aspen with Darius Milhaud, but interrupted his undergraduate work for a stint in the Seventh Army Symphony Orchestra in Germany from 1954-1956. He received his bachelor's degree soon after leaving the service and moved to New York after graduating. While working as a free-lance drummer and percussionist (including on the original production of West Side Story and many of the "Stravinsky conducts Stravinsky" recordings on Columbia), Colgrass studied privately with Wallingford Riegger and Ben Weber and composed steadily. His early works, many featuring percussion instruments, were modernistic and serial. Following an unnerving attack of amnesia during a stressfully busy period in 1966, he began to limit his performing and adopt a more immediately accessible compositional style. His first work in this new idiom, the charming and witty As Quiet As . . . (inspired by fourth-graders' completions of their teacher's opening phrase, "let's be as quiet as . . ."), was performed by orchestras across the country and recorded by Erich Leinsdorf and the Boston Symphony. In 1968, with the aid of a Rockefeller grant, he studied theater arts at the Commedia dell'arte of the Piccolo Teatro in Milan and the Polish Theater Laboratory. Colgrass has since established himself among the leading composers of his generation with performances and commissions from leading orchestras, chamber ensembles, choruses, and soloists. He received the Pulitzer Prize in 1978 for Déjà vu for Percussion Quartet and Orchestra, and an Emmy in 1982 for the PBS documentary Soundings: The Music of Michael Colgrass.
In a program note for the premiere, the composer wrote, "Snow Walker was inspired by the Arctic and by the lives and legends of the Inuit who live there. The Snow Walker is the Inuit image for death and resurrection. The spirit of Snow Walker is present throughout this concerto, which is divided into five sections.
"In the opening section (Polar Landscape), the organ is an omnipresent force that weaves in and out of the sounds of winds, wolves and storms represented by the orchestra. In the second section (Throat-singing, with Laughter), we hear both the indomitable spirit and the sense of humor of the Inuit. Throat-singing is a unique form of Inuit music created by the rapid in- and out-takes of breath on fast rhythms that produce almost continual laughter in singers and onlookers alike. In the third section (The Whispering Voices of the Spirits Who Ride with the Lights in the Sky), we hear the organ transform from a muttering, mysterious being into 'gossamer curtains of light that seem to undulate across the Arctic skies,' as Barry Lopez described the aurora borealis in his Arctic Dreams. In the fourth section (Ice and Light), the organ creates the illusion of ice, the formation of an iceberg that glitters in the sun like a splendid floating cathedral, and then melts — another form of transformation. In the last section (Snow Walker), we hear the interplay between the Snow Walker and the Inuit: the life-affirming drum dances and the wildness of the sharran, which were inspired by the sculptures of Karoo Ashevak.
"I lived for a short time with an Inuit family in Pangnirtung, Baffin Island, just north of the Arctic Circle, and their moods, humor, sense of mystery and wonder at the awesome nature around them were an inspiration to me. I also read a great deal about the Arctic and the Inuit. Farley Mowat's books (People of the Deer, Never Cry Wolf, Snow Walker) were especially influential in the creation of this work. Snow Walker is respectfully dedicated to Farley Mowat, who traversed unmapped territories of the Canadian North exploring its nature and its people."
Album Details
Total Time: 65:15
Producers: James Ginsburg & Bill Maylone
Engineer: Christopher Willis
Cover Photography: Grant Park Music Shell c. 1940.
Photo: © Chicago Park District Special Collections
Design: Melanie Germond
Notes: Richard E. Rodda
This recording is made possible in part by a generous grant from The Aaron Copland Fund for Music.
Recorded: July 8 & 9, 2000 (Barber, Sowerby) and July 7 & 8, 2001 (Piston, Colgrass) in Orchestra Hall, Chicago.
©2002 Cedille Records/Cedille Chicago