Store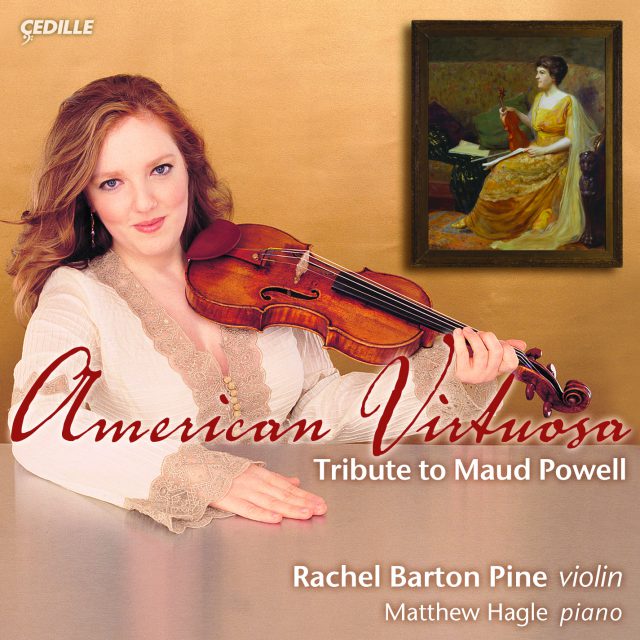 ---
Maud Powell (1867-1920) was America's first classical music superstar: an international concert violinist of the first rank, a best-selling recording artist, a dynamo devoted to American composers and the belief that everyone deserves to experience great music performed at the highest level.
A kindred spirit, celebrated American violinist Rachel Barton Pine performs music dedicated to and arranged by Maud Powell. Some of the composers you know: Chopin, Dvorak, Sibelius. Others are yours to discover: Beach, Bauer, Burleigh, and many more.
Pine is among the first to perform Maud Powell's transcriptions and music dedicated to her since Powell took the concert world by storm at the turn of the 20th century.
When Pine performed her Maud Powell tribute last year, the Washington Post declared, "Pine displays a power and confidence that puts her in the top echelon of recitalists. . . . Channeling the spirit of Powell, she played Dvorak with fire and passion . . . and gave Sibelius a sensational twist."
Preview Excerpts
Enjoy our recommended preview track excerpts below
AMY BEACH (1867-1944)
1
Romance for Violin and Piano, Op. 23
PERCY ALDRIDGE GRAINGER (1882-1961)
ANTONÍN DVOŘÁK (1841-1904)
3
Songs My Mother Sang (Als die alte Mutter)
JEAN SIBELIUS (1865-1957)
4
Musette from the Orchestral Suite King Christian II
MARION EUGÉNIE BAUER (1882-1955)
5
Up the Ocklawaha, Tone Picture for Violin, Op. 6
FREDERIC CHOPIN (1810-1849)
6
"Minute" Waltz, Op. 64, No. 1
CARL VENTH (1860-1938)
SELIM PALMGREN (1878-1951)
SAMUEL COLERIDGE-TAYLOR (1875-1912)
9
Deep River, Op. 59, No. 10
ANTONÍN DVOŘÁK
10
Humoreske, Op. 101, No. 7
H.P. DANKS (1834-1903)
11
Silver Threads Among the Gold (Song)
HERMAN BELLSTEDT, JR. (1858-1926)
12
Caprice on Dixie for Unaccompanied Violin
HENRY HOLDEN HUSS (1862-1953)
HARRY MATHENA GILBERT (1879-1964)
CECIL BURLEIGH (1885-1980)
Four Rocky Mountain Sketches, Op. 11
JULES MASSENET (1842-1912)
19
Twilight (Crépuscule) from Poèmes Pastorale (1870-72)
MAX LIEBLING (1845-1927)
20
Fantasia on Sousa Themes (1905)
J. ROSAMOND JOHNSON (1873-1954)
21
Nobody Knows the Trouble I See (American Negro Melody) (1917)
Artists
What the Critics Are Saying
---
---
"In American Virtuosa, Rachel Barton Pine may be the first violinist to pay hompage to Maud Powell, the first great American violinist (1867-1920). Barton Pine gathers a bouquet of short works popular during Powell's career (Cedille CDR 90000 097). This delectable disc features a range of music — from Amy Beach's Romance to Massenet's Twilight — that has disappeared from the repertory. To every selection, Barton Pine brings a full, generous tone and incisive musicianship. She takes these trifles seriously and performs them with flair. She plays Beach's Romance elegantly. But she also digs into Herman Bellstedt Jr.'s Caprice on Dixie with a blend of rhythmic verve and technical dazzle. Throughout, she receives fine support from her partner, pianist Matthew Hagle. Barton Pine makes an eloquent case for Henry Holden Huss' Romance in a heartfelt performance that catches the grave beauty of the music. She also revels in a transcription of Chopin's Minute Waltz."
"Violin enthusiasts and appreciators of fine music will find Rachel Barton Pine's American Virtuosa – Tribute to Maud Powell a wonderfully delightful and timeless classical music CD. With eighteen different pieces of music (all of which were part of Maud Powell's repertoire), the contrast between styles is highly enjoyable. American Virtuosa – Tribute to Maud Powell is a must have for any classical music collection."
A Personal Note
Notes by Rachel Barton Pine
I'm frequently asked to name my favorite violinist. It's virtually impossible – each of us has strengths and weaknesses. I admire certain performances and certain aspects of many players, and I draw inspiration from many violinists past and present. However, the violinist I most admire is definitely Maud Powell.
Despite being an avid researcher of violin music and history, I had never heard of Maud Powell until Karen Shaffer sent me a copy of Maud's biography in 1995. I was fascinated to read about her remarkable and inspirational life. Reading on planes and in hotel rooms, I learned how she became the greatest American violinist in the late 1800s and early 1900s while also breaking so many social stereotypes: choosing to dedicate her life to her career; leading a string quartet of men; championing music by contemporary composers, American composers, women composers, and Black composers; and introducing classical music to numerous new listeners. She is often in the back of my mind today as I perform works by contemporary, women, and Black composers; as I perform rock and classical music in non-traditional venues; and as I give benefit concerts, support young string players, and strive for improvement and greater understanding in all of my interpretations.
Why is Maud Powell not better known today? I believe there are several contributing factors. Unlike Leopold Auer, she didn't leave a pedagogical legacy. While Maud was committed to music education and encouraged every young violinist who came to her for advice, her touring schedule was too intense to maintain a teaching studio. Unlike Heifetz, she didn't live into the electric recording era. And, unlike Wieniawski or Kreisler, she never wrote any original compositions.
After finishing her biography, I began learning some of her repertoire – works that she premiered, arranged, or recorded, and works written for her. Many of these gems have become staples of my recital programs. At the end of my recent performance in Washington, DC, Leonard Slatkin commented, 'this music is wonderful! Maud Powell really was the female Fritz Kreisler." Had I thought more quickly, I should have responded, "Actually, Kreisler was the male Maud Powell." After all, Maud came first and was admired by Kreisler and all of his generation.
This album represents a slice of late Nineteenth/early Twentieth Century repertoire rarely heard these days. Miniature jewels like Humoreske, May Night, or Minute Waltz have an individual character that must be defined and demand a significant investment of the performer's personality. Slower melodic works, such as those by Venth, Huss, and Johnson, call for indulgence in expressive shifts and creative rubato. The tone-painting of Burleigh and Bauer still sounds fresh a century later, and the Sousa Airs and Caprice on Dixie are brilliant American alternatives to the usual Carmen Fantasies and Paganini Caprices.
I hope this recording will open your ears to some masterful compositions, beautiful arrangements, and the art of one of the greatest violinists ever. I also hope that through this CD, the forthcoming printed collection of Maud's music, the second edition of her biography, the reissues of her own recordings, and information posted on www.maudpowell.org, Maud Powell will finally receive the recognition she deserves as an artist and role model.
Album Details
Total Time: 78:45
Producer: Judith Sherman
Engineer: Bill Maylone
Graphic Design: Melanie Germond
Cover Painting: Maud Powell (1918-1919) by Nicholas Richard Brewer. Oil on canvas. National Portrait Gallery, Smithsonian Institution; gift of Joyce McFarland Dlugopolski (in memory of George A. Doole, Jr.) and the Maud Powell Society for Music and Education. NPG.2001.74
Photos of Rachel Barton Pine by Andrew Eccles
Photos of Maud Powell courtesy of the Maud Powell Society for Music and Education
Recorded: October 3, 4, 5, and November 1, 2006 at WFMT Chicago
Violin: "ex-Soldat" Guarneri del Gesu, Cremona, 1742
Strings:Vision by Thomastik-Infeld
Luthier (violin technician): Paul Becker
Steinway Piano – Piano Technician: Charles Terr
Mutes used on the recording:
La Fleurie by Franois Couperin* (wooden mute)
Twilight by Jules Massenet (rubber "Spector" mute)
Musette by Jean Sibelius (leather mute)
All mutes from the collection of Fred Spector
*La Fleurie is not on the CD but is available for download from web sites including iTunes, eMusic, Napster and other major digital distributors.
©2007 Cedille Records/Cedille Chicago