---
Discover
Album of the Week
11/29 - 12/5 | Enjoy 25% off Cedille's Featured Release of the Week!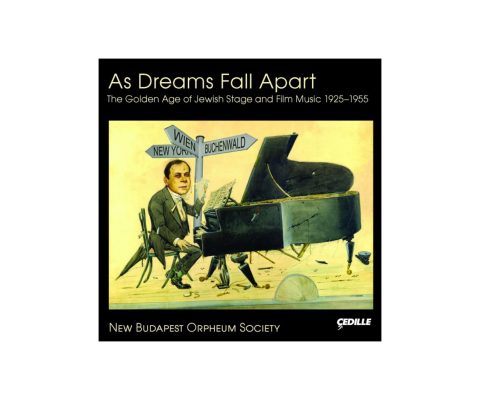 ---
As Dreams Fall Apart: The Golden Age of Jewish Stage and Film Music (1925–1955)
New Budapest Orpheum Society
I hope everyone had a delicious Thanksgiving. With the season of giving now upon us, the rest of our Album of the Week features will present discs on our Holiday Gift Recommendations page (as all Cedille recordings are 25%-off regular prices for the remainder of the year). Since this week's feature falls on the first full day of the Jewish celebration of Hanukkah (which began at sundown on Sunday, December 28), I'm highlighting one of our three albums with the University of Chicago-based, modern-day Jewish cabaret troupe, New Budapest Orpheum Society (NBOS) — specifically their 2015-Grammy-nominated CD, As Dreams Fall Apart: The Golden Age of Jewish Stage and Film Music (1925–1955), chosen in part as a nod to the five new Grammy nominations Cedille received this past Tuesday (for albums featuring the work of Third Coast Percussion plus Clarice and Sérgio Assad, Will Liverman, Jennifer Koh, and Cedille Records' resident recording engineer Bill Maylone).
Selections from all discs included among our Holiday Gift Recommendations may be found on our last featured Spotify playlist of 2021. I hope you'll check it out, as well as the selection spotlighted below, the upbeat (despite the title) "Ruins of Berlin" ("A brand new spring is to begin / Out of the ruins of Berlin") by celebrated stage and screen composer Friedrich Holländer (whose music appears on all three NBOS albums), with NBOS member, mezzo-soprano Julia Bentley in the role of Marlene Dietrich.
Every week Cedille President and Grammy-nominated producer Jim Ginsburg selects a featured CD which is offered at a discounted price. Sign up for our e-newsletter and never miss an Album of the Week.
---
Recommended