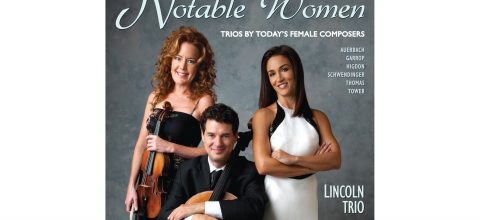 ---
Discover
Album of the Week
6/29 - 7/5 | Enjoy 25% off of Cedille's Featured Disc of the Week!
---
Notable Women: Trios by Today's Female Composers
Lincoln Trio
After losing all of our planned Spring 2020 recording sessions to the COVID crisis, I'm pleased to announce that Cedille engineer Bill Maylone and I return to the concert hall (DePaul University's Allen Hall in this case) for recording sessions this week. Since those sessions involve the Lincoln Trio (in an all-Chicago composers program), I'm celebrating by making this week's Album of the Week the Trio's first full-album for Cedille Records (following their appearance on three earlier Cedille discs, including their recording debut in 2007), Notable Women. That 2011 CD featured the work of five living American composers, including Pulitzer Prize-winner Jennifer Higdon. Our featured selection from it below is the second movement of Higdon's color-based Piano Trio — a vigorous movement, titled "Fiery Red."
Every week Cedille President and Grammy-nominated producer Jim Ginsburg selects a featured CD which is offered at a discounted price. Sign up for our e-newsletter and never miss an Album of the Week.
---
Recommended