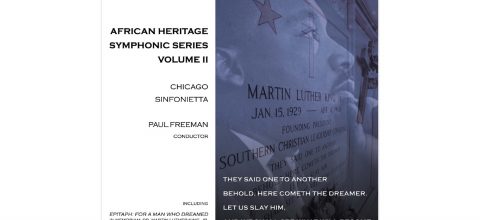 ---
Discover
Album of the Week
1/17 - 1/23 | Enjoy 25% off Cedille's Featured Release of the Week!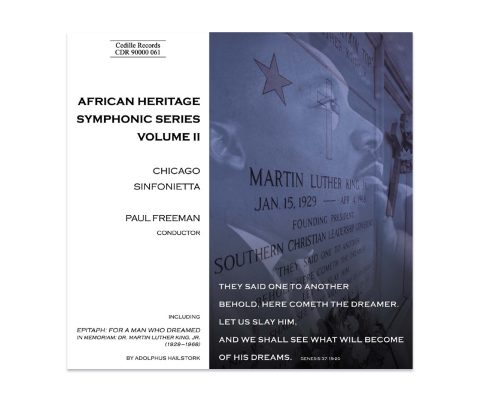 ---
African Heritage Symphonic Series – Vol. II
Chicago Sinfonietta / Paul Freeman
We launch this week's album feature on the third Monday in January (January 17 this year), the day we celebrate the life and work of Martin Luther King, Jr. (1929–1968) with a federal holiday in the U.S. Volume II of conductor Paul Freeman and the Chicago Sinfonietta's three-volume African Heritage Symphonic Series on Cedille features a work written in tribute to the great civil rights leader: Adolphus Hailstork's (b. 1941) Epitaph for a Man who Dreamed. About this quiet, contemplative piece (which you can audition below), the great scholar of classical music by Black composers, Dominique-René de Lerma (1928–2015) writes in the album program notes:
The death of Dr. Martin Luther King, Jr. has been commemorated by many composers, not only Americans. One of the earliest such works is David Baker's 1968 cantata, Black America, filled with many contrasting moods, but essential a cry of pain and protest. Hailstork's 1979 Epitaph, by contrast, comes after a decade of reflection. Showing his distinctive mastery of orchestration and harmony, it is a work of transcendent beauty that conveys the nobility of its subject, and serves as a tribute of acceptance.
Every week Cedille President and Grammy-nominated producer Jim Ginsburg selects a featured CD which is offered at a discounted price. Sign up for our e-newsletter and never miss an Album of the Week.
---
Recommended