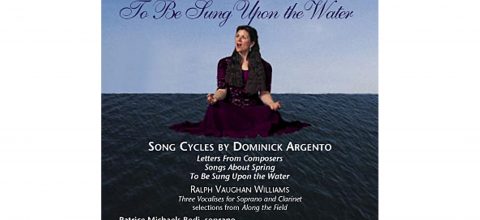 ---
Discover
Album of the Week
3/23 – 3/29 | Enjoy 25% off of Cedille's Featured Disc of the Week!
---
To Be Sung Upon the Water
Patrice Michaels with Elliot Golub, Jeff Kust, Larry Combs, and Elizabeth Buccheri
Our first Album of the Week of the 2020 spring season is soprano Patrice Michaels and friends' 1996 album, To Be Sung Upon the Water — Song Cycles by Dominick Argento, which includes the late American composer's early, A.A. Milne-based composition, Songs About Spring. The final song in that 5-piece cycle, "when faces called flowers," (our featured track, which you can sample below) is particularly bright and cheerful (at a time when many of us could use a lift). Expertly accompanying Patrice Michaels (who, incidentally, studied composition with Argento at the University of Minnesota) is pianist Elizabeth Buccheri. This song is also the final selection on Cedille's Spring and Renewal Spotify playlist, originally launched in April 2017. I hope you'll check it out.
Every week Cedille President and Grammy-nominated producer Jim Ginsburg selects a featured CD which is offered at a discounted price. Sign up for our e-newsletter and never miss an Album of the Week.
---
Recommended