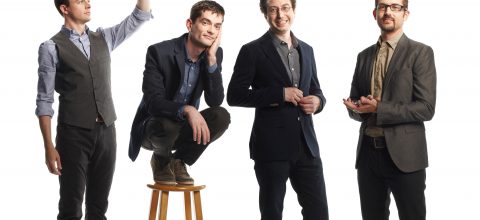 ---
Discover
Take 5: Sean Connors (Third Coast Percussion)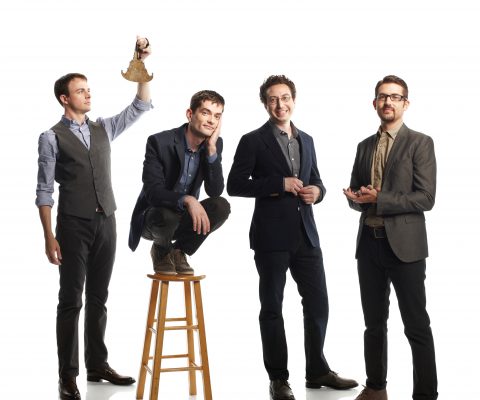 ---
Our first release of 2018 comes from "one of the country's finest new music ensembles" (Chicago Reader), Grammy-winning Third Coast Percussion! Paddle to the Sea, the group's second album on Cedille Records, is out February 9 and transports listeners into a realm of imaginative sounds and world-premiere recordings evoking the aquatic world. It's an eclectic collection of works including a new group composition from TCP titled Paddle to the Sea (conceived as a live soundtrack to the charming, Oscar-nominated 1966 film of the same name), Jacob Druckman's Reflections on the Nature of Water, new arrangements of selections from 12 Pieces for Ballet by Philip Glass, and Chigwaya, a traditional Shona call to water spirits arranged by Zimbabwean composer Musekiwa Chingdoza. We interviewed ensemble member Sean Connors for our first Take 5! of the year. Enjoy!
If you weren't a musician, what would you be?
Definitely a teacher. All four of us in TCP are passionate educators, and our educational projects and collaborations are some of our most rewarding work. If I couldn't teach music, I'd love to teach a subject like history to high schoolers.  Creating an "aha-moment" with a group of young curious minds is an amazing experience!
What is your most recent project and what sparked your interest in it?
That's such a hard question to answer because there are so many inspiring projects that we're currently developing! One collaboration that we're especially excited about for next season is a concert program that we're developing with Hubbard Street Dance Chicago. We first worked with Hubbard Street in 2014, on a performance that combined Jiří Kylián's Falling Angels with Steve Reich's iconic work, Drumming. Since that first collaboration, we've given over a dozen performances together both in Chicago and on tour. In 2018, HSDC and TCP will team up for an original, evening length work that will tour select dates in the 2018/19 season.
Was there a formative moment for you as an artist?
I'm lucky enough to work with a group that constantly pushes me and sparks new ideas as an artist during every rehearsal. That's a special thing as a musician, and we don't take that for granted. I think that all four of us have really been shaped by consistently being in contact with three other musicians who are supportive, but who also challenge us to push ourselves farther. One example of this is our recent ventures into the co-composition process. We first tried this out with a Third-Coast-composed piece entitled Reaction Yield and brought a very similar process to our jointly-composed score Paddle to the Sea. Not one of us alone would have gotten to the same artistic place that we arrived together, and I find that incredibly encouraging. Personally, I think that's an encouraging and formative lesson that I learned as an artist that I try to apply to all aspects of my life.
What album/band are you listening to right now?
I'm particularly excited for the newest album from Son Lux.  I've been listening to their newest single "Dream State" a bunch in anticipation of Brighter Wounds which comes out in February. I have to admit, I'm biased, because Third Coast recently collaborated with Ryan Lott from Son Lux on a new piece that he wrote from us. We played on the same festival as Ryan, Rafiq and Ian a few years back and I instantly became a giant fan of this incredibly virtuosic trio.  A nice entryway into the band for those who aren't familiar is their NPR Music Tiny Desk Concert, which features a horn section composed of members of the US Marine Band.
What makes the Chicago classical music scene unique?
The people! Musicians. Audience members. Concert presenters. Everyone here is supportive of each other, willing to take a chance on new ideas, and extremely active as a community member. This is epitomized by the very existence of Cedille Records, an organization that has been supporting Chicago musicians for decades and getting our music out to the wider world.
---
Recommended