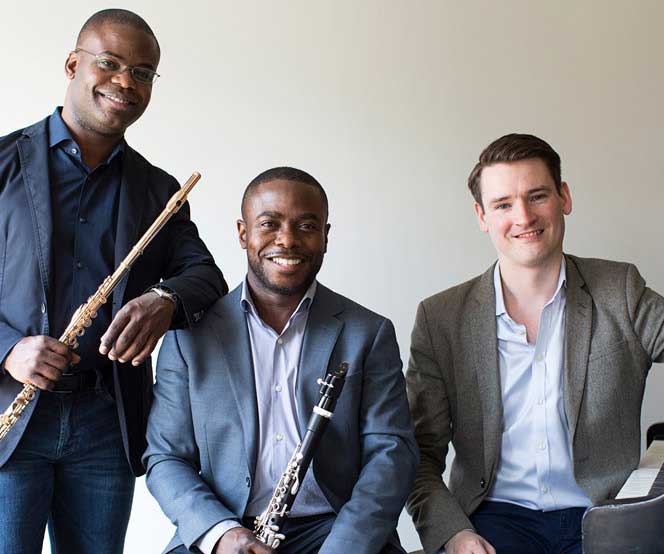 ---
Discover
Take 5: McGill/McHale Trio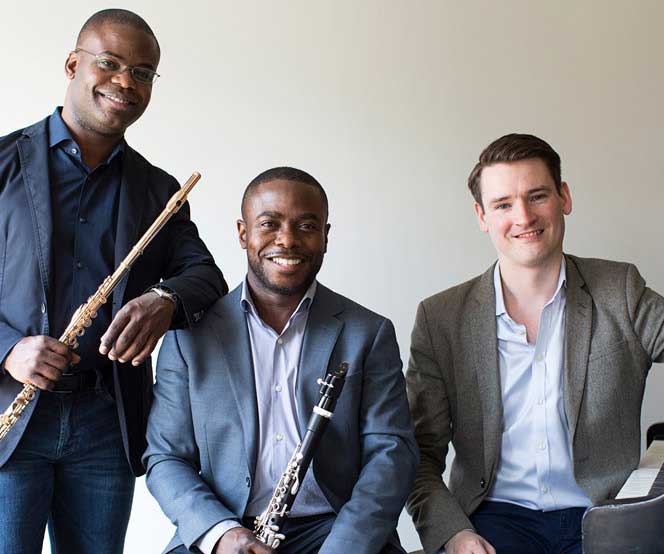 ---
This edition of Take 5 features an interview with Anthony McGill and Michael McHale of the McGill/McHale Trio. The trio was founded in September 2014 when clarinetist Anthony McGill and his brother, flutist Demarre McGill, were featured artists in a residency at Bowling Green University in Ohio. While there, pianist Michael McHale joined them in concert for the first time, and it was immediately clear that the trio would have a great future making music together. The ensemble makes its recording debut with "Portraits — Works for Flute, Clarinet & Piano," featuring world-premiere recordings of new compositions and arrangements for this captivating combination of instruments. The "title track," Valerie Coleman's "Portraits of Langston," is a six-movement suite inspired by Langston Hughes's poetry. Oscar-winning actor Mahershala Ali (Moonlight) reads a Hughes poem before each movement. "Portraits" is currently available for pre-order; all downloads & CDs ship August 11.
What is your most recent project and what sparked your interest in it?
Anthony: This CD is my most recent project and one that I'm very proud of. I'm excited that it is being released soon.
If you weren't a musician, what would you be?
Michael: A scientist. Any profession that involves constant new challenges and discovery would be very rewarding (also, my dad is a scientist so I would have some guidance too!).
Was there a formative moment for you as an artist?
Michael: When I was still a student in London, I was invited by my fellow Irish pianist Barry Douglas to perform Mozart's two-piano concerto with him several times, which was a really formative and inspiring musical experience quite early in my career, and Barry has continued to be very supportive ever since.
What album/band are you listening to right now?
Anthony: I just discovered Dermot Kennedy and I like Bon Iver a lot right now. I listen to lots of different artists and many a day, so day-to-day it changes.
What makes the Chicago classical music scene unique?
Anthony: I think Chicago is a very special music community. I was lucky to grow up there. It feels like everyone knows each other in the musical community. I was mentored and nurtured by this community and am still supported by the family there. This CD is a testament to that connection and the nurturing the Chicago musical community gave us and still provides for us. 
---
Recommended