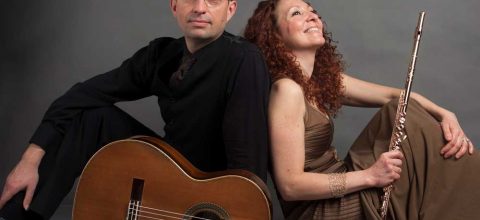 ---
Discover
Cedille's Take 5: Cavatina Duo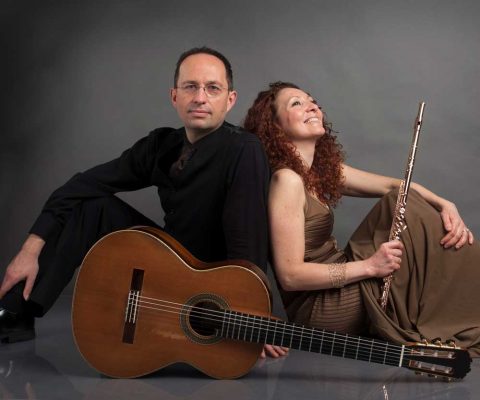 ---
This edition of "Take 5" features an interview with the Cavatina Duo. Their new album, Sephardic Journey emerged from startling discoveries in their family history. When Spanish flutist Eugenia Moliner and Bosnian guitarist Denis Azabagic learned they each had distant roots in the Sephardic Jewish world of Old Spain, the husband-and-wife duo of "consummate virtuosos" (American Record Guide) decided to explore their mutual heritage through music. Sephardic Journey, the duo's third and newest Cedille Records album, includes five world-premiere recordings of new works written expressly for them.
What is your most recent project and what sparked your interest in it?
The Sephardic Journey. This project sprouted from our personal experiences with family and friends. Finding out that we both are connected to this culture though our relatives, closer ones and from the past, that was the first spark. Then following the suggestions  of Sergio Assad to explore our roots,  we decide to find out what a modern composer could do with this centuries old melodies, the result are this great pieces that are here to enrich us all, and of course to add more beauty to  the literature for flute and guitar.
If you weren't a musician, what would you be?
Eugenia: I would work for an NGO in Africa or South Asia
Denis: I would be an astronaut 🙂
Was there a formative moment for you as an artist?
Eugenia: For me was going to study to the Netherlands and meeting so many great musicians, among them Denis.
Denis: There was not one formative moment. I had very strong moments from my teachers in: Predrag Stankovic, Vojislav Ivanovic, Darko Petrinjak, Jo Hagen and the continuous musical growing with Eugenia and other musicians I encounter in our collaborations. It is a constant journey. 
What album/band are you listening to right now?
Eugenia: Berlin Philharmonic and Magdalena Kozena song cycles.
Denis: LUTOSLAWSKI, W.: Orchestral Music (Lutoslawski)
What makes the Chicago classical music scene unique?
Eugenia:  Cedille records, and WFMT are on the top of my list, of course so many fantastic musicians who live and play in this city…CSO, and many other ensembles.
Denis: I feel the same as Eugenia. Also, having a record company like Cedille, that supports Chicago musicians the way it does is invaluable to us.
---
Recommended