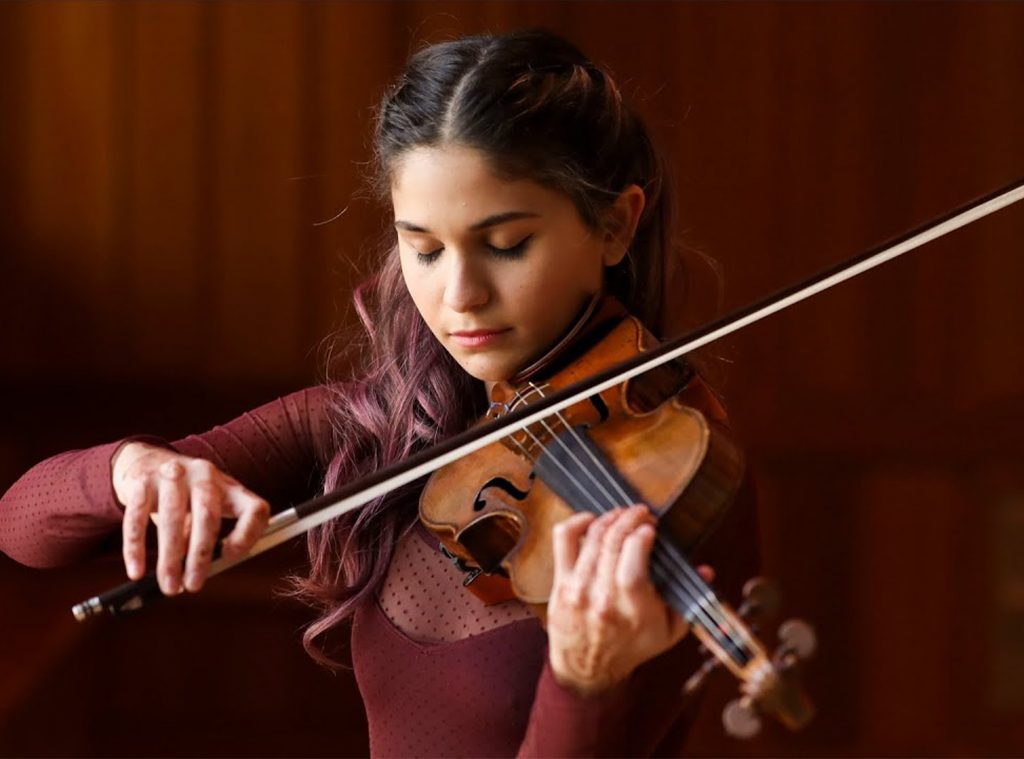 ---
Discover
Emerging Artist Spotlight | Maya Anjali Buchanan
Learn more about the talented artists participating in this fall's Emerging Artist Competition
Maya Anjali Buchanan, violin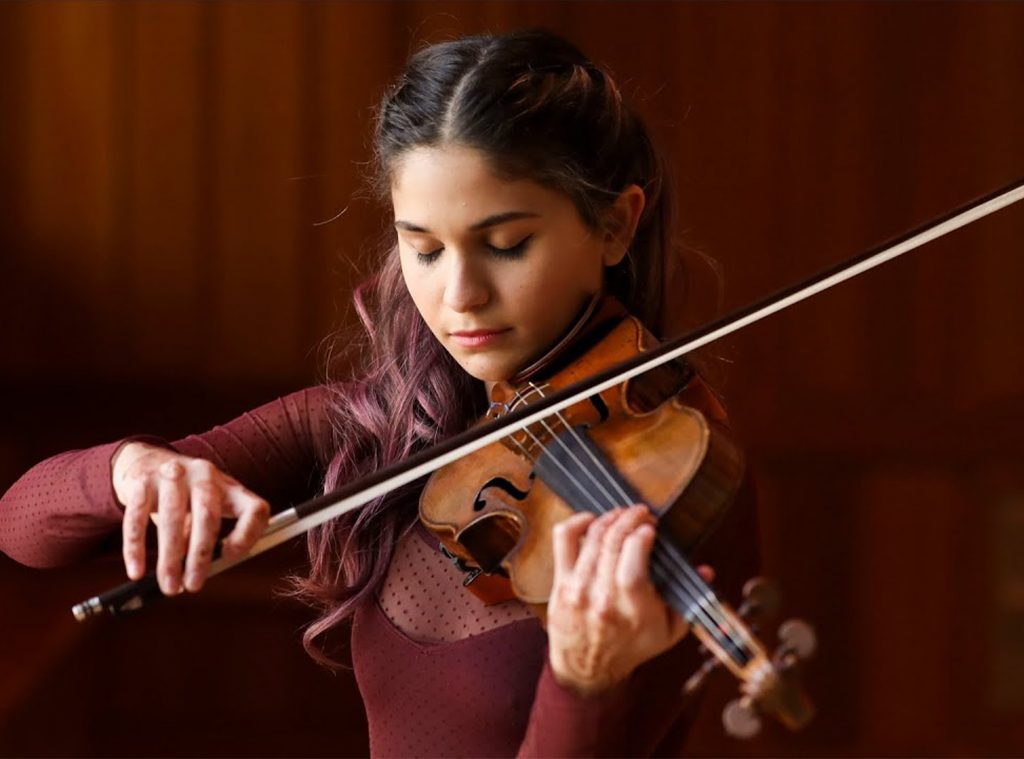 ---
As Cedille approaches the live rounds of its Emerging Artist Competition on November 20-21, 2021, we're taking this opportunity to introduce you to the very talented artists participating in this year's event!
Indian-American violinist Maya Anjali Buchanan is an award-winning soloist, performing on three continents and garnering international acclaim. In an effort to broaden Western classical music traditions, Maya unveils the music of her heritage by presenting pieces unique to her Indian ancestry, bridging her Eastern roots with her Western classical training. She enjoys showcasing works of Indian influence that reflect the form and improvisational quality of Eastern music, blending techniques of both cultures. Maya currently attends the Curtis Institute of Music in the studio of Ida Kavafian.
Learn more about Maya through the video and interview below.
Tell us about the concept of your album.

Reflecting my passion for collaboration, my album concept is duo works for violin and another classical instrument. It incorporates some common instruments such as voice, cello, and harp but also some esoteric ones like the sitar and tabla from the country of my ancestry, India. This collaborative vision is called "EYE2EYE". The title underscores the importance of developing a shared vision between the two musical voices. They must first "see eye to eye" to effectively communicate their joint interpretation and understanding of a work. My repertoire includes Saint-Saëns Fantasie for Violin and Harp, Piazzolla Historie du Tango for Violin and Classical Guitar, Shulamit Ran "A Due" for Violin and Cello and a work by Reena Esmail, an Indian female composer whose works bridge Western and Eastern music.
What do you find unique about Chicago's classical music scene?

In selecting a city to continue my musical training, Chicago was a natural and easy choice. Coming from rural America, I was amazed at the number of unique classical music performance venues and opportunities for collaboration. I enrolled in the Music Institute of Chicago Academy, studying with Almita Vamos, and participated in it's audience engagement projects and community outreach concerts. I have performed as a guest soloist with numerous orchestras throughout the Chicago area, in chamber music ensembles, and as a member of orchestras. I love the synergy and intensity involved in each of these different types of collaborations. By providing avenues to participate in and taking advantage of this city's educational, performance, and competitive opportunities, Chicago secured a very unique place in my heart and I consider it my musical home.
Who is your dream collaborator?

My dream collaborator would be Beethoven…. His music is brilliant. What more do I need to say!
How did you become a musician?

I started Kindermusik at age two and my very first introduction was to Grieg's "Peer Gynt". I'm told that when this character was being chased by the trolls "In the Hall of the Mountain King", I would become very animated and start dancing whenever and wherever this was played. I was further introduced to classical music through the Suzuki method and started playing the violin when I was 4 years old at the local Black Hills Suzuki School in Rapid City, South Dakota. Living in rural America and pursuing a classical music life has always presented many challenges. So, when I was 8-years old, my parents began to fly my siblings and me to another state for music lessons. After 5 years, I enrolled in a pre-college program, the Music Institute of Chicago Academy, because I wanted the more social and collaborative aspect of music such as chamber music and orchestra. Currently, I am a sophomore at the Curtis Institute of Music in the studio of Ida Kavafian.
What artists/genres have influenced you as a musician?

"An artist's musical experience is as unique as his or her life experience;
finding a way of capturing that unique set of experiences and using one's
skills to turn them into meaningful art is the path to being an extraordinary
musician in the 21st century." —Judd Greenstein

The above quote is very meaningful to me and has inspired me to find my own unique musical voice. Early on, I was influenced by Broadway musicals, my favorite musician (Freddie Mercury/Queen) and, of course, by classical works, but also by the visual arts. At the advice of a teacher, my experiences of seeing great works at the Louvre, Rodin Museum, Chicago Art Institute and the Museum of Contemporary Art in Chicago and Cleveland were insightful. More recently, I have come to appreciate classical collaboration in all forms and have immersed myself in various ensembles. I spent a decade during the summers at the Aspen Music Festival and was exposed to and studied with numerous ensembles including the Pacifica Quartet and Wu Han & David Finckel. I hope to challenge myself to always be a curious and creative human being and continually grow from these experiences.
---
Recommended