---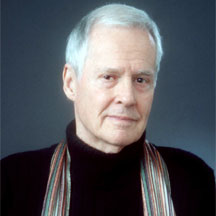 Artists
Ned Rorem
Composer
Ned Rorem (b. 1923) is an American composer and diarist. He won a Pulitzer Prize for Music in 1976 for his Air Music: Ten Etudes for Orchestra.
---
Ned Rorem, one of America's most prominent composers and this country's leading exponent of the art song, was born in 1923 in Richmond, Indiana, and raised in Chicago. Throughout his school years, he took lessons in piano and theory at the University of Chicago and at that city's American Conservatory. After two years at Northwestern University's School of Music (1940–1942), he won a scholarship to study at the Curtis Institute in Philadelphia. He was at Curtis for only one year, however, before transferring to the Juilliard School in New York, where he earned bachelor's (1946) and master's (1948) degrees. He spent the summers of 1946 and 1947 at Tanglewood as a student of Aaron Copland, and also studied composition privately in New York with Virgil Thomson while serving as his copyist. In 1949, Rorem moved to Morocco, where he produced much music, including his first opera (A Childhood Miracle), a ballet (Melos), several song cycles, a symphony, and a piano concerto. In 1950, he won the Lili Boulanger Prize for composition. On a Fulbright scholarship in 1951–1952, he studied with Arthur Honegger in Paris, and remained in that city for the next five years, composing prodigiously and recording his experiences in The Paris Diary, the first of his published books.
Since returning to the United States in 1957, Rorem has devoted himself largely to composition and writing, though he has also served occasionally as conductor and as accompanist, and held residencies at the State University of New York in Buffalo, University of Utah, Santa Fe Chamber Music Festival, and Curtis Institute. His honors include the Pulitzer Prize (for his 1976 Air Music, written as a United States Bicentennial commission for the Cincinnati Symphony Orchestra), election to the American Academy and Institute of Arts and Letters (of which he was elected President in January 2000), two Guggenheim Fellowships, a Ford Foundation grant, and a fellowship from the National Endowment for the Arts. In May 2003, he received the American Academy of Arts and Letters' Gold Medal for Music, a prize awarded once every six years.